Conviviality has posted a drop in like-for-like retail sales during its first half but hailed "strong" performance in its newer stores.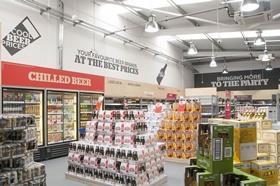 Same store sales at the Bargain Booze and Wine Rack owner fell 1.7% in the 26 weeks to October 30 compared with the same period last year.
Conviviality, which has more than 700 stores across the UK, said that reflected tough comparisons against 2015's summer marketing campaign.
Like-for-likes in stores opened since 2012 registered a 1.1% uplift in like-for-like sales values.
Conviviality Retail's total sales grew 2.7% to £189m, up from £184m during the same 26-week period last year.
Conviviality's group sales more than trebled to £783m compared with £252m the previous year, following the acquisitions of suppliers Matthew Clark and Bibendum, as well as outdoor events specialist Peppermint.
The business split into three divisions following the acquisitions, with its wholesaling division Conviviality Direct and festivals and events arm Conviviality Trading running alongside its retail operations.
Conviviality Direct sales grew 5.2% during the half year, while Conviviality Trading sales climbed 5.1%.
Conviviality boss Diana Hunter lauded the performance of the business during "a transformational period".
She added: "The organic growth in each business unit demonstrates that existing and new customers are increasingly recognising Conviviality as the leading solution provider and distributor to the UK drinks market."
Conviviality will unveil its interim results for the 26 weeks to October 30 on January 30 2017.