Co-operative Food will open up to 50 new convenience stores in and around London this year, boss Steve Murrells has revealed.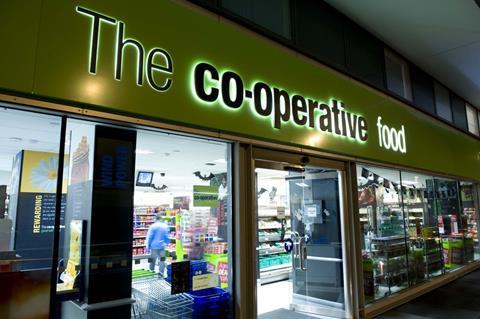 The grocer is targeting aggressive expansion inside the M25 as it bids to build its Greater London portfolio and capitalise on the growing trend of city workers eating on the go.
At its full-year results in April, the Co-op said it wanted to open 100 convenience stores by the end of 2015 and the mutual's chief executive of retail Murrells told Retail Week half of those would be in and around London.
And he added that the grocer will now close fewer of its larger stores than it had initially planned across the UK, leaving the door open to sign concession agreements with non-food retailers.
The Co-op previously said it would look to shed 50-75 stores per year "if the market is right." But Murrells said the Co-op is "learning as we go" and will now keep more of its larger sheds in its portfolio.
It comes after Midcounties Co-op penned partnerships with Dorothy Perkins, Bonmarché, Brantano and The Works to open concessions in its 25 larger stores.
Under-representation
On the Co-op's store expansion in London, Murrells told Retail Week: "We will be very close to the 100 we targeted. We might be five stores down, but we certainly won't be less than 90 in our opening programme.
"We said a year ago that we felt we were under-represented within the M25 and in London. Half of our new stores will be in that space.
"We have some wonderful locations. People are shopping more locally and more conveniently, so it's important that your portfolio of stores are in the right places."
The Co-op is investing £26.5m in the new stores in and around the capital this year. It currently has around 130 stores in Greater London.
Larger stores
Its stores within the M25 will be smaller formats, but Murrells said the Co-op has learned that "store size doesn't change the way people shop." That has caused bosses to rethink their initial disposal plans for the mutual's larger sheds and Murrells said that will "start to slow down."
He added: "Some of the stores we classed as large, we are finding that they actually serve a convenience mission. There is a strong likelihood that we will keep more large stores that serve a convenience mission than we originally thought. We are learning as we go.
"Some of the stores we thought would find life very difficult have competed and will be okay."
When asked if the Co-op could introduce concessions to those stores, Murrells said: "Every retailer is looking to find ways to make a larger store experience more enticing than it had become.
"Concessions are nothing new, they have been around since God was a boy. But there is no doubt that everyone will be looking at partnering, collaboration and opportunities to fill large space.
"Certainly in our large stores we do have some concessions today, but we may have more concessions in the future.
"Whether those partners are non-food partners, tech, clothing – it will need to get put through the washer. All I can say is that we are looking at it."