French grocery giant Carrefour has reported an increase in third-quarter sales, driven by strong performance in its European and Latin American markets.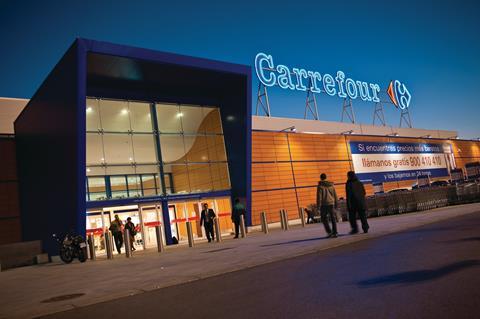 Carrefour sales rise 2.2% to £15.8bn during third quarter
Sales in France rise 2.3% to £7.57bn
Grocer reports like-for-like gains in Europe and Latin America
The retailer said sales for the three months ending September 30 increased 2.2% to €21.5bn (£15.8bn), as like-for-likes improved across all formats within its core French business.
Sales in France were up 2.3% to €10.3bn (£7.57bn) as like-for-likes in its domestic market rose 1.6%. Convenience stores and other formats led the way, reporting 3% growth. Supermarket like-for-likes were up 2.5% and hypermarkets improved 0.7%.
Carrefour recorded increases in other European markets as the grocer's turnaround plan continued to gather momentum outside of its homeland.
Chief executive Georges Plassat has prioritised revamping the grocer's hypermarket estate and investing in price to win back shoppers and improve dwindling sales – a strategy that helped like-for-like sales grow 4.6% in Spain, while its Italian business recorded a 5.9% jump.
Sales in Belgium improved 2.7% and Carrefour also pointed to "strong" growth in Romania, boosted by a drop in the VAT rate on food.
Progress in Latin America
Across the grocer's Latin American business like-for-likes rose 11.7% during the period, spearheaded by a 27.1% jump in Argentina. Like-for-likes in Brazil were up 7.1%.
But Carrefour continues to find trading challenging in Asia, where like-for-like sales dropped 7.5%, driven down by an 11.2% fall in China. That was partially offset by growth in Taiwan, where like-for-like sales rose 4.3%.
The grocer said it would continue rolling out its strategy in China, targeting investments in the supply chain and the opening of convenience stores as it bids to transform its fortunes in that market.