After unveiling its latest international deal, with Coles in Australia, Ocado Solutions is on a roll. Retail Week looks at the Australian grocery market and whether Ocado can succeed where others have failed.
It has been a busy start of the year for both the online grocery and technology arms of Ocado.
In February, the etailer entered into a £750m retail joint venture with Marks & Spencer, ending a nearly 20-year relationship with Waitrose in the process.
That was followed by another international deal for the Ocado Solutions technology arm, this time with Australian supermarket giant Coles, to build two automated customer fulfilment centres (CFCs) and provide the retailer with access to its grocery delivery platform. It was the fifth such deal signed in the last 18 months.
That has all been achieved despite the fire at its flagship automated warehouse in Andover, Hampshire, the reason for which has yet to be fully disclosed.
Under the new partnership Coles will pay Ocado A$150m (£107m) over four years, upfront fees inclusive, to build warehouses in Australia's two largest cities, Sydney and Melbourne, as well as adopt Ocado's store-pick proposition to cover the rest of the country. The infrastructure and technology will be fully installed by 2023.
Upfront investment for the centres and the fact that Ocado is unable to recognise prepayments from technology clients as revenue until such time as a CFC is operational, means that for the time being at least the deal will be earnings negative.
Ocado boss Tim Steiner hailed the Coles tie-up as "another big moment in the continuing transformation" of the business, while chief financial officer Duncan Tatton-Brown said it was vindication for the technology following the Andover fire and the negative speculation that followed.
A tale of two grocers
Despite the challenges of huge scale – Australia's land mass is 7 million sq km and it has a relatively sparse population of just 25 million – the Australian grocery market is booming. According to the Australian Bureau of Statistics, food retail sales were A$135.5bn in 2018, of which online grocery accounted for a 3.8% share.
The food market in Australia is dominated by two supermarket powerhouses: Woolworths and Coles. Between them they account for 61% of the total market share – Woolworths with 32.2% and Coles with 28.8%.
Coles reported annual sales of A$39.4bn (£22bn) in 2018 and trades from around 2,500 sites, including 818 supermarkets. While it lags behind its main rival in terms of overall sales, Coles is ahead of Woolworths when it comes to the online food market. It reported annual online sales last year of A$1bn (£540m), far outstripping its competitor's $343m (£186m).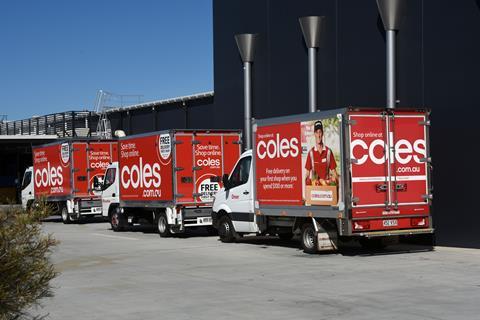 Ocado Solutions chief executive Luke Jensen says the online grocery market in Australia is "pretty advanced" but he believes Coles' partnership with Ocado will allow it to create a "competitive advantage online".
"Coles have one of the most sophisticated operations at the moment. They're already doing A$1bn of trade, so in that respect its all the more exciting for us that they chose to partner with us.
"They're not a retailer that's coming from nowhere. They're living and breathing the challenges of grocery online and they really wanted us to work together to create a competitive advantage online."
Digital consultancy Practicology chief commercial officer Jeremy Wilson says Coles has thrown the gauntlet down to Woolworths in the online space with the Ocado deal.
"Woolworths are going to have to respond. They're now faced with a very tough decision. They have to decide if they're going to compete in any way. Do they offer a more click-and-collect model in the same way that many French supermarkets have opted for, rather than a delivery proposition?
"Whatever the case may be, Woolworths are going to be faced with quite a difficult strategic decision at this point," he says.
Logistical issues
The Coles deal is Ocado Solutions' first since Kroger with an order of more than one CFC from the start. In a note on the deal, Bernstein analyst Bruno Monteyne writes that total market demand in Australia could require four-and-a-half Andover-sized CFCs (240,000 sq ft), pointing out that Coles has already put an order in for half of that demand.
Coles customers not based in Sydney or Melbourne – which have a combined population of around 9 million – will be served by a store-pick model. Coles says its current ecommerce platform can deliver to 90% of the population. However, Ocado's best-in-class technology is expected to allow it to maintain and build upon that position.
While there may well be some teething issues at first, Jensen says the store-pick model will operate in exactly the same way in Australia that it does with Morrisons in the UK.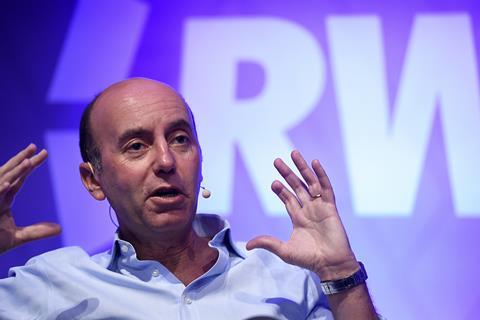 Peel Hunt technology analyst James Lockyer says along with the CFCs, Coles' geographic reach will be boosted by Ocado Solutions' driver technology.
"As well as the automation within the warehouse, a huge part of the benefit of Ocado for its partners is its driver technology: once you're in the van, once you're delivering, it's that side of it as well.
"The technology will pick the best delivery routes based on scores, based on weather, based on traffic and will be implemented with the store pick," he says.

Ocado has said the Australian rollout and construction of the CFCs will take four years - nearly twice the time it takes to build a warehouse normally.
Explaining the longer construction time, Tatton-Brown said Coles "have some very specific requirements, which we're quite happy to provide", but would not specify what those requirements are.
Can Ocado succeed?
While the new deal is undoubtedly a statement of intent for Ocado Solutions, the Australian market has historically proven to be a tough nut to crack for international retailers.
Asos originally struggled to make in-roads into the Australian market because the weak dollar meant the fashion etailer's products were 13% more expensive to consumers. Topshop Australia was also placed in voluntary administration in 2017.
New data shows even Amazon is struggling to carve out market share. Australian newspaper Financial Review wrote at the end of March that the "internet giant's limited range of locally warehoused products" is forcing it to "rely on third-party shipping from the US", driving up prices.
"You have to think of Ocado Solutions as a technology provider more than a retailer"

James Lockyer, Peel Hunt
Lockyer says the comparisons between Ocado and the failed antipodean sojourns of other UK retailers are unfair. As he points out, the deal means it is Ocado's technology that will be rolling out in Australia, not the retail brand.
"Ocado isn't going to Australia, as such. It's selling its technology to Coles and Coles is doing it. It's not going to be Ocado.com Australia. It's going to be Coles, so it's slightly different. You have to think of Ocado Solutions as a technology provider more than a retailer," he says. "It is selling its technology to Coles, just like Microsoft sells Windows to WHSmith."
He says this is the strength of the Solutions model: Ocado stands to reap the reward with limited risk. Once the first two CFCs are up and running, Lockyer says, it shouldn't take "too much work" for the deal to start paying off.
He says on top of the A$150m (£107m) upfront payment – covering fees, the cost of building facilities and delivery vehicles – Ocado will also stand to make 5% of Coles' $1bn annualised sales, around £27m a year, when the CFCs are up-and-running.
Wilson says the deal reinforces Ocado's position as a global expert in grocery delivery technology and is "a huge statement of belief in its proposition that a big business, in a new territory, has bought into them".
After facing scepticism from many for nearly two decades, the latest deal now means Ocado has presence on three continents. Despite the doubters, it looks like Ocado is setting itself up for world retail domination.