Retail's potential new dream team made its debut in the City today, lifting the lid on the rationale behind the proposed Sainsbury's-Asda mega merger.
The familiar pairing of Sainsbury's boss Mike Coupe and his finance chief Kevin O'Byrne were joined by Asda chief executive Roger Burnley and Walmart International supremo Judith McKenna to present their ambitious vision to analysts and journalists.
The £13bn deal would see Britain's second- and third-largest supermarket players join forces in a game-changing tie-up that has sent shockwaves coursing through the retail industry.
But why have two such fierce rivals, with different brand propositions and customer bases, struck a landmark agreement to come together?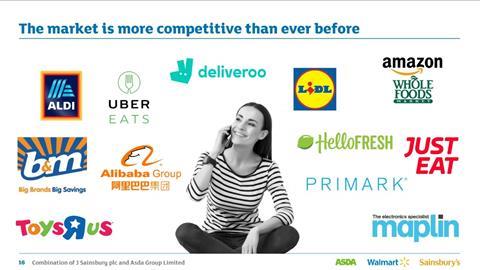 As Coupe pointed out, the UK retail market "has never been more competitive".
He illustrated the fact that "the rate of change is accelerating and not decelerating" by detailing Sainsbury's and Asda's array of competitors – from ecommerce giants Amazon and Alibaba to discount duo Aldi and Lidl, and online food delivery players Uber Eats and Just Eat.
"Whether it's the rise of the discounters on one side of the equation, or the rise of digital technologies – and the way that gives customers transparency of markets and access to markets – there are significant structural changes going on in our industry," he said.
"We believe that, by bringing the companies together, it gives both organisations the opportunity to compete in that environment."
The lure of securing Walmart as a "long-term" partner of the business – with a 42% stake in the enlarged group – would have also been key to Coupe's thinking to beef up its defences in the fight against Amazon and the discounters.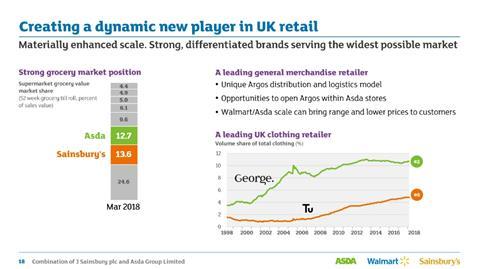 The combination of Sainsbury's and Asda would create what Coupe referred to as a "dynamic new player" with huge reach and scale.
The combined entity would trump Tesco as the market leader in UK grocery, but would also swell its share in general merchandise and clothing.
However, despite Asda's George, fashion's second-largest player by volume, and Sainsbury's sixth-placed Tu coming together, the brands would still not gazump market leader Primark.
Argos, which Sainsbury's acquired 18 months ago, would also play a pivotal role in the tie-up.
Coupe insisted there is opportunity to roll out around 250 Argos shop-in-shops in Asda's larger supermarkets, reducing the rental liability on standalone Argos stores and enabling Asda to make better use of excess store space.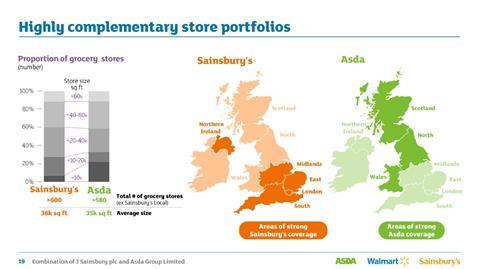 Rumours and estimates abound in terms of what the Competition and Markets Authority (CMA) will make of the deal, yet the two parties have been at pains to stress that the businesses have "complementary" store portfolios – a key factor behind the merger.
"Sainsbury's is strong in the Southeast of England and Northern Ireland, Asda is strong in the North, Wales and Scotland," Coupe suggested. "Although there are overlaps, there are high levels of complementarity in the overall store portfolios."
Coupe also suggested that Sainsbury's and Asda's average store sizes were "remarkably similar".
Despite the reputation for Asda and Walmart for running 'big-box' hypermarkets, Asda stores, on average, are slightly smaller than Sainsbury's, once the impact of Sainsbury's c-store portfolio has been stripped out.
"Sainsbury's is strong in the Southeast of England and Northern Ireland, Asda is strong in the North, Wales and Scotland. Although there are overlaps, there are high levels of complementarity in the overall store portfolios"

Mike Coupe
Although Coupe insisted the enlarged business would not be closing stores in order to progress with the deal, he conceded that the CMA could demand disposals.
More than half of Asda's 584 stores are within a 12-minute drive of a Sainsbury's – a metric that will be key to the CMA's inevitable investigation.
However, Coupe insisted that Sainsbury's-Asda has "a very compelling story to tell on the customer benefits from this transaction".
He also drew on the fact that the merger of bookmaking giants Ladbrokes and Coral had established "some important points of principle" – focusing on local rather than national competition – as evidence that the Sainsbury's-Asda combination could also gain regulatory approval.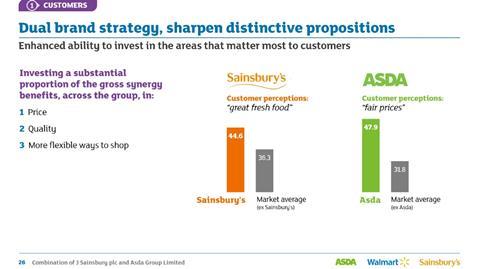 "A great deal for everyone" was how Coupe labelled the landmark merger today, pointing to the benefits it would have for customers, staff, suppliers and shareholders.
On the customer front, he insisted that prices could be cut by around 10% across both retailers – which could continue to operate as standalone fascias – as a result of the group's increased buying power.
Coupe maintained that "there is a massive amount of acceptance and overlap" between Sainsbury's and Asda's customer bases despite their differing and distinct propositions.
Sainsbury's has a much greater quality perception among consumers, whereas Asda is renowned for offering low prices.
He said the deal would allow both chains to "be better versions of themselves" by "investing in the areas that matter most to customers", whether that be price or quality.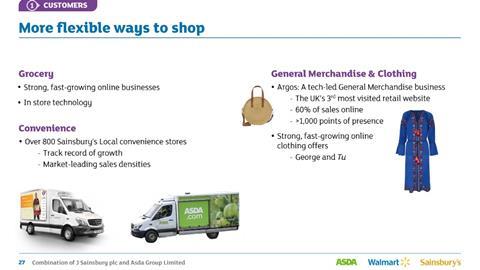 Building on the benefits the group plans to offer customers, Coupe said that customers want to shop "more flexibly" and that investment in technology would allow the business to better meet that demand.
He said Sainsbury's and Asda were already investing in technologies to drive flexibility in the shopping environment, but intriguingly added: "Walmart is doing lots of work around the world that can be brought to bear in the combined entity as we look forward."
Argos will also be central to that drive, with McKenna suggesting that the deal could see Argos go global.
"Walmart is doing lots of work around the world that can be brought to bear in the combined entity as we look forward"

Judith McKenna
"We are particularly interested in the Argos group in terms of the benefit that can bring around the world," she said.
"If you think about that, and the way that general merchandising from a global sourcing around the world can help transform the pricing for customers, maybe there is an opportunity to see Argos in some Walmart stores across the world as well."
There is a sense that Argos' tech nous and market-leading fulfilment, combined with Sainsbury's previously stated ambition to create a subscription-based shopping model and Walmart's global reach and deep pockets, could ultimately create a multichannel business to take the fight to Amazon on all fronts.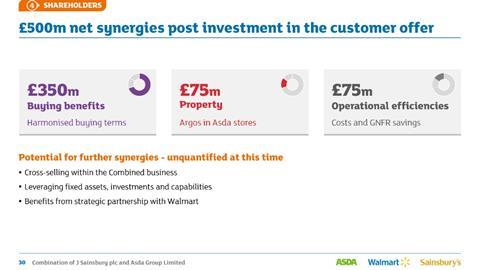 Cost savings and synergies are, of course, central to this proposed deal.
The retailers said they would achieve net synergies of £500m by the end of the second complete year following the transaction, £350m of which would come from buying benefits.
Coupe moved to allay fears that the combination meant Sainsbury's-Asda would be squeezing small suppliers, stating that 85% of the group's sales would come from the top 100 "large multinational suppliers".
He suggested that the combined business would establish which retailer is paying the lowest price for goods, such as branded bottles of water, and seek to buy at that price across the group.
"Equalising" purchase prices across the two grocers – ensuring that they are paying the same amount for the same product – would be enough to achieve the £350m without any further supplier negotiations, Coupe said.
The remaining £150m of synergies would be split down the middle. Property cost savings associated with moving standalone Argos stores into Asda supermarkets, and operational efficiencies, would both add £75m apiece to the group's bottom line.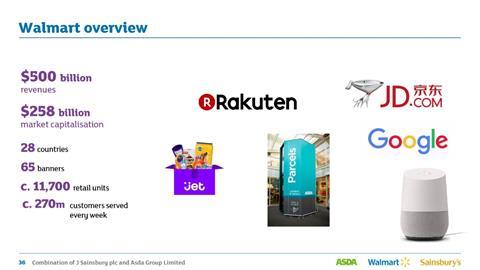 Retaining Walmart as a key stakeholder in the enlarged business was a key attraction for Sainsbury's – but there are benefits for the US titan, too.
McKenna outlined "the reach of Walmart around the world and what it can bring to this combination", with global expertise from 28 different countries.
However, she said the impressive profit, sales and store numbers "only tell part of the story".
"What's been happening at Walmart more recently is that we've been looking to transform our business. We are leaning into digital, becoming a more effective business and finding new ways to serve customers.
"What we've realised is that we can't do everything ourselves. Sometimes combining with strategic partners is a really effective way of creating capability and growth in markets."
McKenna drew on its partnerships with Rakuten in Japan and JD.com in China. Walmart lists products on both their platforms, while the online businesses also provide delivery solutions in those markets.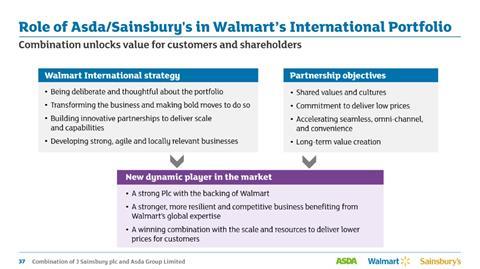 McKenna described the combination of Asda and Sainsbury's as "a unique opportunity to create a strong, healthy, resilient UK PLC, with the scale to deliver a lower cost of living to customers in the UK".
She said the step-change in the way Walmart was operating in international markets made the merger an attractive proposition.
"No longer do we believe we have to have 100% control in order to create value and benefits," she said.
"What we are looking for is how can we have businesses which are agile, can act with speed – especially in an environment as competitive and dynamic as the UK – but equally can benefit from our scale."
There's no doubt that the combination of the UK's second- and third-largest grocers with Walmart's mammoth reach would create a force to be reckoned with.