As retailers start to invest in quality in-store catering, will restaurants cannibalise retail sales or enhance customer experience?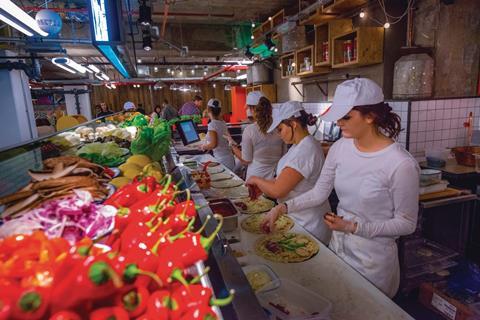 It takes about six hours of shopping to burn off the calories in a cheeseburger from Five Guys. That's a lot of calories – 840 – and it's a lot of shopping.
Landlords have said for a long time that a fully-fuelled shopper will stay for longer, visit more stores and spend more, and now retailers are starting to muscle in on the catering action.
While in-store cafes are a long-standing feature of many larger stores, retailers are upping their game. John Lewis is the latest to recognise the value of a strong in-store food offer, and revealed this month that it will host Italian burger joint Ham Holy Burger and Neapolitian pizzeria Rossopomodoro in its Oxford Street flagship.
It joins a variety of retailers that have welcomed restaurateurs into their shops. Selfridges is one, hosting French chain Aubaine in its London store and San Carlo Bottega in Manchester. Tesco purchased family-friendly restaurant Giraffe last year and is an investor in coffee shop Harris + Hoole.
These forays into the food world follow the hugely improved food offers in many shopping centres, where up to 30% of space is now dedicated to restaurants, bars and cafes. A strong food offer in any retail location is clearly growing in importance.
Landlords have worked hard over the past 10 years to improve their food offer and the newest UK openings – namely Trinity Leeds and Westfield Stratford – provide shoppers with more choice than ever.
Fuelling dwell time
According to Caci research released in April, this food-heavy approach is worth it. The marketing solutions firm found that consumers using catering facilities at out-of-town parks spend about 48% more on retail goods than those who don't.
"We always expected customers who use catering in shopping centres to be more loyal, but now we have a number," says Caci principal consultant Alex McCulloch. "What surprised us and our clients was how big that number is. It's a hell of an uplift."
And theirs isn't the only study to suggest catering boosts spending. According to Footfall 123, customers who visited a shopping centre for more than four hours, including visiting a restaurant or cafe, spent on average 51% more money in the centre than those who were there for less than four hours.
"Catering used to be seen as a service line, not a key factor in increasing dwell time or driving up spend," says Ed Jenkins, head of UK retail at Standard Life Investments, which has a portfolio of 15 shopping centres and 38 retail parks.
"The role of food and beverage outlets [in shopping centres] has dramatically changed."
John Lewis says its aim is to encourage shoppers to spend more time in its stores. Andrew Murphy, the department stores' retail director, said as the latest deals were unveiled: "Food is increasingly important to our customers, and ensuring that the restaurants in our shops are places which people seek out and want to spend time in is a key part of our approach to creating enjoyable and memorable social experiences at John Lewis."
According to one study by British shopping centre trade body BCSC, floor space given over to food and beverage in shopping centres shot up from 7.6 million sq ft in 2009 to a shade over 35.5 million sq ft in 2011 – that's a near fivefold increase in just two years.
In 2011 alone, 3 million sq ft of floor space was converted to food and beverage outlets as landlords switched to a more food-focused model.
At Glasgow Fort shopping park a restaurant extension and cinema opened in September has had a "remarkable" impact on footfall, dwell time and spend, says landlord British Land.
"It's early days but so far footfall is up by 8% and the average peak dwell time is up to 102 minutes [from 78 minutes in 2012], the catering spend has increased more than 50% [to £22] and the average peak retail spend has increased to £124," says Ben Grose, head of Hercules Unit Trust for British Land.
Grose is unable to provide figures for the exact uplift in retail spend, but he is confident that eating and drinking will win back customers who have been reluctant to leave the comfort of their sofas. He is not alone.
"I was surprised by the 48% figure from Caci [but] catering has taken a leap," says Russell Loveland, senior asset manager at Lend Lease, responsible for Bluewater. "It's a better offer and it's better quality."
Slowing down fast food
The trend is not just for more catering, it's for better quality catering. Fast food might once have been the mainstay of shopping centres, but now the emphasis is on slowing things down – and keeping people there. This is all part of the overall uplift in customer experience that retailers are working to achieve.
"If shopping is less intense, then it is more pleasant," says Hotel Chocolat chief executive Angus Thirlwell.
Detailing the design of the chocolatier's cocoa bar and shop at the Liverpool One centre, Thirlwell talks of "relaxing", "socialising", "fun" and "havens". "We are seeing a slowing down of the shopping experience," he explains. "In our discussions with [other retailers], the common theme coming through is that retail space has to be theatrical and enjoyable and a place where people can spend time."
It's a leisurely mix that shopping centres are trying to create. "We're not there to fulfil needs, we're there to achieve a 'day out' experience," says Loveland. "We're competing with the beach, not Tesco. From day one we wanted Bluewater to appeal as a day out experience."
The right restaurants
Restaurateurs have got the shopping centre bug too, and London-centric brands are more easily tempted beyond the M25 thanks to the success of American burger chain Five Guys, Byron Burger, Mexican restaurant Wahaca and the like.
In February, Wasabi Sushi & Bento unveiled a £1m investment at Trinity Leeds where two new branches are planned. "We choose our locations very carefully and Leeds, as a leading retail centre with a vibrant business community and huge student population, is a major draw," said Wasabi owner Dong Hyun Kim at the time.
It certainly isn't a case of any London brand will do, or any shopping centre will do.
Catering and retail offers must be intrinsically linked and finding the perfect mix is becoming a science. McCulloch says his team will be looking much more closely at the dynamic between retailers and caterers going forward.
It pays to be fussy. Take Liverpool One, which had space between John Lewis and Harvey Nichols and a stone's throw from Jamie's Italian.
According to Miles Dunnett, head of asset management for the Grosvenor Liverpool Fund, there was a shortlist of just four restaurants that would fit – and critically that would do well from the retailers around them.
Byron was one of those and Dunnett's team managed to convince the premium burger bar to open its first outlet in the Northwest. "They're trading their socks off," he explains. "And they're not cannibalising anyone else."
Catering sceptics
Landlords are clearly convinced, and are investing millions in upgrading or reconfiguring centres to accommodate a better catering line up – £9m was spent at Bluewater's Wintergarden and Intu spent the same amount on its new food court at Lakeside. The latter boasts that 25 catering concepts were introduced last year at its centres with "many more in the pipeline".
But is this growth sustainable – should retailers and landlords continue to invest in restaurant space?
The space given over to cafes, bars and restaurants in shopping centres was traditionally in single figures, but in some of the new centres it can be 20% or even 30%. According to consultant Martin Bloom of Insight Retail Consulting, there is "a real tendency for landlords to think that if retail isn't working then restaurants will fix it. But you can't always do this".
Loveland says that Bluewater has the balance "about right" between catering and retail [10% and 90%], but admits it is an area that needs to be "constantly managed".
He is among those that say the shift in perceptions of catering – from poor relation to golden boy – is not simply a reaction to the property market, but consumer demand.
Nevertheless, there are sceptics who wonder whether catering is simply the plan B for centres that can't find retail tenants. The rents that retailers can afford to pay have shrunk as their margins have tightened. Simultaneously food-service has enjoyed double-digit growth and can afford a little bit more.
While some retailers are clearly interested in the extra footfall that restaurants in their own stores could potentially bring, others argue that it's less clear whether shopping centre restaurants are as helpful for them. Shoppers might be happy to splash out in a restaurant, but that doesn't necessarily mean they then want to spend in-store.
The BCSC is one organisation reluctant to get carried away. Research it published in April found that Brits are eating out "more than ever", with average meal spend up by a pound to £13.30.
However, in a detailed analysis of the relationship between catering and retail it found a "substitution effect" – some people are replacing a store visit with a meal out.
With the branded restaurant market in the UK predicted to grow from £16.4bn in 2013 to £22bn in 2018, the food and beverage sector will certainly continue to thrive, but could it be at the expense of retail spend?
"The challenge for shopping centre owners will be to draw shoppers back to spend in stores after they've refuelled," says BCSC head of research Davinder Jhamat.
Could retailers be inviting restaurants into their stores at the expense of their own sales?
Richard O'Sullivan is founder of Boost Juice Bars, which has 20 outlets across UK shopping centres, and he insists shopping centre catering is worthwhile.
He says: "It makes business sense to bring in a great, but demographically appropriate restaurant brand into your store to act as a hook. Food done well brings people in and you have them in your space. The simplicity of it is that the longer you have the consumer in your space the more they are likely to spend."
Perhaps the story is different for every shopping centre and for each retailer – but for retailers under pressure to create a great customer experience, catering could add another string to their bow.