The dramatic slide in Tesco's share price following its interim results painted a different picture to the one Dave Lewis carefully crafted today.
At Tesco's interim results presentation, Lewis hailed "a good start" to the financial year and insisted Britain's biggest grocer was on track to deliver its medium-term ambitions – notably improving the group's operating margin to between 3.5% and 4% by the end of 2019/20.
With 18 months to go to achieve the target, Tesco today reported a 29bps improvement in that major KPI to 2.94%.
Excluding the drag from its unprofitable Tesco Direct general merchandise business, which it closed in July, operating margin during the six months to August 25 was a shade over 3%.
Impressive progress, Lewis trumpeted. Yet the market took a broader view.
Tesco's group operating profit before exceptional items of £933m missed analysts' estimates. The laying bare of ongoing turbulence it faces in Thailand and at its unprofitable Polish business – markets Lewis reaffirmed his commitment to today – further spooked the City.
As a result of the bottom-line figure and the supermarket giant's international troubles, its share price slumped almost 10% to 212.7p by early afternoon.
"On a day like today, I'm not actually looking at the share price," Lewis insisted. "I'm just trying to communicate what's going on and the market will decide what it wants to decide."
Communicate what's going on, he did – and there is much to admire, and indeed to look forward to, when it comes to the core UK business in particular.
"Having restored shopper faith in the Tesco brand, Lewis feels Tesco is now in a place to properly put the pedal to the metal"
In a ferociously competitive British grocery market, Tesco increased like-for-like sales 3.5% in its first quarter and 4.2% in the second.
"Let's be really clear," Lewis was at pains to point out, "Tesco hasn't had 4% like-for-like growth in way more than a decade."
Own-brand success
The relaunch of its increasingly impressive own-label proposition has been one of the key pillars of success, helping Tesco win back almost 190,000 customers over the past year, according to Kantar Worldpanel.
Building on its Farm brands entry-level proposition across fruit, vegetables, meat and poultry, Tesco has introduced 15 additional brands under the 'Exclusively at Tesco' banner, including Bay Fishmongers, Heart Food Co, Grower's Harvest and Ms Molly's.
Tesco has launched 324 SKUs across those ranges, with 76 more to come by the end of the calendar year. Seventy-two per cent of the retailer's shoppers have now purchased an Exclusively at Tesco product.
Similar work has been carried out across Tesco's 'better' and 'best' grocery tiers, with 5,038 of its 10,000 own-label lines being relaunched. It aims to complete that work by the end of February 2019.
Tesco claims that a basket of 24 staple products from the Exclusively at Tesco range costs £30.58 – cheaper than the not-so-cryptically labelled 'competitor A' at £32.41 and 'competitor L' at £32.68.
Having established such a keen price position and restored shopper faith in the Tesco brand in the wake of the immensely damaging 2014 accounting scandal, Lewis feels Tesco is now in a place to properly put the pedal to the metal.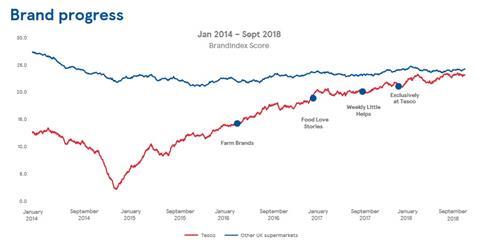 "If you go back to January 2014 before our accounting issues, or even January 2013, there was a big gap in terms of where the Tesco brand was compared to its three closest competitors," Lewis maintains.
"The improvement has been driven by all our activities. While we talk about it from a marketing point of view, quite a lot of brand appreciation comes through the store operations and the actual experience of shopping.
"That progression has been really quite important to the turnaround in the business and, when you get yourself back to a position where there is real appreciation and trust in the brand, it gives you other opportunities for innovation that you certainly don't have when it is low.
"Now, it is all about what do we do, and when."
More to come
With its centenary year imminent in 2019, there is likely to be more innovation to come from Tesco in the coming months.
The launch of two Jack's stores last month – with further openings in Edge Hill and St Helens this week – represent just one area Tesco is looking to evolve and drive further sales growth.
Jack's Shop Smart app, which was tested at Tesco's cashless store in its Welwyn Garden City HQ, allows customers to scan and pay for their items using just their smartphones.
Lewis was tight-lipped about whether a variant of the app could be rolled out across the Tesco estate, but hinted at the "group leverage" that Tesco could enjoy from such technology.
"Adoption of the app has been really very strong," he adds. "What I need to see is how much of that is a function of the number of people in store, versus what the customer use is. But at the moment the feedback is very strong."
Aside from the Exclusively at Tesco ranges, there is "more to come in Finest", Lewis teases.
The premium range celebrates its 20th birthday this autumn and, to mark the milestone, Tesco is hosting an "exhibition you can eat" in London this month.
The event will serve both to promote the Finest brand and ramp up Tesco's experiential food credentials.
"Operating out of a Tesco depot closer to its Cornish customers has allowed Booker to offer next-day delivery"
Its acquisition of Booker offers a plethora of other opportunities as the two businesses work ever closer together.
Tesco installed a Chef Central catering supplies shop-in-shop at its Gallions Reach branch earlier this year, which has gained traction among on- and off-trade customers.
As a result, Lewis says it will launch Chef Central in eight more stores "shortly", serving to beef up the Tesco proposition and make better use of excess space.
Booker's top 30 products are also now being sold in 70 Tesco stores as the grocer taps into demand for bigger pack sizes, particularly when shoppers are catering for family events such as birthday parties.
Outside of stores, Lewis says there is also "lots of opportunity" for Tesco and Booker to leverage their distribution systems to their advantage.
Two of Tesco's depots have already been used "in order to help serve Booker customers better," Lewis says.
He draws on the example of Cornwall where, historically, Booker's closest distribution centre was in Slough. It meant that customers would need to wait two days for delivery.
But operating out of a Tesco depot closer to its Cornish customers has allowed Booker to offer next-day delivery.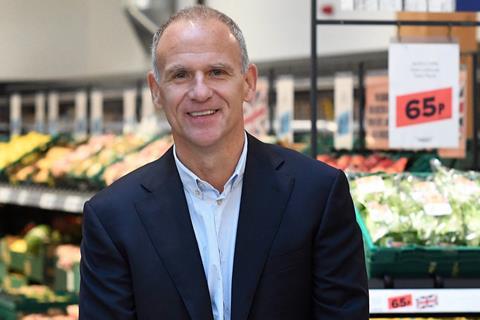 Turning to another example of the way the two businesses are working together "that might have more consumer appeal than distribution centres and trucks", Lewis cites the group's relationship with craft beer brand Brewdog.
The company's Lost Lager will be exclusively sold in Tesco but will also be made available to Booker customers at the same time.
"Booker customers get the chance to have some exposure to exclusive products that Tesco is working on that Booker wouldn't have had access to before," Lewis explains.
"That's just another one of those benefits of working together."
While Thailand and Poland undoubtedly remain challenging, if Lewis can deliver on the plentiful opportunities the UK business presents, he may be a little more willing to take a glance at that share price.
Analysis: Tesco on the up even if its share price isn't
1

Currently reading

Analysis: Tesco on the up even if its share price isn't

2

3

4