As Tesco grounds its mission to dominate store space, Alex Lawson finds the multiples' focus has shifted to convenience and online.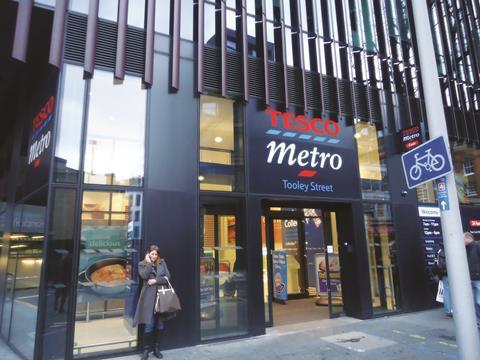 If Neil Armstrong ended the space race between the US and Russia on July 21, 1969, with a giant leap for mankind, Tesco boss Philip Clarke brought the sprint for out-of-town supermarkets to a halt in similarly emphatic fashion. Last September, Clarke declared: "We have called time on the old retail space race." This followed the retailer's first profit warning in nearly 20 years earlier in 2012.
Clarke subsequently put his balance sheet where his mouth was, writing down £804m of the property in its £20bn portfolio, which it now does not intend to develop as retail goes increasingly digital.
Tesco opted not to press ahead with 170 projects that had been earmarked for 5m sq ft of space. It ended 2012 with 3,146 stores and 40.5m sq ft of space, which arguably would be insurmountable for any other retailer, even if the market leader were to grind its store openings to a complete halt.
Sainsbury's, too, has signalled that the land grab it had engaged in, while turning round the business since Justin King's arrival as chief executive in 2004, is over. The UK's third largest grocer has instead opted to refit and extend its existing shops, improving the store environment and broadening its offer in the process.
Christopher Keen, director of commercial property specialist CBRE, says: "The investment in existing stores is to really sweat existing space and to catch up with improving shopping environments, which was parked when resources were all ploughed into physical development and expansion."
The slowing of space growth follows almost two decades of rapid development in the supermarket space race as the arch-rivals strove to gain national coverage, better sites than each other and lucrative edge-of-town land.
The migration of non-food sales online is among the factors deterring grocers from opening large stores more than 80,000 sq ft. Having tempted shoppers away from specialists including HMV and Comet, the supermarkets have had their non-food offer rivalled by pure-plays with low overheads.
A rapidly growing trend towards customers shopping more frequently and locally on food, as petrol prices become more expensive and meal planning before shopping less widespread, has made out-of-town stores less appealing.
Tesco has tackled its excess space head on, hitting the acquisition trail to address the issue. Last year, the retailer took a minority stake in artisan coffee shop Harris + Hoole and followed this with an investment in bakery Euphorium and the £49m acquisition of family restaurant chain Giraffe. The first two have already been installed in some stores, while Giraffe is expected to join Subway and Nando's among the food retailers that feature in its stores.
The grocer is also expected to use services such as dry cleaners and hairdressers to assume some of the space vacated by big-ticket electricals, where sales have migrated online.
But is the out-of-town space race really over? Keen argues that projected space growth is in line with long-term averages following a flurry of expansion. "All the grocers went for it briefly to take advantage of the sites that had become available in the downturn and [in light of] the need among local authorities to create jobs," he says.
While space expansion may not be the priority it once was, declines in volumes of goods bought in food has put further emphasis on new store openings as key growth drivers.
Moreover, while Tesco may have achieved national coverage, some grocers still want to open large stores in those key regions in which they are under-represented.
Morrisons has identified London and the Southeast as a strategic target for its M Local convenience and Fresh Format supermarket offers. Its Yorkshire rival Asda is also arguably under-exposed in the Southeast, while Sainsbury's is building its presence in Scotland. Meanwhile, Waitrose has spotted expansion opportunities in the north of England and its northern stores have recently outperformed those in its southern heartland.
If some of the spice has evaporated from the out-of-town space race, there remains plenty of vigour in the fight for new channels.
The digital battle between the major grocers has been well documented, with Morrisons last month striking a 25-year deal with Ocado worth £216m, as it attempts to catch up with rivals including Tesco, Asda and Sainsbury's in online grocery.
Top of the top-up shops
The true space race has emerged in the convenience sector. As the frequency of 'little and often' shopping has rocketed, whereby consumers nip to local stores regularly for small baskets, the major grocers have muscled into the convenience sector and begun to occupy the high streets they are often blamed for killing.
Industry body IGD predicts the convenience market will grow 29% between 2012 and 2017, from £33.9bn to £43.6bn, as large supermarkets access shoppers they could not previously reach with large stores, while consumers appear unfazed by paying a premium to shop locally.
Mark O'Hanlon, senior manager of management consultant Kurt Salmon, explains: "Customers perceive that they spend less in convenience overall given that, for example, they don't spend on petrol to complete their shop, and because there is less perceived impulse opportunity in convenience."
Rob Pearson, director at planning consultancy WYG, says there has "definitely been a hotting up in the race for convenience space", particularly in the larger urban areas. "This is being driven by simplified planning regimes, faster turnaround times in terms of openings and high sales densities driven by footfall in densely populated workplace and residential areas," he adds.
However, with 70% of the convenience market still dominated by symbol groups and independents, the major grocers may have to be patient to achieve the kind of dominance they enjoy over customers' weekly shops.
Established names including Spar, Booker's Premier, Martin McColl, Costcutter, Nisa and Tesco-owned One Stop already have large slices of the market. Keen believes the crowded sector is likely to experience consolidation.
A slew of new sites
WYG planning director Neil Denison says there are also plenty of sites on the market. "Due to the economic downturn there is plenty of land available for purchase outside the Southeast, particularly former industrial sites and public house and car dealership sites for the smaller format stores," he says.
O'Hanlon adds: "If you look at various retailers' projections for new convenience stores this year, it seems that they clearly think there are enough quality sites.
"But as the list of available good sites dries up, retailers will have to make sure they are being very clever in
localising their offer to suit the needs of their customers, and managing their cost base aggressively to ensure the sites stack up financially."
The major multiples have a number of strengths over the symbol group sector. Their buying power and arrangements with large-scale suppliers allow them to offer a broader range at lower or competitive prices, while their large-scale property teams secure good-quality sites.
Moreover, their ability to source good quality, reliable fresh food has been a key attraction for shoppers wanting to complete a full shop or acquire an evening meal at a convenience store.
However, one of the symbol group sector's advantages, namely its oft-cited connection with the local community through long-term staff, can be negated through brand equity or a strong emphasis on service, as displayed by staff at Little Waitrose or Marks & Spencer Simply Food.
But if the challenges and opportunities shared by the multiples are common, their methods in approaching them differ greatly - market leader Tesco Express is looking to supplement its 1,500-store network by franchising its One Stop format; Waitrose is ramping up its food-to-go offer; Sainsbury's is investing in customer service at its Sainsbury's Local format; and The Co-operative's offer might be reinvigorated under new senior management.
However, the elephant in the room remains Asda. The Walmart-owned grocer has until now focused its efforts on large out-of-town supermarket stores and the 200 former Netto stores acquired for £778m in 2010. However, two small petrol stations stores in Leeds and Sale in Manchester have allowed it the opportunity to trial a convenience format, which does not appear to fit its low-cost and low-price model in a sector where higher rents and rates push up prices.
Asda chief executive Andy Clarke last month told Retail Week the retailer was focusing on making its offer
convenient to customers through online shopping, particularly via mobile phones.
So the future of grocery retail space is likely to be defined by a plethora of issues, from the rise of online grocery and shoppers buying hot food-to-go from local stores, to town-centre-first planning rules and availability of sites. Those who are able to make astute investments in the right channels in the near future are likely to reap the long-term rewards of a changing consumer.
Morrisons' march on convenience
Perhaps the biggest play in grocery property this year has been made by Morrisons.
With just a handful of trial stores, a new distribution centre in Feltham and a newly appointed managing director of convenience, Gordon Mowat, its presence at the start of the year was limited.
Swift action from Mowat earlier this year allowed the retailer to snap up 49 Blockbuster stores, seven Jessops shops and six HMV sites as the entertainment and technology retailers hit the buffers.
Now with a target of more than 100 Morrisons M Local stores to open by the end of the year, the grocer has gone some way to addressing its lack of exposure to this rapidly growing channel, along with its absence in online grocery, cited as a reason for a like-for-like decline at Christmas.
Mowat tells Retail Week the grocer's format has brought something new to the market.
"Morrisons M Locals are focused on fresh," he says. "We dedicate more space to fresh food than our rivals and our fresh meat, fish and baked goods are made by our own skilled craftspeople.
"We also pride ourselves on providing excellent customer service - in many of our convenience stores, our managers know their customers by name, which puts the personal touch back into grocery shopping. We're striving to make sure all our stores are at the heart of the community and knitted into local life."
Reports last year claimed Morrisons had discussed a partnership with or acquisition of Costcutter to enter the market. Time will tell whether the organic growth route will prove the right option.