Almost three years to the day since he first addressed the media as chief executive, Potts did at least allow himself some time to reflect on that time in charge – and bask in what he jokingly called "the warm glow of a 4.9% like for like".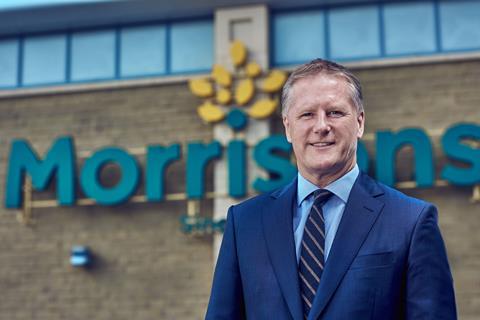 That impressive half-year figure was bettered by its second-quarter number. The 6.3% like-for-like uplift marked Morrisons' best performance in nine years and prompted a playful air punch from the boss.
It was a moment Potts and the business have thoroughly deserved.
The grocer has won back customers through investments in price, the broadening and localisation of its proposition, the introduction of new in-store services such as Amazon lockers and a revamp of the store estate.
But Potts is in no mood to take his foot off the gas.
He told to journalists today: "In many ways we are at the start of our journey."
So how do Potts and his right-hand man Trevor Strain build on Morrisons' best three-month spell for the best part of a decade?
Tricks up their sleeve
First, a sense of perspective is needed through which to view those 6.3% and 4.9% numbers.
Potts was first to admit that a "helpful trio" of the World Cup, the royal wedding and "favourable weather" gave Morrisons a welcome boost during the six months to August 5.
He claims, though, that inflation was "broadly flat" during the period, with those like-for-like gains instead "driven by volume".
Potts has plenty of tricks up his sleeve to make sure sales continue to move in the right direction.
Morrisons is becoming "more and more local", Potts says – two-thirds of everything it sells is already British, while sales of local produce jumped 30% in the first half – and he was at pains to point out that the grocer was "actively seeking out" even more local suppliers.
Those combinations are resulting in the launch of innovative products that have the potential both to keep its existing customers intrigued, and woo customers through the doors from elsewhere.
Potts pointed to "squeaky cheese", similar to haloumi, but produced in Yorkshire and sold at Morrisons stores in the county. At the other end of the country, it has worked with its suppliers to create a Cornish camembert.
Fresh ideas
The supermarket giant is also about to launch a new vegan range and expand its free-from ranges to further broaden its proposition and appeal to even more consumers.
But it is Morrisons new Eat Fresh recipe boxes that Potts describes as the "ground-breaking" addition.
The meal kits can be ordered online for free nationwide home delivery, and customers can also subscribe to receive regular boxes à la Hello Fresh.
"The subscription model, which as an option on Eat Fresh is quite popular, particularly among younger consumers," Potts says.
"We have to watch trends in the market and we have to become, over time, more relevant to more consumers. This is part of that effort and it's an important step."
'Eat Fresh' may have only launched this week, but Potts already has one eye on how Morrisons could further tap into consumer trends and build a wider subscription platform.
"We look forward to building a subscription site that in time could include other things – we've seen from [male grooming etailer] Dollar Shave in the US that it can be popular," he says.
"Morrisons lifted the lid on two new deals that will further boost that fast-growing top line"
With the proposition on the shelves coming together nicely, Potts is also focused on improving the shopping environment.
Morrisons' 'fresh look' programme of store refurbishments is progressing well, but 250 of the grocer's 496 supermarkets are yet to be upgraded with its latest bricks-and-mortar thinking.
The services offered in stores are also being improved at a pace.
Doddle pick-up points are "proving popular" – 80 more locations were added during the half, taking the total to 240.
Timpson offers dry cleaning, shoe repair and key cutting services in more than 200 stores, while Morrisons is experimenting with tyre change centres, car washes and McDonald's at a smaller number of locations.
"We have plans for more sites and more partners," Potts says cryptically when pushed on future plans for similar tie-ups, but there are certainly ideas in the pipeline.
There is one other burgeoning area of the Morrisons business that Potts and Strain are rapidly expanding – the wholesale arm.
The division, called an "engine of growth" by Potts, is on course to rack up £700m of annualised sales by the end of the year, through existing supply deals with Amazon, McColl's, petrol forecourt operator Rontec and Channel Island-based franchisee Sandpiper CI.
Today Morrisons lifted the lid on two new deals that will further boost that fast-growing top line.
It has penned a tie-up to supply Thailand's third-biggest grocer, Big C, with 100 ambient products that will be stocked in the 'international' aisles of the retailer's 1,000 stores.
It is also continuing its push into petrol forecourt retailing through a link-up with NPF forecourts. Many of its locations will be converted to operate under the Morrisons Daily fascia "in the coming months".
If Potts can deliver on the next phase of his plan, both he and his business should continue to deliver growth.