Grocers have used loyalty scheme data to enhance product offers, stores and promotions. Glynn Davis considers how much more potential it holds.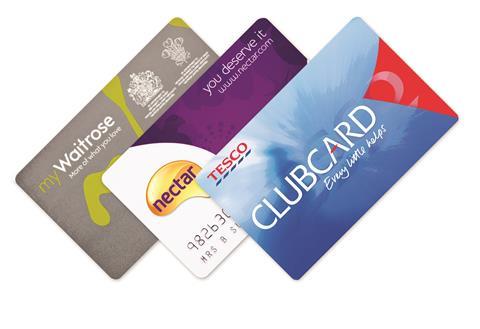 Tesco has had its Clubcard loyalty programme operating since 1995, during which time its capability for gaining insight from customers has advanced dramatically. But even after all these years there still remains confusion about its fundamental objective.
It is not just about communicating offers to consumers but is at heart a harvester of customer data that can be used to inform all parts of the Tesco business with the aim of improving its performance.
Paul Alexander, chief executive of customer insight group Beyond Analysis - and formerly global head of consumer markets at retail analysis firm Dunnhumby, says: "Contact with customers was the cream on top for Tesco. It was the data underneath that did most of the work. This was the secret inside the Tesco loyalty scheme and most retailers still do not understand this."
Not only is there a failure to understand what a loyalty scheme actually is but also the fact that customers do not necessarily need a loyalty programme and an accompanying card. "Retailers know what certain customers do and what they are buying but they are not using this [data] to best effect," suggests Alexander.
Despite this misinformed backdrop, the UK grocery sector has been a pioneer in the retail industry in exploiting customer data, with Tesco and Sainsbury's (using the Nectar scheme) the most visible exponents.
Such has been the importance of the data from their respective programmes that it has arguably given them a valuable edge and been instrumental in steering them into new lucrative business areas.
Luke Jensen, group development director for Sainsbury's, says the insight the retailer gained has informed its decisions to move into areas such as convenience stores, banking, and more recently ebooks. "We've often spoken about the 'data haves' and the 'data have-nots' and we are reaping the benefits of using data. Nectar enables us to reward customers, listen to them and communicate with them. It has become a key source of competitive advantage," he suggests.
Such has been the impact of data and 'big data' - the current buzz term - that Ben Keylock, global data capability director at Dunnhumby, says: "More and more businesses are recognising data as a critical competitive advantage. Within Dunnhumby over the past two years in particular things have picked-up."
Getting to know your customer
There is now an objective to combine more data sets with information derived from Tesco's various channels - its different divisions, such as financial services, and from third-party sources.
The aim is to know the customer better so that they can be given what they want. This most obviously manifests itself in the communication of offers and promotions to loyalty members, with Keylock revealing that redemption rates from targeted offers have continued to increase at Tesco.
"These rates have attracted more suppliers who want to be involved and so success breeds success," he says, adding that a vital aspect of Clubcard is to re-integrate the behavioural findings from these campaigns because this helps enhance the relevancy of future offers.
Despite the potential to deliver intelligent and tailored offers it is the simplest ones that are the most popular with customers, including money-off and buy-one-get-second-half-price. Alexander agrees and suggests that even a 10%-off voucher on £100 spent will be less popular than one for £10 off £100 spent.
"The cash redemption is way higher as you have taken the thought out of the process," he says, adding that the next big thing for offers is to have both a real-time offer and redemption. This involves any cash-back offers redeemed in store or online leading to an immediate crediting to the customer. "Anything to give cash back immediately will be the nirvana but it requires a logistical challenge," says Alexander.
But the data is not just being exploited for promotional offers, Keylock says the insight is also being used in each Tesco store format to determine assortment, how many of each product to stock, the layout, and merchandising and ranging. It has also been fed into the development of pack sizes and the colour of the packaging.
Jensen says that when opening a new Sainsbury's store "we use Nectar data to help us make decisions about what to range, which means we can ensure the right products are in the store as soon as it opens".
With smartphones now in most people's hands the potential to collect real-time data and personalise their experience one-to-one while in store is emerging.
Although Keylock says wi-fi in store makes it possible in theory to track customers and communicate with them, logistically this is difficult because of both the high cost, and the fact retailers are still unsure of what they want to do with the data before they make the decision to start collecting it.
One example of where loyalty members receive offers direct to their phones is at the Casino store in Belles Feuilles, Paris, where a trial of nearfield communication-enabled, shelf-edge labels involves the transmission of offers to the customer's smartphone. However, these are not yet based on the loyalty data held on the individual customer.
Keylock warns that there is a temptation to "jump straight to the end goal" of using data in real time to deliver offers at that specific time without considering the actual benefits to the shopper. Alexander suggests there is not only a tendency to "over-complicate" with such personalisation and customer tracking, but that it also runs the risk of being too much like Big Brother.
This does not overly concern Tim Steiner, chief executive of Ocado, who has personalisation firmly in his sights as another differentiator for his business.
He believes the next step for online shopping will be for individual 'shops' to be created for each customer.
"We've started on the personalisation journey but are only 5% of the way. The next phase is to customise the shops for each customer. We'll strip the shop down even further for each customer this year," he says.
And the really scary, or clever, bit will be "personal convenience", with the use of data helping Ocado to understand the dietary requirements of its customers, what is on promotion for them, their budgets, and aligning this with knowledge such as what they like or dislike - or what their doctor says they shouldn't eat
"Customers want us to tell them what they need and to inspire them. We hope our service will be more meaningful and not just be about displaying products like the other [food] retailers have been focused on," explains Steiner.
Help at hand
Ian McCaig, co-founder at data specialist QuBit, suggests that Ocado's rivals are being helped in overcoming the challenge of delivering powerful personalisation online through a growing mindset that takes them away from building their own IT to instead working with fleet-of-foot specialist third parties.
He reveals that QuBit has had talks with Tesco and Sainsbury's about making sense of the data generated from their online stores and is in discussions about a trial with Asda. This is just as well because he believes online has been overlooked by the grocers, which prompts him to ask rhetorically how many of Dunnhumby's many data scientists are actually deployed on developing its data insight capabilities online?
"They are collecting more and more data but most retailers have not got a handle on this collection, using the data, and aligning it with their other channels," suggests McCaig.
He adds that only a small percentage have even taken the early step of thinking about identifying user segments, which would be "completely analogous" to a loyalty programme of old that helps the retailer build tailored stores and also aligns its customer communications with driving traffic into its shops.
Regardless of the channel, the core of any personalisation initiatives and associated loyalty programme is the data. For grocery retailers, this oil in their workings will arguably become more important as they increasingly embrace multichannel models that require a seamless and tailored customer experience.