Tesco has launched the Jack's discount chain to take on Aldi and Lidl, but can Britain's biggest grocer beat the German duo at their own game?
The discounters operate a unique business model that Tesco is attempting to mimic. The supermarket giant has even recruited ex-Aldi executive Lawrence Harvey to spearhead its project and implement some of the secrets of his former employer's success.
But while Jack's will, like Aldi and Lidl shops, contain a streamlined range of around 2,600 SKUs, focus heavily on price and display products using no-frills merchandising, there is plenty more that makes the discounters such a force to be reckoned with.
The question is, will Jack's have the firepower to stand up to the other weapons in the discounters' armoury?
Low-cost model
The biggest hindrance Tesco has in its bid to take on the discounters is its operating model. In simple terms, it is a mainstream grocer attempting to behave like a discounter.
Aldi and Lidl are built from the ground up as low-cost, high-efficiency businesses. Tesco cannot boast this to the same extent.
"Although Tesco's acquisition of Booker has boosted its sourcing capabilities, it will need to expand Jack's at a rapid pace in order to benefit from the same economies of scale"
The discounters have huge buying power across Europe, which allows them to buy goods in huge volume and offer them for sale at the lowest possible price.
Although Tesco's acquisition of Booker has boosted its sourcing capabilities, it will need to expand Jack's at a rapid pace in order to benefit from the same economies of scale.
Outgoings related to property are the biggest fixed cost that the discounters face, but they run smaller stores in comparison to the big four and drive much higher sales densities.
Wages represent the largest variable cost for all grocers, but Aldi and Lidl can boast much higher staff productivity than their mainstream rivals.
Speedy shopping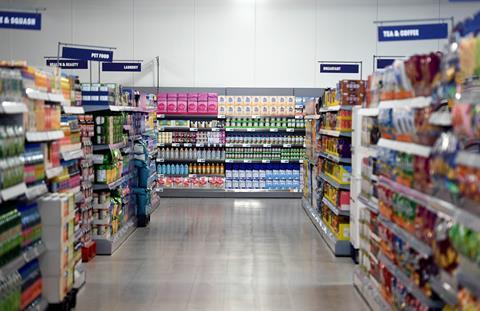 Aldi and Lidl's stores have resonated with customers because of their size and layout, which tend to be relatively uniform.
In comparison to larger supermarkets, the discounters typically operate stores between 10,000 and 15,000 sq ft – and navigating the shop tends to be similar no matter which branch you go into.
As a result, the shopping trip tends to be quicker for consumers. Aldi says the average weekly shop can be completed in 27 minutes because of its smaller format and easier navigation.
But that time is also driven down by its product packaging, which either includes multiple or longer barcodes that can stretch across the entire length of the packaging.
That makes it quicker and easier for staff to scan goods at the checkout, and therefore reduces the amount of time shoppers spend at the tills.
Jack's has opted not to replicate that style of packaging – a decision that could lead to a more cumbersome checkout process.
But it has launched Shop Smart, which allows customers to scan and pay for their goods using their smartphones to create "a quicker way to shop in-store".
Custom-made packaging
The longer barcodes are just one element of the discounters' custom-made packaging that drives efficiencies in-store.
Their goods come in shelf-ready boxes that can slide straight onto the shelves with minimal effort or fuss on the part of the shopfloor worker.
Shelves are a uniform width of 125mm, with standard shelves 600mm deep and base shelves 800mm, so all boxes will fit snugly on display.
It means staff take just 30 seconds to change a pallet, which will contain almost 200 products.
Tesco is attempting to recreate this at Jack's, but that is a stark contrast to how its supermarkets are replenished.
Shelf-stacking in conventional Tesco stores can often prove a nuisance to shoppers, with cages blocking aisles and obscuring products on shelves.
Staffing
Minimising the time shopfloor staff take to replenish stock is vital for the discounters, since they employ a much smaller workforce in their shops compared with the big four.
The average Aldi and Lidl store will employ between 30 and 40 people, whereas a larger supermarket operated by the likes of Tesco, Sainsbury's, Asda and Morrisons will require around 100 employees.
The discounters' employees tend to rotate around the store as 'Jacks of all trades', with much broader roles and the ability to take on a multitude of tasks, in comparison with more rigid supermarket staffing structures.
"The supermarket giant will pay Jack's workers £9 per hour, compared with £8.18 for Tesco staff"
However, that is something the mainstream grocers are changing as they make their shopfloor staffing more fluid and flexible. And in Jack's, Tesco will employ such tactics by hiring a streamlined workforce of 30 people.
By employing fewer staff, Aldi and Lidl are able to pay them market-leading hourly rates, which therefore keep workers motivated to deliver high standards for customers.
Tesco is operating Jack's as a separate business, and is therefore offering different pay and benefits in a bid to compete with the discounters.
The supermarket giant will pay Jack's workers £9 per hour, compared with £8.18 for Tesco staff – although that will rise to £8.48 in November.
However, Tesco staff will receive a colleague bonus which is not being offered to Jack's employees.
No staff discounts
Although Aldi remunerates its staff well and offers a decent pension, various training programmes and money off with gym and cinema partners, it does not provide a staff discount in-store.
Aldi believes that would have an inflationary impact on prices for consumers, with the cost of investing in prices for staff being passed onto its customers in order to maintain margins.
Tesco has taken a similar tack, but it could prove a divisive one.
In the same way that it is offering Jack's staff different wages from those of Tesco employees, Jack's employees will not receive a discount across Jack's or Tesco stores.
However, Tesco employees will continue to benefit from a 10% discount when they shop with the grocer, excluding Jack's shops.
Quality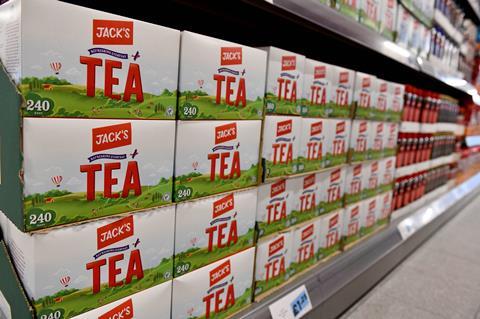 Aldi and Lidl have built a reputation for quality over the past few years, particularly through their Specially Selected and Deluxe premium ranges respectively.
The discounters have worked hard to build their supply base and bring on board as many upmarket and specialist suppliers as possible in order to establish a foothold at the upper end of the market and attract a more affluent demographic.
The duo actually employ a number of big-name brands to produce certain own-label goods for them, such as cereals and yoghurts.
Although both Aldi and Lidl keep the identity of the brands they work with under lock and key, they have become increasingly willing to communicate that broader theme as they hammer home their quality message.
Whoever supplies the products, the discounters hold them to very high benchmarks.
Former Aldi UK boss Matthew Barnes would taste test every product before it hit the shelves, comparing them to M&S and Waitrose on quality. If a product didn't match up, it wouldn't be put in front of customers.
Jack's – after a few less-than-complimentary tasting reviews over the weekend – seemingly has some way to go to achieve such standards. If it fails to do so, it may struggle to woo shoppers from Aldi and Lidl.
General merchandise 'wow' factor
The discounters, particularly Aldi, have built a reputation for offering 'surprises' in their centre aisles.
From gym benches and skiing equipment to water fountains and hot tubs, shoppers have become accustomed to picking up seasonal bargains in Aldi and Lidl stores.
But that doesn't happen by accident. Aldi has a team that plans its Special Buys a year in advance in order to secure on-trend products at the best possible prices from across Europe.
"There was little to suggest that this range had been meticulously planned around the autumn/winter season"
Jack's 'WIGIG' (when it's gone it's gone) aisle, in contrast, felt a little more disjointed and hastily put together in its composition.
While items including toilet seats, coat hangers, pet toys, dehumidifiers and ironing boards represented good value for shoppers, there was little to suggest that this range had been meticulously planned around the autumn/winter season.
It is unclear how the goods in Jack's WIGIG aisle are sourced, or how far in advance they will plan the proposition, but the retailer has some work to do if it is to offer customers the same "wow" factor in general merchandise as its discount counterparts.