TM Lewin has just broken the £100m sales barrier. Its chief executive wants to add the same again through international expansion, he tells Alex Lawson.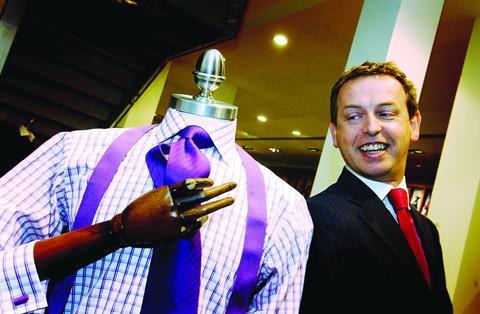 TM Lewin chief executive Geoff Quinn is a modest retailer. The family man, who has worked at the formalwear retailer for 31 years, says if it had not been for his team, he would not have ventured to open stores overseas.
"I had never even really thought about international but my team opened my eyes," he says.
Quinn praises the expertise of Mark Dunhill as international director and Andy McQuin as marketing director – both newly created positions in the past eight months – alongside director of home shopping Andrew Mossman as the staff who have guided the retailer to rapid growth.
The overseas push in recent years helped TM Lewin reach a milestone in its 113-year history, pushing through the £100m revenue barrier in the year to February 26, as revealed last week.
In May 2000, TM Lewin had expanded to five stores, building on its original Jermyn Street shop in London. However, following rapid recent expansion after a £50m management buyout in 2006, the chain has ballooned to 107 stores worldwide and Quinn is targeting £100m in international sales by 2016.
Few would doubt that he has the determination to accomplish the goal, despite the tough climate. Leaving school with just an O-level in pottery to his name, Quinn showed his temerity in demanding a "healthy" salary of men's retailer Woodhouse founder Philip Start, which landed him his first job in fashion.
Later in his career he showed his resolute determination when, as managing director of TM Lewin, he kept the business going in the face of tragedy, after the death of owners – and brothers – Chris and Tony McKenna. Chris died in a car crash in 1989, and Tony of a heart attack four years later. Quinn, at the request of the brothers' widows, strived to keep the business going.
Since that time, Quinn, who cites Paul Smith as an influence, may have steered the business through growth, but he has ensured that TM Lewin's overseas stores have kept a local feel. For instance, in its six Singapore stores, it sells its Regent shirt with a different collar style, shorter sleeves and a breast pocket to suit a local inclination not to wear suit jackets in the hot climate.
"Our business is not just about targeting expats but servicing the local business community," explains Quinn, who enthuses about the "fabulously dressed" people of Sydney.
In the next three years, TM Lewin will open 30 concessions in Australia, partnering with department store Myer, the first of which is to open in February.
"Australians work hard and play hard so we have created some transition shirts, called Francomb Classics," says Quinn. The shirts look normal by day when worn with a tie, but in the evening when the tie comes off there is extra detailing and colour on the collar to jazz up an outfit.
Back on these shores, the company is putting a strong focus on multichannel and aims to develop its range through adjustment rather than radical changes.
Menswear accounts for 84% of revenue at the retailer and Quinn is adamant it is going to stick to its core offer. "We do not want to launch lots of different things just because people know the brand," he says. He adds that the downturn and subsequent heightened competition does not concern him greatly as "an uncertain market exposes your weaknesses so you can adjust".
With Quinn's drive and ambition for TM Lewin, it seems as though he has the formalwear market all tied up.
Career history
1993 Becomes TM Lewin managing director
1980 Joins TM Lewin
1979 Moves from Turnbull & Asser in Canada to set up its US business
1978 Joins Turnbull & Asser
1977 Joins Woodhouse as sales assistant