The value sector is the latest focus of Retail Week's 'The disruptors' series, which looks at the businesses creating waves across the industry.
This year, the retailer at the top of many a city analyst's buy list was B&M.
Delivering a meteoric rise in sales and profits in recent years, B&M is now a bona fide retail power-player.
The retailer is able to build sites from scratch and negotiate highly competitive rates with landlords through the sheer popularity of its business.
The ongoing success of businesses like B&M and Home Bargains proves that value retail is not just a trend of the recession; there is a genuine long-term appetite from shoppers for a value-driven general merchandise offer.
So who are some of the newcomers – and what are the key trends – shaking up this highly competitive sector?
Wish
General merchandise value marketplace Wish.com was co-founded in 2010 by former Google software engineer Peter Szulczewski and Yahoo engineer Danny Zhang.
The San Francisco-based business was created to cater to what Szulczewski refers to as the "invisible half" of US shoppers – those who want to shop online and on their mobiles, but have very little to spend.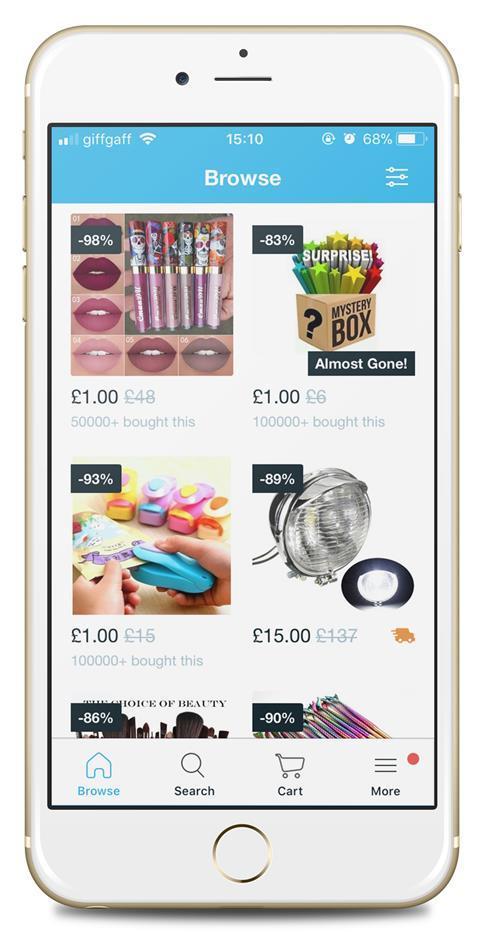 These shoppers prioritise price over delivery times or product quality, and are happy to wait weeks for a delivery from China if they can get what they want for a sufficiently competitive price.
Speaking at an event in December 2016, Szulczewski said he had a hard time convincing investors in the early days of Wish that this class of shoppers even existed.
"The investor class in Silicon Valley said, 'I don't know anyone that would shop on Wish,'" he said at the Code Conference.
But exist they did. Today, Wish has more than 200 million customers worldwide – 20 million of whom live in the UK – with 5 million active customers and 250,000 new customers each day.
Investors have come round to the business as well. In its latest funding round in September 2017, the etail marketplace raised $250m (£182m).
The value-driven business, which hosts third-party sellers on its platform and has a similar layout to Pinterest, has ploughed investment into social media marketing to build its customer base.
According to app intelligence firm Sensor Tower, Wish.com was the second biggest app advertiser on Facebook, the sixth-top advertiser on Google and the fourth-top advertiser on Pinterest in the second quarter of 2017.
And the business shows no signs of slowing down. Szulczewski has previously said he received "one hard offer" from Amazon to acquire Wish.com, but turned it down in favour of growing the business' international platform.
He told Recode that Wish.com could become a "trillion-dollar-a-year marketplace".
Everything5Pounds
Everything5Pounds.com is a value-led fashion and homewares retailer with every item priced at – you guessed it – a fiver.
The business started with a single shop in London's Notting Hill and then expanded into shopping centres across the country.
At its peak the retailer had around 27 stores, but after several years of running a bricks-and-mortar estate it decided operating an online-only proposition would be more cost-efficient.
Its proposition is simple but effective.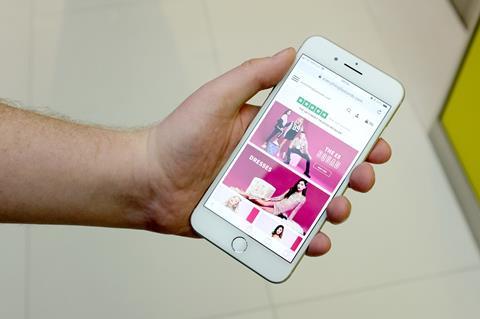 Everything5Pounds sources clearance and end-of-line items from boutique, high street and ecommerce fashion retailers, removes the branding and sells them on to its shoppers at what is often a significantly marked-down price.
It shoots its own product imagery for the clothing it sells and fulfils orders from an Essex warehouse.
Chief operating officer Robert Kulawik says: "We introduce 50 new styles on to the website every single day, and publish new arrivals on our website and Facebook page the evening before they go live.
"Our shoppers know that there are usually low numbers of each item we offer, so they will go very quickly and once they're gone, they're gone."
The FOMO (fear of missing out) factor has resonated with Everything5Pounds shoppers, and the firm now has 2.5 million customers.
Its most recent financial year saw the value retailer process 1.5 million transactions with a sales turnover of £30m.
And the retailer is not short on ambition – Kulawik says Everything5Pounds is ploughing investment into new AI-powered marketing technology and is eyeing international expansion.
European arrivals
A slow and steady stream of growth in the value sector in recent years has come from European exports, which combine cut-throat prices with stylish own-brand products and savvy marketing.
First came Danish export Flying Tiger Copenhagen (formerly called Tiger). It may have been trading in the UK for some time now, but executive chairman Philip Bier, who brought the business to these shores back in 2005, says there is still room for expansion.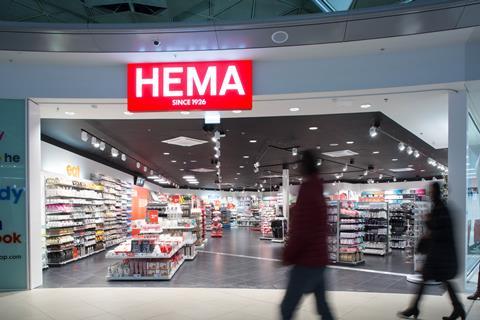 He told Retail Week last year: "The brand is far from at saturation in, for example, Greater London and the south, and along the M62 corridor, so lots of opportunities for growth."
Another retailer growing rapidly is Hema, a Dutch business that opened its first UK shop in London Victoria train station in 2014.
Hema sells products ranging from make-up to bras, as well as more classic value fodder such as home decor. Its products are value but design-led.
These are the types of businesses cash-conscious millennial shoppers go to buy a present for a friend or housemate. But, unlike something they might pick up at Poundland, it's a gift they'd give without a hint of irony.
Marketplace sellers building empires
Etail marketplaces like Amazon and eBay have allowed traditional market trader-type businesses to reach a much wider audience online – and compete with far more established value players as a result.
On eBay's platform, a variety of value and discount retailers have been able to pick up customers and, in some cases, establish their own successful ecommerce operations as a result.
Two eBay sellers that have gone down this route are Lingerie Outlet, and sportswear and outdoor specialist Get The Label.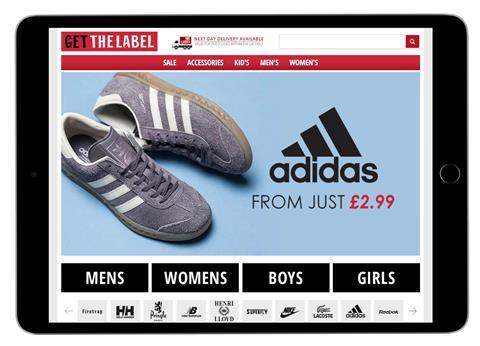 Get The Label's founder Paul Simpson decided in 2006 to sell discounted branded clothing for JD Sports, after the sportswear giant bought a 50% stake in his previous business Topgrade Sportswear.
Lingerie Outlet was founded by Clare Haines and Melissa Burton in 2009 and has since become eBay's biggest UK lingerie seller, processing 1,200 orders per day.
Another value brand that found success on eBay is Color-Pro, which was founded by Jay Bassi in 2011 to sell consumer technology products.
The business, which now has an annual turnover of £2m, has since expanded its proposition into a range of categories including health and beauty, office supplies, and home and garden accessories.
Bassi says selling through eBay has enabled Color-Pro to "trial innovative products to the masses". He was the first eBay seller to stock affordable home projectors for 'home cinemas' and one of the first to jump on last year's fidget spinner craze.
Oak Furniture Land also started out as an eBay seller and now has 75 UK stores.
Today's marketplace sellers could be tomorrow's value sector trailblazers.
Tesco enters the fray
Grocery behemoth Tesco is understood to be launching a value format in a bid to win back market share from Aldi and Lidl.
The supermarket chain is reported to have asked its own-label suppliers to contribute to the new initiative, which will offer 3,000 SKUs, and has earmarked two potential sites to pilot the fascia.
"The supermarket chain is reported to have asked its own-label suppliers to contribute to the new initiative, which will offer 3,000 SKUs"
The grocer has not confirmed these ambitions for a stand-alone value fascia, but any such plan would have implications for general merchandise value retailers such as Home Bargains and Wilko.
Homeware staples and cleaning products, which would likely feature in Tesco's discount product range, would give consumers another place to shop in this already crowded marketplace.
More established value players like B&M have recently looked to expand their product range so customers can do a full grocery and home essentials shop with them. Tesco's reported move into discount retail could well undermine this ambition.
The disruptors: The shake-up in retail delivery
1

2

3

4

5

6

Currently reading

The disruptors: Who are the new value retail players?