Halfords posted flat like-for-likes up 0.4% for the retail business today as it modestly upgraded its profit forecast for the year. Chief executive Matt Davies explains the results.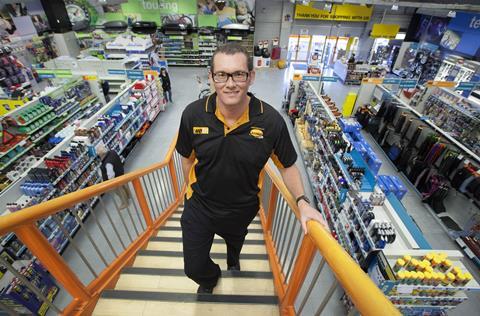 Are you pleased with Halfords' third quarter performance?
Today's numbers are satisfactory in tough conditions. We achieved good growth in the service-led areas that we have targeted for investment. Now 40% of all blades, bulbs and batteries we sell we also fit, which has improved from 8% a few years ago. This is due to investment in service recruitment and a drive across adverts in TV and radio.
We are satisfied with the growth in the period but we realise there is still a lot more to do. We will keep developing the brand in store and across cycle parts, accessories and clothing and service.
How have other categories performed?
If you look at other parts of car maintenance, it was affected by the mild wet weather which has restricted demand for winter product, for example, screen wash was down 10% on the previous year.
Premium bike sales were strong, up 3% in the period but overall the cycles like-for-like was down 1.6%. Older kids cycles were weaker.
Premium bikes were superb in the run up to Christmas. We were pleased with the performance of small kids bikes. But in older kids' bikes we have seen a gradual trend in parents waiting until after Christmas to buy the bike and looking to take advantage of deals.
We continue to develop product ranges and there is the separate announcement this morning that we will now sell the Pinarello brand. It is the brand that Bradley Wiggins used to win the Tour De France and it is the official make for the British Olympic cycling team. It will launch online and in some stores in Spring.
Why did online sales rise 10.9% in the period?
Sales increased as customers continue to embrace the reserve and collect offer. Online continues to be an incredibly important part of the proposition. It has been phenomenally strong because of reserve and collect as 86% of all online sales are collected in store.
Are you planning on opening more Autocentres this year?
We opened 60 Autocentres in the period to total 271 and there is a good pipeline for the coming year.
How big a concern is it that cycle sales were down despite the summer of sport?
In terms of the overall cycling performance it's not one we should be too disappointed about. Cycling is absolutely a growth market and there is a huge amount of work to be done to ensure the cycle division is well-placed to get growth in the market. This has been a tablet Christmas without a shadow of a doubt and this drive towards technology for older kids may be what impacted cycle sales. It was also against strong comparatives last year so from a two year perspective I think cycles are pretty solid.
With the growing importance of online, will you need such big stores going forward?
In a few months I will address the store issue.
How will Pinarello help the Halfords brand?
It's a really strong indictment of the overall strength of Halfords' cycling business proposition that they want to work with us. It complements the existing premium brands Carrerra and Boardman we have. It is a great partnership and the range we will be selling will be bikes costing up to £2,500. Initially, they will launch online and a small number of stores to start with and we will build up those relationships.
Do you think you are attracting the professional cyclists now?
Our absolute focus is on mainstream UK. The reality is if someone spends £5,000 on a bike and £2,000 on equipment then they may decide to go somewhere else. We see there is a huge opportunity converting hobby cyclists and commuter cyclists to the Halfords proposition.