Card Factory has been one of the unsung retail success stories of recent years. In a rare interview, Nicola Harrison finds out the secrets of its prosperity from chief executive Richard Hayes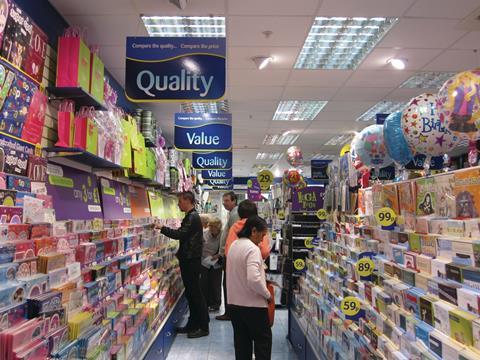 The office of Card Factory's chief executive Richard Hayes is not particularly fancy, but there is one thing about it that gives away just what a significant retailer it has become. Not the requisite boxes of greetings cards piled on shelves, but the maps of the UK that adorn the walls. There are drawing pins showing where the card specialist has opened stores, and there are a lot of pins.
Fiercely private, Card Factory operates out of humble head quarters on an industrial park in Wakefield, West Yorkshire, from where it has pushed the button on aggressive expansion plans that has seen it opening a store a week for the last six years. It now has 580, having opened 50 this financial year so far.
In a rare interview, Hayes insists the expansion programme is well considered. "One of the strengths of this company in the last six years is that we have been very selective," he says. "We've opened stores organically and have a strong portfolio. We have most of the stores in the right places."
Going by the retailer's figures, the rapid expansion seems to be paying off. While some competitors have struggled during tough trading conditions, Card Factory has emerged as one of the few success stories of downturn, with EBITDA surging 20% to £64m in the year to January 31, a performance that compares starkly with struggling rival Clinton Cards.
Vertical integration
Considering its size, Card Factory has managed to keep comparatively below the radar. Hayes points out that it was only very recently that Mintel began including Card Factory in its market share figures. The research house could hardly avoid it now.
So what's the long-term target for expansion? Hayes will not commit to a number but says only: "There is still significant growth potential."
Although Card Factory acquired 76 stores from rival Celebrations when the latter went bust in 2008, Hayes would rather open organically than acquire tranches of stores. "If you grow by acquisition you have to take the good, the bad and the ugly," he explains.
The strategy behind Card Factory is one of market share growth and gaining the benefits of economies of scale, which help to ensure margin improvement – a key performance indicator for a value retailer such as Card Factory.
Those aims are backed by Card Factory's owner, private equity group Charterhouse, which acquired the retailer last year after a bidding war with rival private equity houses.
Hayes was not surprised by the attention. "It's a very successful business. The private equity houses are definitely in the market for good quality businesses," he says.
So just what makes Card Factory a good quality business? How is it able to maintain strong profit and turnover growth while other retailers flounder?
Ownership of key parts of the supply chain is central, maintains Hayes. He says the retailer has become increasingly vertically integrated in the past six years and there are still many opportunities for improvement in the area.
Card Factory designs a large proportion of the cards it sells at its head office. They are then printed at the facilities acquired two years ago before coming into to the warehouse to be sorted and then sent to the shops.
"We now have more control over the supply chain," says Hayes. "In the early days of Card Factory we bought straight from the wholesalers."
Quality control
Hayes says control over the supply chain brings security, as well as an ability to "plan properly" and cost savings.
Of critical importance is the impact on quality. "When you're in control of your own supply chain you can control the quality," says Hayes, adding that such quality control has improved the business. "Five years ago Card Factory was a discounter, now it's a value player – it's come from quality improvements," he says.
The business prides itself on quality. Despite maintaining the same price architecture since entrepreneurs Dean and Janet Hoyle founded Card Factory in 1997 – 59p, 89p, and 99p – the quality has improved vastly, says Hayes.
Comparing the cards sold by Card Factory with those sold by its rivals, it is difficult to tell between one card priced 89p and another, sold by a competitor, priced £5. "We're not discounting some fictitious retail prices, our prices are the right price," says business development director Andy Garbutt.
The main focus for Card Factory, says Hayes, is "improving the value proposition for our customers". Garbutt adds: "When people discover us and the quality, they become very loyal."
That can be seen by walking into a Card Factory shop. The store in Leeds' White Rose Centre is bustling. Customers seem to be taken aback by the value, including deals such as seven cards for £1, which is drawing shoppers impressed by the quality, having probably expected flimsy products at such bargain prices.
Shoppers soon identify the suited and booted Hayes as management and gush about how wonderful the products and staff are – almost to the extent that it looks like a planned stunt, which Hayes assures it is not.
Economies of scale are what enable Card Factory to maintain its ultra-competitive price points. Rising costs are "always a challenge" says Hayes, but he notes: "We've got a growing business here, so we can mitigate some of that with our huge economies of scale. Margins for Card Factory continue to improve."
Strength in depth
The retailer's stable management team has been a "massive" benefit says Hayes, who has worked at Card Factory for eight years. He started as finance director, then became commercial director before becoming chief executive of the business in 2008.
Buying director Stuart Middleton has been with Card Factory for six years, while retail operations director Ian McEvoy has been there for 11. Founder Dean Hoyle remains chairman, although his wife Janet has since stepped down from the business. Every member of the management team has a stake.
"We're all totally aligned," he says. "We've taken on board people we know, that are passionate and highly motivated." One of them was Garbutt, who joined from PricewaterhouseCoopers last year. He had worked closely with the retailer for years while working at the consultancy firm. Group finance director Darren Bryant also joined from PwC.
More widely, Hayes is keen to highlight the health of the £1.5bn greetings card market. He believes online players such as Moonpig are helping to expand the market rather than taking existing share from others.
He also believes that the share of the supermarkets is often overplayed, saying that it has grown only "slightly" in recent years.
"The greetings card market is stable and resilient," says Hayes. Yet in that stable market Card Factory has increased its share. At whose expense? Hayes won't say directly, but points out that while Clinton has reduced its store base from 1,300 to 800 since 2006, Card Factory has increased its by 400.
Hayes will not reveal Card Factory's share of the market but highlights its most recent reported annual turnover was £232m, although that turnover includes non-card revenue, such as gifts and wrapping paper, too.
Hayes says current trading is "on plan" and the average transaction is increasing. Card Factory does minimal advertising, and that is not expected to change any time soon. "Our shops and product are the best marketing tool we've got," says Hayes.
What's on the cards?
Does Card Factory want to be market leader among the specialists, a position occupied at present by Clinton? Hayes considers his response before answering: "I want us to be first choice for customers, which will drive profitability."
He sticks to the mantra that "turnover is vanity and profit is sanity" – something he learned from his days as a banker before moving to retail.
While the value proposition of Card Factory has benefited the retailer during the downturn, Hayes argues that he would rather be running the company in a stronger economy.
"There are definitely fewer people on the high street at the moment so we have to work harder to grow market share. It's survival of the fittest," he says. "If more people were on the high street we'd be taking more money."
Although there may be fewer people on the high street, Hayes is still a big believer in its future. However, he said it would helpful if improvement action was taken, such as free parking, a halving of business rates and a change in attitude regarding rents. "There needs to be a realignment with landlords," he says. "It's a fundamental requisite to get the high street back on track."
Card Factory has been able to negotiate attractive terms in the downturn. Its shops are increasingly becoming good footfall drivers, so the retailer is in demand. While there is still plenty to go for in the UK, Hayes does not rule out opening overseas but says any move would be taken cautiously. "It's always a possibility," he says. "But the card culture of the UK is not mirrored in the rest of Europe."
By that, Hayes is referring to the average Brit's propensity to send greetings cards. Statistics show that the number of cards sent per person in the UK is about 50, above most other nations.
If that continues, then Card Factory should continue to mop up share with its quality and value proposition, even if it continues to play its cards close to its chest.
Online opportunities getting personal
Card Factory made a key acquisition last month when it bought online personalised gift and greetings card retailer GettingPersonal.co.uk (pictured).
The purchase by Card Factory, which does not itself have a transactional website, takes it head-to-head with established online players such as Moonpig. Rival Clinton Cards has also recently launched its own personalised cards and gifts website and WHSmith operates FunkyPigeon.com.
Hayes says: "It's important we have an online offering. We have been looking at a number of businesses over the last 12 months and GettingPersonal is a good fit because of its product range and its management team culture, which is very aligned to Card Factory. It will help us become number one in the online gifting market."
Hayes is careful not to overstate the online opportunity, however. He says the volume of cards sold online compared with the high street is still low: "Relatively speaking it's extremely small compared with the total market. Companies such as Moonpig can't be ignored, but there will be a place for both online and stores going forward. We wouldn't be opening a store a week otherwise."
There are no plans to rebrand GettingPersonal to Card Factory. Does that mean Card Factory will launch its own online operation soon? "One step at a time," answers Hayes, who did not rule out more acquisitions in future. "There will be other opportunities along the way," he says.