Poundworld's transactional website Poundshop.com's launch has been delayed three days until Tuesday.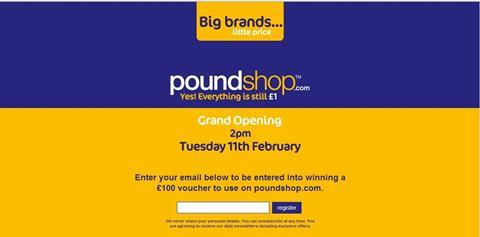 The website, which has been developed by Poundland co-founder Steve Smith in partnership with bricks and mortar retailer Poundworld, was originally set to launch a fully transactional website tomorrow but it has been delayed three days due to teething problems with stock deliveries.
Poundshop.com operations director Ashley Smith, who is Steve Smith's son, told Retail Week: "It will by a full launch on Tuesday. There has been a bit of delay because we are getting all the branded product ready."
Over the past few weeks the Poundshop.com website had displayed a countdown to its original Saturday launch date but it now has a notice up which states that the "grand opening" will take place on Tuesday.
Poundshop.com was set to be the first single-price point retailer to launch a transactional website in the UK but it was pipped to the post this week by Hereforapound.com, which was opened by husband and wife entrepreneurs Donna and Mark Baker and counts Stephen Boyd and Sam Mickleburgh, Axminster Carpets chairman and HR director respectively, as board members.
Single price point retailers such as Poundland and 99p Stores have not yet launched transactional websites due to the significant overheads against the low-priced offer.
Poundshop.com will have a minimum order value of around £20 with a delivery charge on top, although the exact amount is yet to be decided.