Poundland has revealed the location of the 10 stores in which it plans to launch Pep & Co shop-in-shops.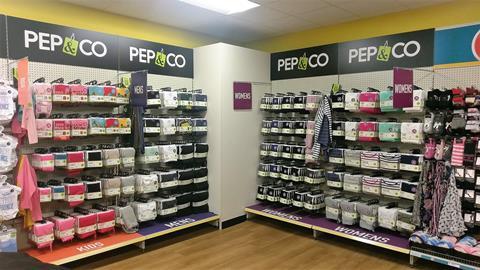 The value retailer, which was acquired by South African conglomerate Steinhoff in September, is planning to launch the extended Poundland stores in February.
Retail Week revealed last month that Poundland was trialling elements of its Pep & Co fashion offer in two stores.
The Poundland stores that will have the full Pep & Co offer covering 2,500 sq ft are: Hanley, Southampton, Woolwich, Wembley, Kings Heath, Rhyl, Dudley, Slough, Ilkeston and Gillingham.
Poundland started recruiting for Pep & Co staff in these stores today, Retail Week understands.
Pep & Co's managing director Adrian Mountford said: "What will be great for customers is they'll get the convenience of all of their Poundland favourites alongside clothing."
It emerged last month that Poundland could also be looking to sell up to 80 stores.
The value retailer is now being led by former Asda boss Andy Bond, since the departure of Kevin O'Byrne to Sainsbury's last month.
Bond has overseen the launch of Pep & Co and the aquisition of Poundland by Steinhoff as boss of Pepkor Europe, an arm of the South African conglomerate.
Meanwhile, the discount variety chain Guess How Much! (GHM!), launched in June by Pepkor Europe, is being folded into Poundland.
However a Pepkor Europe spokesman said the six GHM! stores will remain open and a decision has yet to be made on the future of the fascia.
It is understood a consultation is underway with staff at the Leeds head office of GHM!
The spokesman said it has been "really pleased" with the performance of GHM! since its launch.