Former Moonpig boss James Sturrock was drafted into Eve Sleep eight months ago to help turn around what was expected to be the next big retail success story but which ended up a nightmare for investors. He tells Retail Week his plans
James Sturrock arrived at Eve Sleep at a tumultuous time for the business.
The etailer was heralded as the next big thing in the fast-growing mattress-in-a-box sector but just over a year after its 2017 IPO, Eve Sleep warned on profits and parted ways with its founder and chief executive Jas Bagniewski.
This sent shares into a tailspin. The etailer floated in May 2017 at 101p a share, valuing the business at £140m. Shares are now trading at 6.2p and the business is worth a mere £16m.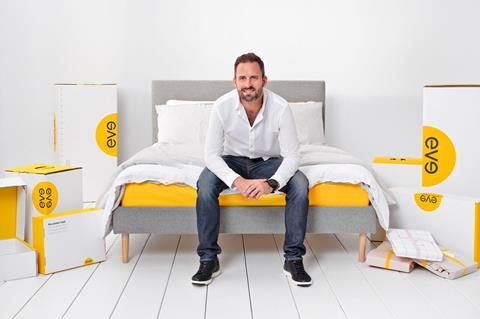 James Sturrock was drafted into the business in September 2018 to get it back on track.
It was a baptism of fire for the former Moonpig boss. Within two months of arriving at Eve Sleep he had reviewed the company, rethought its strategy, asked investors to plough more money into the loss-making business and raised £15m of new equity.
"I very quickly needed to work out where we needed to focus our energy and our effort," Sturrock says. He says his biggest challenge has been "wrapping up an awful lot of info" and figuring out how to rebuild the business "for shareholders and more importantly for customers and for the future".
Eve Sleep had expanded too fast as it targeted European domination and underestimated how much money it would take to gain traction in new markets, according to analysts. In 2017, it spent £17.2m on marketing, up 119% on the previous year, on just £27m of sales.
It racked up £19m of losses that year. It had also lost focus as it expanded. Sturrock's job was to get that focus back.
"We're still relatively young and have about 80 people in the business so it's important that we did fewer things and did them better," he says. "Because the business had very rapidly grown and expanded into Europe, I had a little less customer insight than I had expected – like why customers weren't buying on the site when they were visiting.
"We've undergone extensive research about what's important to customers buying mattress products and why they buy from some brands and not others, what their consideration points are."
Making mattresses trendy
Sturrock's turnaround plan is based on three pillars – differentiated brand positioning, an expanded product range and 'lower friction' customer experience.
In terms of brand positioning, Sturrock's plan is to make buying mattresses "trendy" and walking into Eve Sleep's Camden head office, he's got the right base to do it from.
With a 'nap room' in the corner, beds that double up as meeting spaces and Tom the office dog wandering around, you might be fooled in to thinking you were in a shared work space in hipster Shoreditch. There is also a smattering of new products strewn around the office.
"We've started making our product differentiated, design-oriented and a bit trendy, into a market that's a bit confusing and hasn't really been revamped in the last 50 years or so and is still stuck in that grudge-purchase territory," Sturrock explains.
Rather than focus on international expansion, he plans to grow through expanding the product range.
"We're 100% focused on the UK and France right now. That is a big market – over £2bn in the UK and £1.6bn in France – and there's a big opportunity to continue the disruption we started there," Sturrock says.
"We'd like to think of ourselves as 'The White Company for sleep' in three to four years' time"

James Sturrock, Eve Sleep
With three main mattresses sat alongside bedsheets, bed frames, mattress protectors, pillows, baby products and pyjamas – which under Sturrock's watch has been broadened across the board – he is setting a new direction for the business.
He says: "We'd like to think of ourselves as 'The White Company for sleep' in three to four years' time, so premium products at affordable prices for a discerning customer, who wants a really good night's sleep and surrounding products.
"So today the mattress, tomorrow the broader bedroom furniture range and in two or three years' time maybe we will get into sleep habits and rituals, homoeopathic and lighting.
"You can see where that product goes and where we're taking the brand, and that helps us differentiate between the mattress-in-a-box brands."
There is a lot of competition in that sphere. The promise of good-quality mattresses squeezed into boxes and delivered to the door was viewed as a revolutionary way to buy the product and has spurred a raft of mattress-in-a-box start-ups. As well as Eve Sleep, there's New York-based Casper, a business backed by Leonardo DiCaprio; Simba Sleep; and Emma.
Even established players like Dreams have tried to get in on the act by creating bed-in-a-box brand Hyde & Sleep.
Far from a sleepy market
There may be a lot of competition, but sleep is big business. People are investing more and more in getting a good night's sleep. According to McKinsey's 2017 report, the sleep health market – comprising anything from bedding and sound control to sleep consultants and sleep aids – is estimated to be worth between $30bn and $40bn and has historically grown by more than 8% a year, with few signs of slowing down.
With wellbeing, wellness and a desire to switch off and destress becoming part of the zeitgeist of modern living, sleep is becoming more important to consumers.
Sturrock says Eve Sleep's mission is "sleep wellness" and rather than focusing on the actual sleep, the retailer focuses on what a good night's sleep enables you to do the next day.
It is even supporting Team GB's rowing team on the road to the Olympics as psychologists and physicians put more emphasis on the importance of sleep and rest as part of their training.
"Sleep is such an important part of health and mental health, and if we can do it for elite sports, I'm sure we can do it for consumers and that's a great endorsement that sets us apart from other competitors in the market," Sturrock says.
Bricks-and-mortar growth
Alongside partnerships with sports teams, the brand is eyeing growth through partnerships with bricks-and-mortar retailers for the benefit of those customers "who want extra assurance on the product before they buy".
"Where we see good partnerships as a benefit for Eve is seeing the brand where shoppers are," Sturrock says.
Its products are now sold in Next Home, Debenhams and Fenwick stores, though its tie-up with beds giant Dreams ended after less than a year as the "commercial terms weren't working for either party".
That hasn't put Eve Sleep off more bricks-and-mortar ventures and it will unveil two new partners this summer.

"We might even have a go at retail ourselves with a pop-up and that sort of thing," Sturrock adds.
Green shoots
Losses might have increased from £19.2m to £20.3m on a statutory basis in 2018, but Eve Sleep has secured the funding to push ahead with Sturrock's plan to achieve "sustainable growth".
It's early days, but customers appear to be responding to the changes he and his team have initiated.
"Repeat purchases are increasing, the revenue from our non-mattress products is growing month on month and reviews are getting stronger so really pleasing progress so far," he says.
He has also rebalanced the cost base, including significantly reducing administrative expenses and "inefficient" marketing spend, and has promised shareholders "a significant reduction in losses" in 2019.
Sturrock may have an ambitious turnaround to execute but – even with two young kids at home – he insists on having eight hours sleep a night.
He'll be hoping shoppers put as much emphasis on a good night's sleep.
Tech. 2019
James Sturrock is on the advisory board for Tech. and says: "I'm really excited about the Tech. 2019 agenda - there are a lot of good 'myth busting' sessions which I'm really looking forward to attending."