Tiger UK managing director Philip Bier may have been a novice when he started the business in 2005 but he has certainly earned his stripes nine years on.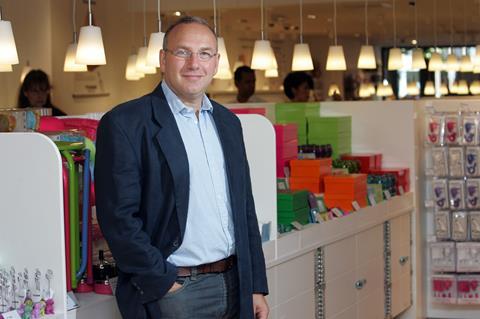 Bier has opened 26 UK stores for the Danish value retailer, and is even planning a shop on London's Oxford Street, something none of its variety store rivals have attempted because of the high rents. Tiger is also poised to sign for a store at Westfield Stratford City in the next few months as it aims to further bolster brand awareness.
"If you had said to me in 2005 that I would have 26 stores and 400 employees and a store on Oxford Street, I would have said 'what planet are you on?'" says Bier.
"But what is interesting about expectations is that you just move the goalposts all the time. Now, if you said that in a few years I might have a thousand employees and EBITDA of £15m I would say 'yeah, probably'."
Danish-born Bier says his positivity and determination come from his parents, who instilled in him the belief that you can do anything if you set your mind to it.
Bier, who had been working as an architecture photographer and had no previous retail experience, put his parents' ethos to the test when he put his life savings and a second mortgage – totalling £50,000 - on the table to set up the Tiger business in the UK with his wife, Emma.
Zebra, the company which owns the brand in Denmark, matched his investment and Bier opened the first store in Basingstoke to a "decent start". But it wasn't until the second store launched in Hammersmith a year later that his efforts were rewarded and the concept was proven to work. The store made its investment back within three months.
"A career change at the age of 40 was a challenge," he says. "People ask, 'how did you know what to do?' But when it is your money, what you might not have in direct experience you have in commitment and over time the experience will come."
It was a huge learning curve for the family man, who was thrown in at the deep end with a Danish ordering system that meant he was the only person who could place orders, a pricing system that "didn't work" and some issues with product compliance in the UK.
"If I look back now, I question the likelihood of the brand's success. As the managing director I had no experience of retail at all with a brand nobody knew. It now looks like it was a bit wild," he says.
Bier managed to navigate retail with the business experience he had gained from formerly running a photography studio, while Emma Bier had worked for 10 years designing Waitrose supermarkets and was on hand to help. Nine years on she has designed the new head office above the store on Tottenham Court Road, which opened last year, putting the brand on the retail map.
Tiger's success is showing through in the numbers. In the year to December 31, 2013, it generated pre-tax profit up 63% to £2.8m with soaring sales up 45% to £23.3m and like-for-likes up 4%. Year-to-date EBITDA is up 64% on last year's £3m.
Bier says: "Although in size we're not enormous, our profits are shooting well above a retailer of our size."
A focus for Bier has been building the right team and the Dane believes that employees should be at the heart of the business. In September Tiger's first recruits to its graduate training programme will begin working.
Despite having a little more time on his hands these days, Bier saves his photography for holidays and family occasions, and no doubt he will have his camera ready next year when he throws a party to celebrate his 25th wedding anniversary and his son's 18th birthday. And he plans to take his entitlement of a five-week holiday which employees are awarded after 10 years of service.
Bier will most probably need a break next year given his ambitious expansion plans for the rest of 2014. He believes there is scope for Tiger to sink its claws into a total of 20 stores in London and as many as 100 stores in the Southeast.
That would put anyone in the mood for a cat nap.
Facts
Bier came to the UK from Denmark to study a degree in photography at the London College of Printing.
He comes from a family of high achievers. His sister Susanne Bier is a film director and won an Oscar for Best Foreign Language Film in 2010 for the film In a Better World, and his brother Jacob is the only non-American on Harvard's executive board.
Tiger parent company Zebra operates more than 300 stores in 20 countries across Europe and Japan.