Etsy made its stock market debut yesterday, with shares in the online marketplace closing at $30 (£20), an 88% increase on its IPO.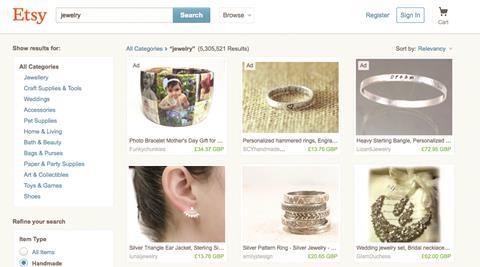 Based on the trading, the marketplace is valued at almost $3.3bn (£2.2bn), making it the largest certified socially-responsible business, otherwise known as 'B Corporation' to go public in the US.
Etsy, which sells handmade and unique products from clothes to jewellery, priced its shares at $16 (£10.70) for its launch on the Nasdaq.
It plans to donate $300,000 (£201,113) of the proceeds from the IPO to Etsy.org, a non-profit organisation for educating women and under-represented groups on how to build businesses.
The business reported gross merchandise sales of $1.93bn (£1.29bn) in 2014 and $196m (£131.3m) in revenues, up from $125m (£83.8m) the year before. Etsy has yet to make a profit – it reported a $15m (£10m) loss last year, down from £800,000 (£536,346) in 2013.
Etsy was founded in 2005 and is headquartered in Brooklyn, New York. It has 1.4 million active sellers and has listed 29 million products since it started.
It also has offices in Berlin, Dublin, London and Paris.