Outdoor retailer to focus on product and store refits as it targets family market.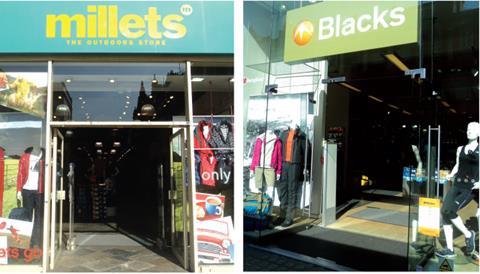 Outdoor group Blacks has kickstarted a comprehensive rebrand of its businesses, which includes a product overhaul, localised offer and store refits, as its turnaround plan begins to takes shape.
The group, which was bought out of administration by sportswear giant JD Sports for £20m in January, will overhaul the Blacks brand and relaunch it as a "family friendly" retailer. Sister brand Millets is being revamped to play on its "kitsch" British heritage, said the retail group's chief executive Julia Reynolds. Reynolds, who joined last August, told Retail Week the focus on family would help to differentiate the Blacks brand from rivals in the sector.
She said: "No outdoor retailer serves women. You go into store and it's testosterone-filled images. Outdoors is a family pursuit."
Reynolds said Blacks' stores had developed kidswear into a "proper" category, which it has devoted more space to. She said kidswear is currently its top-performing category.
It has also improved its womenswear offer. Reynolds drafted in former Primark product guru Julian Kilmartin last year to focus particularly on its own-brand offer.
The group has 208 stores across both fascias, after closing 82 in recent weeks. Property agent Jones Lang LaSalle advises the group.
Stores were closed where there was overlap between the two fascias or when stores were in such a state of disrepair it was not viable to refurbish them, according to Reynolds. "Some of the stores have not been refurbed for 15 years," she said.
A new store fit will trial in six Blacks shops later this year. Reynolds said JD chairman Peter Cowgill was prepared to put capital spend behind the project, but declined to say how much would be invested.
Blacks has also introduced branch profiling to tailor its offer to specific locations. As Reynolds put it: "Our Bedford store has a different customer to our Regent Street branch."
Blacks stores, which have traditionally focused on branded product, are also introducing own-label ranges into some shops, which she said would result in a greater "merging" between it and Millets.
She did not rule out eventually phasing out one of the fascias.
The introduction of own-brand will, along with delivering a margin boost, provide a clear good, better, best pricing hierarchy. However, Reynolds said that brands, including Berghaus and North Face, were still critical.
Reynolds said that she was trying to give both Blacks and Millets a personality and sense of humour, and that Millets would aim to better target the festival-goer.
She pointed to Millets' new shop windows, which show a montage of British countryside, the iconic red telephone box and some of its more colourful products.
Reynolds said she was "ready to get going" on her new strategy as she had already done the hard work of "cleaning up the business".
She added that the group had cleared all the excess stock it was holding and had improved merchandising in-store.
The retailer has moved away from discounting which had become prevalent across the sector.
She said trading remained tough at the group, but added that "green shoots" were beginning to show.