Poundland is a much-loved value retailer with around 800 UK stores, mostly on the high street. Sound familiar?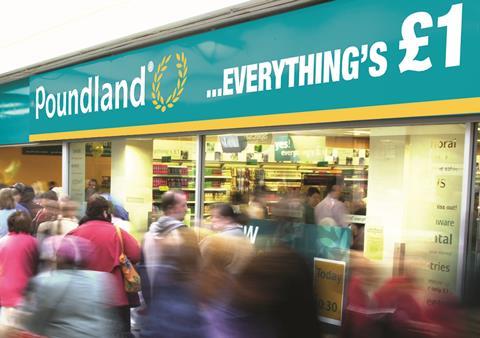 Poundland is on track to reach 800 stores, after getting provisional regulatory clearance this week for its £55m deal to acquire 99p Stores. It will mean the retailer will have more stores than Woolworths when it went bust.
But this fact is unlikely to scare Poundland investors. Although Woolworths once seemed an unassailable force, towards the end, the cracks had started to appear. Here we explore why Poundland looks unlikely to go the same way as its general merchandise predecessor, Woolworths:
Sharp focus on value and knowing its customers
Poundland defines itself by its single price point and so has a razor sharp focus on offering value to customers. It is also keyed into trends and knows what customers expect. As Canaccord Genuity analyst David Jeary explains: "They are very focussed on choosing products they know their customers will want to buy in volume."
In contrast, by the end, Woolworths had lost its way on knowing what purpose it served. Conlumino analyst Neil Saunders says: "Woolworths started out as a value player, but got diverted into a murky territory and it got confusing for consumers." Eventually, it was beaten on price by competitors.
Newness – refreshing the range
A key to Poundland's success is its ability to entice customers back with the prospect of new products each time they visit. "Newness is a very important thing, having a lot of changes to your range," says Jeary. "With around 200 new lines a week, there's always something of interest to bring customers back."
Meanwhile, Woolworths eventually became a "retailer of last resort", says Jeary. "It was very rarely on top of people's shopping list. It was death by standing still, although it had a few hero categories like confectionary and back-to-school."
Poundland benefits from a wide shopper demographic
Gone are the days when people would be embarrassed about shopping at a value or discount retailer. A much wider section of society is now happy to use companies such as Poundland and its rivals, partly to top up their weekly shop.
"Poundland has benefited from a changed shopping environment since the financial crisis – the whole concept of value shopping has become accepted by wider parts of society," says Jeary. "It used to be seen that people had no choice but to shop in value shops, but it's obvious that now people just like the value and choose to shop there."
Unfortunately for Woolworths, shoppers' wider embrace of value came too late to save the business as it entered administration in late 2008 – and it had arguably lost much of its reputation for keen prices.
Sourcing skills
"Woolworths was more traditional in its sourcing and treading water for a long time," says Saunders. "Poundland is a lot more innovative in its sourcing. There's a lot more efficiency in its sourcing and buying teams, it's embedded in the culture. Woolworths did not have that value embedded in the culture."
Strong management
Poundland's management team, led by ex-Sainsbury's executive Jim McCarthy, is well regarded in the industry. Jeary believes that McCarthy's grounding in the grocery sector, where standing still is not an option, has driven Poundland's competitive and innovative nature.
Meanwhile Poundland's origins in private ownership – including private equity – has had a bearing on how the business is run. Jeary adds: "Any company that has had a private equity owner means there is a very big focus on cost management."
Woolworths had some good people working for it, but as Saunders says: "Woolworths' management wasn't poor, it was just old school."
Poundland's property portfolio
Poundland has an average store size of around 6,000 sqft, whereas Woolworths' shops were, on the whole, larger. Poundland has also benefited from the surge in convenience shopping, with milk being a popular staple for the chain.
Primarily Woolworths was high street-based. Though Poundland is also seen as a high street operator, in recent years it has complimented its offer with openings on retail parks. "Landlords here are more flexible now," says Jeary. "Long gone are the days when it is just DIY and furniture stores at retail parks, they are willing to have smaller high street operators."
Value will remain in demand among consumers
Both Saunders and Jeary believe consumers are not about to desert value operators any time soon. "Value retailers are still on the front foot," says Jeary. "Despite the green shoots of improving economic conditions, there are no signs that people are in any rush to change their shopping habits."
Saunders adds: "Poundland will still be strong in five years. People are still expecting value and that plays well for them."