High-street footfall rose for the first time in five years this Christmas, despite a negative picture overall.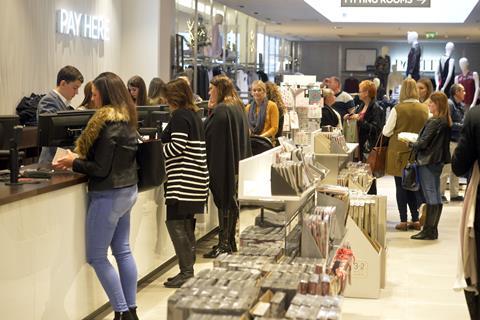 The high street was the only location type to draw in more shoppers than last year, with footfall up 0.8% in the five weeks from November 27 to December 31.
According to the BRC Springboard footfall index, December also outperformed the three-month average, which was broadly flat.
Overall, footfall across all location types dropped 0.2% compared with last year, making it the fourth consecutive month of decline. However, it was a far more shallow drop than the 2.2% fall in December 2015.
In retail parks, footfall fell 0.7%, while in shopping centres it fell 1.9, dropping for the 11th month in a row.
Online dominant
BRC boss Helen Dickinson said: "Solid festive sales did not translate into a lift in footfall above last year as online continues to grab the lion's share of growth.
"Ecommerce accounted for nearly a quarter of all purchases in December, suggesting that more shoppers than ever opted to go online rather than hit the shops.
"Retailers are having to gear themselves up to meet the evolution in shoppers' requirements from bricks-and-mortar destinations.
"This will be key looking ahead, with inflation set to rise and a subsequent squeeze on disposable income; the environment for consumer spending will become increasingly competitive."
Springboard marketing and insights director Diane Wehrle added: "The 0.8% rise in high-street footfall in December suggests that the supposition of the death of the high street has been greatly exaggerated.
"The shift in consumer demand from focusing on the purchase of physical goods to encompass experiences has clearly benefited the high street as its offer has been able to transition quickly via an improved food and beverage offer which has helped to bring in much-needed footfall."