Fashion retailer Monsoon Accessorize has launched a wide-ranging business improvement programme after profits nosedived last year.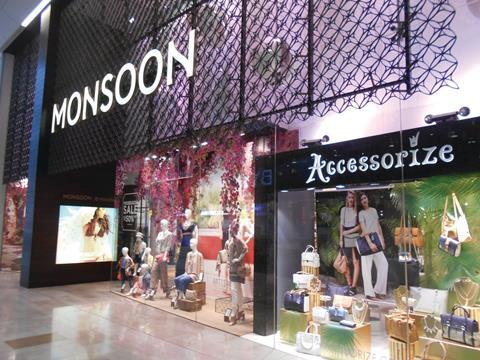 Full-year group EBITDA before exceptionals slips 18.7% to £50.6m
Group sales fall 7.8% to £509.1m
Closure planned of an undisclosed number of stores
The retailer expects to post a decline in profits for the current financial year too amid challenging conditions and costs associated with initiatives to get back on track.
The closure of an undisclosed number of unprofitable stores and bolstering ecommerce are among the measures being adopted after the retailer suffered an 18.7% slump in group EBITDA before exceptionals to £50.6m in the year to August 30, 2014.
Sales also took a hit, plunging 7.8% to £509.1m as the retailer faced challenging conditions at home and abroad.
Monsoon Accessorize founder Peter Simon said that unseasonable weather has played a part in a "particularly disappointing" performance from the Monsoon ladies brand.
Unfavourable foreign exchange movements also had an impact.
But Simon acknowledged: "We have work to do here to improve the range."
Business overhaul
The disappointing numbers were posted following the surprise exit in February of chief executive John Browett.
He was succeeded on an interim basis by former Jacques Vert chief executive Paul Allen, who has now launched the business overhaul.
Simon said: "Paul Allen has set about a group-wide performance improvement programme aimed at strengthening our brand and ranges, reducing costs, improving the returns from our store investment programme and tackling underperformance in parts of our international business. We will also strengthen our digital and ecommerce offering."
"We expect these actions to bear fruit over the next two years, although there will be an inevitable cost in the current year, when we expect a further fall in profitability."
Although earnings and revenues fell, Monsoon ended the year with £82.5m cash and it has no external borrowings.
Simon said: "Our strong balance sheet enables us to carry out this fundamental investment and restructuring over time to be able to capture the maximum benefit."
He was confident in the retailer's longer-term prospects and said: "Monsoon Accessorize is a powerful, global retail group, with a unique fashion heritage and a strong customer following in its markets.
"We have excellent staff, a strong management team and a deep-seated commitment to ethical trading and sustainability.
"Together, we will work to ensure our products and stores attract our customers and drive our recovery."