Like-for-likes, EBITDA, NPS score? What is the real measure of success in the multichannel age? Gemma Goldfingle investigates.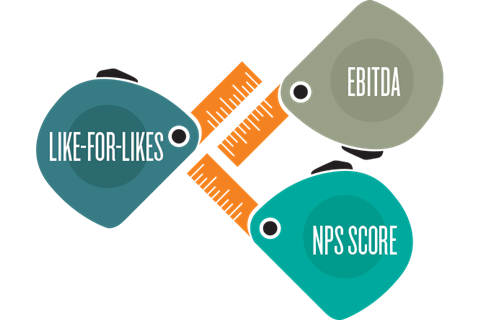 For many years like-for-likes sales and pre-tax profits have been the measure of success in retail. But these days etail upstarts that have never made a penny are valued in billions. What are the real metrics that matter in today's multichannel world?
Are like-for-likes irrelevant?
Like-for-like sales – which strips out sales from new stores, so literally compares like with like – have long been considered as misleading.
Many retailers, including Next and Ted Baker, refuse to give like-for-like figures, which often include different things for different retailers.
"There is no accounting standard for like-for-likes. People can put anything they like in there"

Kien Tan, PWC
PWC director, retail strategy Kien Tan says: "There is no accounting standard for like-for-likes. People can put anything they like in there. They report it because it's market-moving."
Some retailers include VAT, inflation, refurbished or extended stores and even online sales.
Sam Fuller, managing director of M&A advisor GCA Altium, also points out that like-for-likes can be massaged with huge discounting.
For example, Debenhams' UK like-for-likes were up 1.2% last Christmas, but it was forced to sound a profit warning as it slashed its prices to coax sales.
Fuller says that's why many observers focus more on margin these days.
In fact, Tesco, the UK's largest retailer, has made operating margin one of its KPIs. The grocer is targeting a 3.5% to 4% group operating margin by 2020 – up from 1.8% in 2016.
The online conundrum
Given that online is the major – if not only – growth driver, should we be taking more notice of growth in that channel?
Fuller says online strength is one of the top things buyers look for in retail business. "You have to have 30% to 40% sales online as a minimum to get a premium valuation. That's the way the world's moving," he says.
Fuller explains ecommerce can often denote growth potential. "The joys of ecommerce means it can grow very rapidly, bricks-and-mortar can never keep up with that pace.
"A retail business might be worth six or seven times EBITDA, and an ecommerce business could be worth 40 times. Ecommerce is always going to have a perceived growth curve vastly ahead of a physically constrained retail story."
However, veteran analyst Nick Bubb points out that when top-line sales growth is coming from online this can cloud escalating costs – such as fulfilment – which need to be controlled, therefore like-for-like sales are a useful indication.
"I think all retailers should do what the likes of Bonmarché and Dunelm do and split sales between stores and online"

Veteran analyst Nick Bubb
"I think all retailers should do what the likes of Bonmarché and Dunelm do and split sales between stores and online so that people can see the trends and assess the trade-offs in the business.
"Ideally, retailers would also split operating costs and gross margin between online and stores so that we can understand the profit and loss dynamics, as Debs and HoF are doing."
But how do online's leaders judge their own success?
Online giant Asos uses a number of metrics – site visits, duration of visits, active customers, increased average order frequency and average basket value.
Jas Bagniewski, founder and boss of online mattress retailer Eve Sleep, says his key measure is what percentage of revenue his marketing spend is. As this number comes down, the model becomes profitable, he says.
This figure used to be as high as 70% in Eve Sleep's early days but has reduced substantially as it has grown its brand awareness. Bagniewski is keen to reduce marketing spend to 30% of overall sales.
How important is net promoter score?
There is also a plethora of non-financial measures that retailers now use to judge the health of their business. The net promoter score – which gauges customer loyalty and advocacy – has become commonplace across many retailers.
Some companies award employee bonuses based on NPS scores.
Fuller, however, does not believe this is a credible indicator of a retailer's health.
"In the consumer sector, high-quality service is now a given. If you're not delivering it, you're screwed," he says. "It doesn't matter if you have 9.5 or 9.7, you're going nowhere.
"I don't think that's a differentiator. If it's poor, it's a symptom that that business is going off a cliff."
Brand awareness is a key performance indicator at online business Ao.com. The electricals etailer measures both prompted and unprompted brand awareness.
"Our biggest opportunity remains for us to grow our brand to the recognition levels enjoyed by our competitors," Ao.com chief executive Steve Caunce explains in the company's annual reports.
And as Ao.com's brand awareness has grown, the cost of customer acquisition has fallen.
Fuller agrees that return on marketing investment is a key indicator of online success. "Direct marketing is such a massive part of your budget and you can get it so wrong," he explains.
This is why social media traction is important. "One of the first things we look at is Instagram followers," says Fuller. "That's the cheapest and most efficient way of meeting your target audience now, much more so than TV advertising."
Return on investment is a key indicator across all channels. Tan says this is one of his favoured metrics and explains former Tesco boss Terry Leahy used to base strategic decisions on Cash Return on Capital Investment (CROCI).
Tan says: "In the Leahy days, Tesco were explicit that they only invest in things if it gets above a certain CROCI. It goes back to the private equity way of running the world."
Another big headline figure for a business trading online is customer retention.
Fuller explains: "The drop-off rate of customers from three years ago is the single most important KPI online because it's getting more and more competitive to acquire customers, therefore if you can keep hold of them, it's gold dust.
"If you go to the right investor they don't care about revenue growth or profit growth, they just want to see customer acquisition and loyalty trends."
It is also important where your online growth is coming from. Sales through your own website are far more valuable than sales via third parties such as Amazon, says Fuller.
Amazon may be a big sales driver for brands but Fuller says with little customer engagement on the platform, brands are competing on price, therefore it isn't a reliable indicator of brand strength.
Are profits overrated?
Profits were the be all and end all in a business' success until loss-making online players changed the rules.
Amazon rarely makes any money, but instead focuses on grabbing market share and reinvests cash into building its platform.
GlobalData managing director Neil Saunders said last year: "Amazon chooses to reinvest in its business and to sacrifice profits to boost its market share and dominance."
However, most retailers don't have the luxury to ignore the traditional rules of doing business. A retailer like Walmart makes more net profit in a week than Amazon did during a quarter.
"It's all very well to have the icing on the cake, but you've got to have the sponge"

Smiggle boss John Cheston
But which profit figure should we use to judge success?
EBITDA has become the standard measure these days but Bubb believes it is a poor way to assess the profit performance of asset-heavy businesses like department stores, which have heavy depreciation charges.
Smiggle boss John Cheston says: "There's only one measure that pays dividends and that's profit after tax."
"Above that, there are many levers you can pull to drive that: ATV (average transaction value), units per transaction, productivity per hour, we monitor online traffic and conversion, we look at footfall. All of that adds up to the bottom line and it's the bottom line that keeps you in a job.
"It's all very well to have the icing on the cake, but you've got to have the sponge."
In today's multichannel world, there are many key ingredients that need to be measured and monitored; however, for most retailers, it is still profit that equals sweet success.