The menswear market is the latest focus of Retail Week's 'The disruptors' series, which looks at the businesses creating waves across the industry.
Menswear is a fiercely competitive market. While Moss Bros, TM Lewin, Burton and Blue Inc battle it out for their share of spend, new entrants are emerging to pile further pressure onto these established players.
Retail Week looks at the firms shaking up the menswear market.
Thread
Stereotypically, men don't enjoy shopping as much as women – a typecast Thread plays to with its model.
The business, which was founded by serial entrepreneur Kieran O'Neill in 2012 and has secured around £11m in funding since, pledges to help men "dress well without trying", using algorithms and online personal stylists to provide recommendations based on a shopper's likes and dislikes.
New Thread users are asked a series of questions, such as what their favourite fashion brands are, what they prefer to wear to work or on a date, and how much they would usually spend on various items, to allow stylists to come up with personalised recommendations.
Customers can sign up for email alerts from their stylist, who will send regular recommendations based on their taste and budget – all free of charge.
What's more, Thread offers free delivery on orders over £50, free returns and vows it will "never charge more than other UK retailers" for the products it sells, which include brands such as Nike, Topman and Levi's.
The Chapar
Founded by former Levi's president Joe Middleton and his son Sam, The Chapar follows a similar model to Thread, although it positions itself as a much more premium service.
Customers take part in a 10-minute call with one of The Chapar's stylists to pinpoint details such as age, height and hair colour, and receive their first box of clothes just three days later.
The user can keep what they want and The Chapar collects any unwanted products from their door.
An average member of the site spends more than £250 on their first 'trunk' and orders an average of two to three trunks per year.
The Chapar raked in £2.8m in sales last year and averaged 120% year-on-year growth over the past three years.
The business is in the process of crowdfunding another £1m in investment to help fund its growth ambitions.
Spoke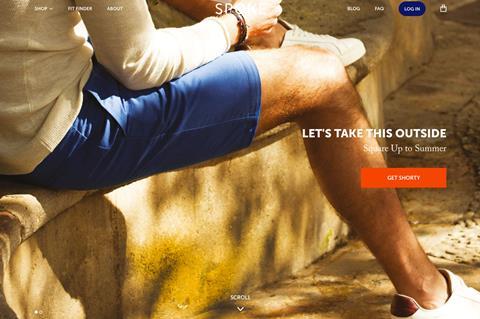 London-based start-up Spoke was only launched by entrepreneur Ben Farren in 2014, but is already targeting international expansion.
The online clothing brand, which aims to make better fitting menswear by cutting clothes in more sizes and finishing them to order, secured £1.4m in funding in January to support its growth plans.
According to Farren, Spoke trebled its sales in the first half of 2016 and its website, Spoke-London.com, now welcomes more than 500,000 visitors every year.
Spoke drives the customer experience by asking shoppers a handful of questions based on height, weight and body type, allowing the business to find a shopper's "perfect size in 60 seconds or less".
The etailer also offers free delivery and returns – something very few of its more traditional menswear competitors can boast – while everything it sells comes with a 100-day guarantee, again outstripping the returns policies of its retail rivals to give customers greater peace of mind.
Farren has spoken openly of his view that "fit comes first" in menswear, but claims "retailers and brands do a terrible job at delivering it".
If Spoke can continue to exploit that niche, its growth story could be far from finished.
Enclothed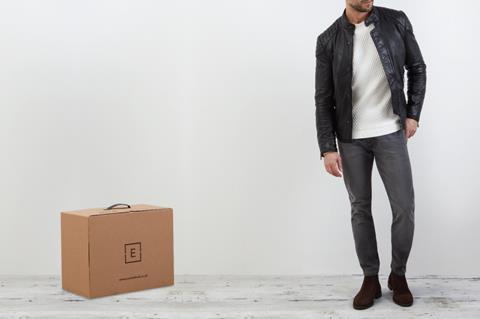 As subscriptions box services seemingly sweep the nation – think popular meal kits from the likes of Hello Fresh and Gousto – menswear is becoming an increasingly popular category for the model.
Enclothed has emerged as one of the frontrunners in that market, securing funding on BBC series Dragon's Den in 2015, only to walk away from the deal after enjoying a spike in sales following filming.
Stocking upmarket brands from Ted Baker and Tommy Hilfiger to Calvin Klein and Hackett, Enclothed's stylists hand-pick outfits in a similar way to Thread – based on user's tastes and sizes – but automatically post them directly to shoppers' doors once a month.
Customers have five days to try on their products and post unwanted goods back to Enclothed, which then charge subscribers only for the clothing they have kept.
Meanwhile, companies such as My Dappa Box and Briefd have sought to exploit smaller sub-sectors of the menswear market, delivering subscription boxes full of fashion accessories – such as ties, watches and wallets – and underwear respectively, at a smaller monthly cost.
Having seen the likes of Sainsbury's partner with Hello Fresh – presumably to lessen the impact that subscription services have on its sales – could more traditional menswear retailers adopt a similar tactic to mitigate disruption?
New Look Men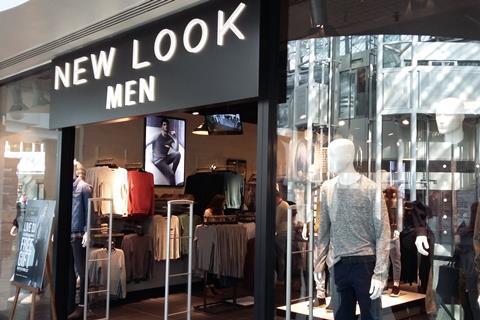 Although it cannot be considered a 'disruptor' in the same sense as its online start-up rivals, New Look's burgeoning menswear arm will almost certainly be causing headaches for more established players in the sector.
New Look launched its first batch of standalone menswear stores in the second half of 2015, which boss Anders Kristiansen said performed "far better than anticipated", prompting a wider roll-out of the fascia.
The retailer now has almost 20 New Look Men stores across the UK and its price-conscious proposition, including suits for £75, is likely to have turned the heads of Primark, H&M and Topshop customers.
Although New Look's latest quarterly figures – covering the 13 weeks to December 24 – showed UK sales tumbled 4.7% in like-for-like terms, menswear is delivering growth.
And its success in the UK has given New Look the confidence to launch standalone menswear stores in France and China as it further builds its credentials in the category.
Combatant Gentlemen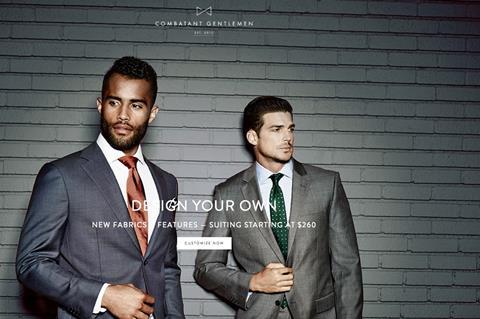 Fast-emerging menswear brand Combatant Gentlemen relies heavily on algorithms and data to create fashionable and affordable clothing and accessories, with millennials its target market.
The etailer's boss and founder Vishaal Melwani says its proposition appeals to "ballers on a budget" – young professionals who perhaps do not have the budgets to shop at the high end of the menswear market.
Founded in 2012, Combatant Gentlemen's revenues surged to $10m by 2014 as it gained traction in the US and later Canada.
The business keeps a lid on prices – it sells custom-made 100% Italian wool suits from just $160 – by producing clothing in-house. It has factories and cotton plantations in Italy and even keeps its own sheep.
Although the business has remained tight-lipped on international expansion, a move into the UK – particularly given the size of the "ballers on a budget" market in cities such as London and Manchester – would appear a very logical step.