The once stagnant bridal market is changing fast. In Retail Week's latest instalment of 'The Disruptors' series, we profile the retailers shaking up bridalwear.
With the average UK wedding costing around £20,000, cash-strapped millennial customers are demanding better value for money from wedding dress retailers.
The bridalwear market has long been rooted in tradition, with brides to be opting to visit a local boutique around nine months before their wedding day.
Many brides still choose to do this despite the current average cost coming in at just over £2,000, according to wedding planning app Bridebook. But other options including the high street, rental, pre-loved and design your own are beginning to make their mark on the industry. Retail Week profiles some of the biggest movers and shakers.
Premium high street
The average price spent on a high street wedding dress is £780, according to Bridebook, with most brides plumping for the high street opting for a premium offer.
Next is the latest high street player to throw its hat into this particular ring, partnering with Wed2b to launch a 3,700 sq ft concession in its Arndale branch. While Next is not a premium player itself, Wed2b's off-the-peg dresses sit in the premium pricing category, with the average price £550.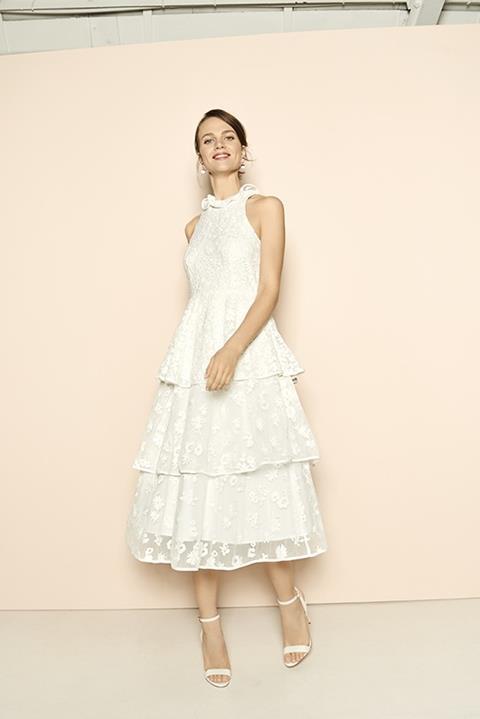 Wed2b, which is one of the biggest bridal chains in the UK, already trades from 33 stores across the country. If the trial is successful, it will begin to trade from more Next concessions.
Phase Eight was one of the first players to enter the market, launching its collection in 2009. Since then, a number of its competitors have followed suit – with Ted Baker and Whistles both making their mark.
Ted Baker launched its 'Tie the Knot' collection in 2016. Prices range from £249 for a jumpsuit to £1,200 for an embellished tailored dress, with most styles costing around £700. With 14 styles, it is one of the most extensive collections among fashion retailers.
Whistles launched its first collection in 2017 and expanded its offer this year, adding seven styles and retaining its original 'signature classics' under the Whistles Wedding banner. The retailer offers hour-long personal stylist appointments in a dedicated space to try to emulate the feel of a boutique, serving champagne and talking through its alteration service and bridesmaid collection.
Value players
While most brides who shop on the high street still choose to spend several hundred pounds on their dress, there are some who are much more open to a shoestring option.
"Affordable fashion is driving the clothing market, and the bridalwear sector is no different," says Global Data senior retail analyst Mamequa Boafo. "More clothing specialists are entering the bridalwear market creating low-cost, alternative looks, giving greater accessibility and more fashion-led styles.
"The affordability of high street bridal ranges is putting additional pressure on mid-market and premium retailers and specialists as they need to justify higher prices points and convey value for money in order to convert into sales."
Myriad value-oriented online and high street retailers are now trying to capitalise on this with players as diverse as Asos, Lipsy, Quiz and H&M launching bridal shops in the last two years.
Wedding dress prices are much lower than at premium high street outlets with most products coming in between £70 and £150. However, the experience is much more 'no frills' than at Whistles.
Asos has sold more than 9,400 'bridal styles', including bridesmaid dresses and accessories as well as wedding dresses, in its year-to-date, up 153% like for like. The online giant racked up 43,000 searches for 'wedding dress' on its website last month alone.
Missguided launched its bridal shop in 2016 and is the most value-driven of any retailer. Of the three styles available, the cheapest is £35 and the most expensive is £100.

The vogue for more informal styles in wedding dresses is also benefiting the fashion market as they are cheaper and easier to produce than traditional, more tailored or ornate styles.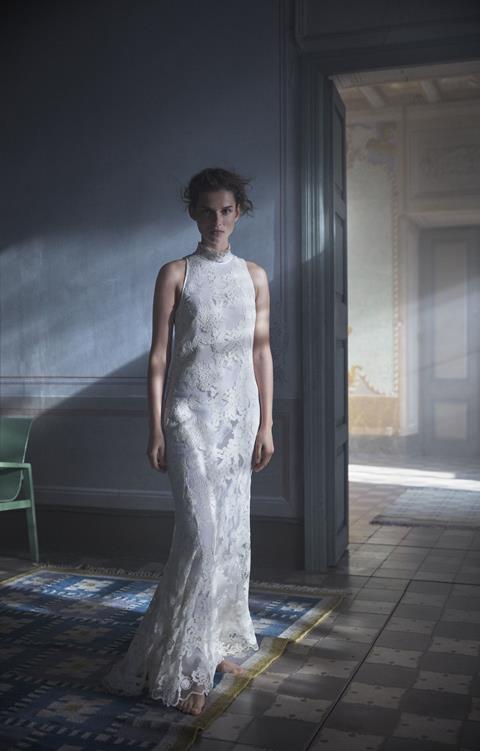 "Mainstream fashion trends are being translated into bridalwear as shoppers are moving away from traditional weddingwear attire," says Boafo.
According to Global Data consumer survey data, 34.5% of brides bought a two-piece dress or outfit in 2017, signalling a move away from traditional wedding dresses.
But, as with all of fashion retail, bridalwear is not an easy category to succeed in. One of the first entrants, J Crew, exited the bridal market in 2016, while Topshop, which launched its bridal range with great fanfare last spring, is no longer operating a wedding shop.
Design your own
US start-up Anomalie allows prospective brides to design their own wedding dress for around the same price as a premium high street piece.
Founded by former Apple and Nike product development and manufacturing executive Leslie Voorhees in 2016, Anomalie generated $1m (£759,000) in its first year of trading and has raised $4.5m (£3.4m) in venture capital funding so far.
The retailer asks customers to submit 'inspiration' for their outfit from Instagram, Pinterest or magazine shots, and arrange a phone consultation with an Anomalie designer. Forty-eight hours later, they receive sketches of how their dress might look and can give feedback.
After that, they are referred to a tailor local to them to be measured. The dress arrives within three months with brides to be receiving swatches and photo and video updates during manufacturing and the local tailor performs any alterations. If a customer does not like the end result, Anomalie offers a complete refund or will rework the dress.
Currently there is no UK equivalent but with the demand for personalised products accelerating, it should not be too long before this trend makes its way here.
Pre-loved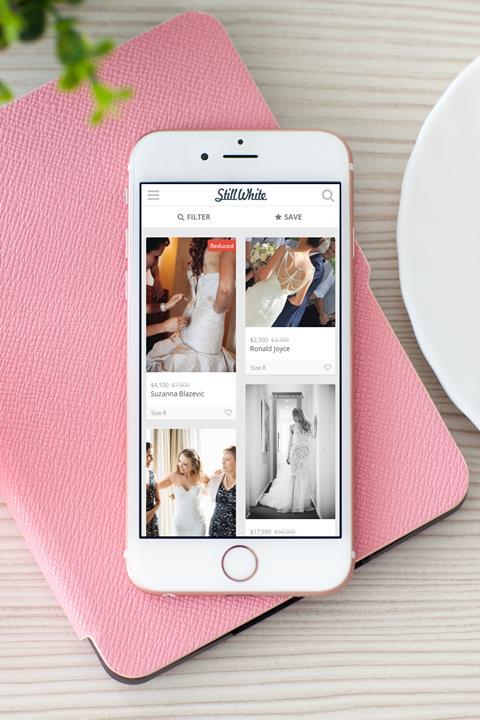 A stigma may exist around buying a second-hand wedding dress but unsuperstitious brides after a bargain have flocked to Still White. The Australian site has become the eBay of wedding dresses and has a strong UK following: of the 35,000 dresses listed, 5,000 are in the UK.
Most dresses are around half of their original retail value and designs vary wildly from a minimal Roksanda Ilinčić dress listed at £995 to ornate Vera Wang gowns for £3,000. the focus is on designer rather than high street with the average dress retailing for £930.
Still White was founded by newlyweds Bruno and Ingrid Szajer shortly after their wedding in 2010. It originally listed dresses so local sellers and buyers could meet to try on and pay for dresses in person but, as buying clothes online became normal, began to offer online transactions. Now, the majority of Still White's transactions are online.
Rental
The rental economy has begun to make its mark on the wedding dress industry with many prospective brides opting for a designer dress at a fraction of the cost.
"I think the real disruptors are the weddingwear hire retailers" says Boafo. "They stay on top of fashion trends and popular designers and target younger shoppers looking to 'rent a lifestyle' without paying full price, particularly at time where disposable incomes are squeezed."
Many of the big players in this market are established formalwear rental businesses such as Rent the Runway and Girl Meets Dress.
Rent the Runway offers a concierge service for brides to be with personal styling consultations and at-home fittings.
However, there is an increasing array of wedding-specific rental sites such as Borrowing Magnolia. Currently only available in the US, the site lets prospective brides select up to three gowns to try on at home for $99 (£75), which is deductible against a final purchase. The chosen dress is sent out one and a half weeks before the wedding day and must be returned four days afterwards.