Jack Wills sales and profit margin improved over Christmas following a challenging few years for the preppy fashion brand. How well placed is it to take advantage of some positive trading?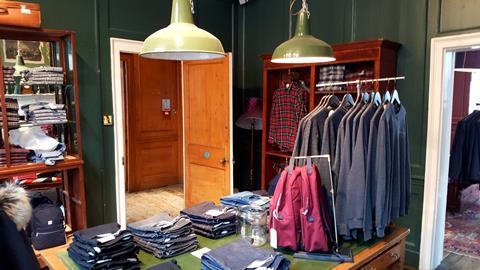 Strengths
Loyal following – Jack Wills has a core loyal following, comprised of affluent school and university students. The brand has proved adept at strengthening this through social media interaction and organised events as it has evolved. As a result, the retailer has a significantly higher profile than its 66 UK stores would seem to merit.
Strong brand identity – Everything about the brand, from its product offer to its stores in listed buildings, is designed to back up the preppy British lifestyle it is selling.
Gifting – The business has been able to exploit gifting opportunities through its collection of accessories, stationery and homewares, as well as extending its gifts range into cosmetics and toiletries through Boots.
Weaknesses
Loss of focus – The business seemed to lose focus under Wendy Becker as chief executive from 2013, and founder Peter Williams is working to get the product offer and customer proposition back on track now that he is chief executive again.
New management team – The retailer's decision not to proceed with an IPO in 2015 led to a flurry of management departures, leaving Williams to rebuild a new top team. While several appointments have been made, including head of ecommerce Mark Wright, strategy alignment may take time.
Recent trading – The past couple of years have been challenging for Jack Wills, with substantial losses recorded and only very modest sales growth.
Narrow product offer – Young consumers are increasingly looking for individuality instead of the easily identifiable look from businesses such as Jack Wills and its US counterparts, Abercrombie & Fitch and Hollister. This is likely to only intensify as social media, blogging and vlogging grow in popularity.
Opportunities
Return of Peter Williams – The business will benefit from the entrepreneurial spirit of its founder to reignite brand clarity, while injecting more individuality to the brand again, where a ''swift and significant improvement'' has been seen since Williams' return as CEO in 2015.
Company buyout – Investment in Jack Wills from BlueGem alongside Peter Williams will allow significant capital to be invested to build the brand in the UK and internationally.
Evolving customer proposition – The recent move to introduce more classic pieces which can be worn across seasons may reduce sales losses due to unseasonal weather pressures, as well as offering customers increased product investment given its high prices.
Digital – The retailer invested heavily in systems and replatforming the websites over 2014/15 and is now committed to fuller omnichannel development both in the UK and overseas. The investment has helped support the business for future digital growth.
Further wholesale opportunities – The retailer's wholesale agreement with Asos provides a low-cost opportunity to grow at home and abroad and will also enable Jack Wills to evaluate international markets.
Threats
Competitive sector – The young fashion sector has become increasingly competitive over the past few years. Not only does this include new premium brands launching, but also emerging etailers with more affordable price-points among its core customer student base. Additionally, the prolonged recession, followed by volatility in consumer confidence, made even the more affluent Jack Wills customer base and their parents not immune to the highly promotional fashion retailing environment.
Costly property portfolio – Jack Wills' heritage buildings and architecturally interesting property portfolio does not come cheap, while refit costs will also be elevated. In this respect, it is interesting that recent openings have focused on shopping centre locations.
Funding issues – The retailer still seems to be reeling from overly rapid expansion in 2011/12 and has been substantially loss-making since then. The latest investment should help rebuild the business, but the retailer must be careful not to over-expand again.
This is based upon Jack Wills' profile on Retail Week Prospect, an intelligence service offering insight and analysis on the UK's most innovative retailers