As the parliamentary probe into sustainability in fashion finds the sector wanting, we speak to inquiry chair Mary Creagh MP to find out how the industry can clean up its act.
The inquiry by the Environmental Audit Committee, led by Labour MP Mary Creagh, called for a change in the law to incentivise fashion retailers to operate sustainably and punish those that do not.
"The fashion industry has marked its own homework for too long," the committee's report declared. "The way we make, use and throw away our clothes is unsustainable."
The report has recommended the government provides "clear economic incentives for retailers to do the right thing" by reforming taxation to reward fashion companies that design products with lower environmental impacts and penalise those that don't.
The environmental cost
The UK consumes more new clothes per person than any other country in Europe, buying 26.7kg per person every year. Germany has the next highest level of consumption with 16.7kg.
As it stands, the ability to recycle clothing is limited. Current processes damage fabrics so that they can only be recycled once, and the market demand for such products is low, meaning prices for recycled textiles are also depressed.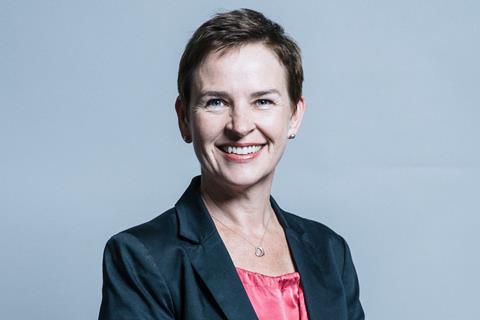 The committee recommends that the Government investigates whether fashion retail should be included in its proposed tax on virgin plastics, due to come into force in 2022, as it believes that this would stimulate the market for recycled fibres. The Government is currently considering its suggestion.
Creagh tells Retail Week that the Government should make textile producers responsible – and financially liable – for the environmental impact of making and disposing of clothing.
"We want to end the 300,000 tonnes of clothing that goes to landfill and incineration every year," she says.
The committee also proposed levying a 1p charge on retailers for every garment made. This would raise £35m to invest in better recycling.
"We think the 1p levy would bend the curve of over-ordering and get companies to think twice before they order too many," Creagh says. "It could also potentially create thousands of new green jobs."
The human cost
The garment industry is plagued by allegations of poor treatment of employees, including underpayment and poor conditions in factories.
The harm that comes from retailers "chasing the cheap needle around the planet" is, the report says, evident both at home and overseas.
Retailers know, says Creagh, that modern slavery is rife in their supply chains. The Ethical Trading Initiative's 2016 report Corporate Leadership on Modern Slavery found that 77% of 71 leading UK retailers believed there was a likelihood of modern slavery at some point in their supply chain.
"Sweatshops are alive and kicking in the UK today and a lot of that is to do with the pressure that retailers put on factory owners"

Mary Creagh MP
While the majority of clothes sold in the UK are made in Asia – a region known to harbour modern slavery – clothing manufactured in the UK can also be the product of modern slavery and human trafficking.
Leicester is home to 10,000 textile workers across 700 factories, who produce 1 million items of clothing per week for online retailers.
Research conducted by the University of Leicester revealed that around 2,500 of this workforce "worked in appalling conditions; without worker status and any kind of employment contract". The majority of these workers earned £3 per hour – well below the minimum wage – and received wages cash-in-hand.
The study also revealed inadequate health and safety standards, including "bullying, coercion, violence, humiliation and health problems".
"We heard awful stories about conditions they are enduring," Creagh concurs. "Sweatshops are alive and kicking in the UK today and a lot of that is to do with the pressure that retailers put on factory owners."
The large volumes and tight timeframes of fast-fashion retailers is also a problem.
Creagh explains: "Boohoo said that workers were producing seven £5 dresses an hour for them – those harsh conditions lead people to burn out."
The MP believes that the solution to the problems at Leicester already exist. "We enforce the law," she says. "We have had a law on the minimum wage since 1999 in this country, but the fashion industry turns a blind eye here."
Unionisation
Many would suggest that is more easily said than done. Missguided gave evidence that two of its supply chain team had been threatened and physically assaulted by Leicester factory owners over the past 18 months when asking questions about workers' conditions and pay.
"They did not want us to enter their premises," Missguided head of product quality and supply Paul Smith told the inquiry. "These, I must add, were people that we were not currently manufacturing with but were scoping out, and they did not like the questions that we were asking.
"If we cannot guarantee security of people in this country, what on earth is happening in Myanmar or Pakistan?"

Mary Creagh MP
"On one occasion a former director of Missguided was chased out of the building and one of my employees was gripped by the throat and pushed out the door."
Creagh believes that unions are the way forward to ensure fair wages and conditions in factories across the globe.
Currently, more than 90% of the world's clothing workers do not have the ability to negotiate those wages and conditions, according to global trade union IndustriALL.
Creagh describes Missguided's experience as "chilling".
"If we cannot guarantee security of people in this country, what on earth is happening in Myanmar or Pakistan? We think the answer to that is having trade unions freely organise in workplaces."
Sweatshops, landfill and levies: MPs take on fashion
1

Currently reading

Sweatshops, landfill and levies: MPs take on fashion

2