Fashion retailer SuperGroup has posted a first-quarter like-for-like sales fall but performance has improved since.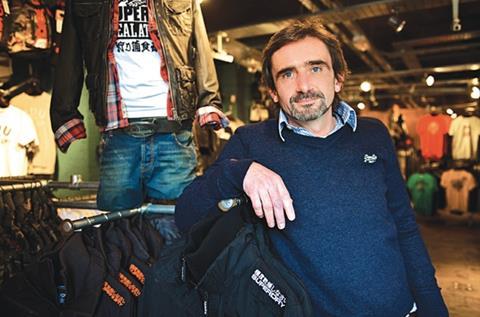 Supergroup, owner of the Superdry brand, reported a like-for-like decline of 3.7% in the first quarter to July 26.
Shortages of key lines and highly competitive trading conditions, which had hit performance in the preceding period, continued to have an impact.
However there has been an improvement in the first five weeks of the second quarter as the retailer moved into its autumn/winter ranges.
That meant that over the first 18 weeks of the new financial year to August 14 the rate of decline improved. Like-for-like sales were down 1% over that time.
SuperGroup generated a total sales rise of 15.9% to £87m in the first quarter. Retail sales advanced 13.6% to £60.4m and wholesale was ahead 21.6% to 26.6m.
Chief executive Julian Dunkerton was confident in prospects.
He said: "The order book for autumn/winter 2014/15 is in line with our expectations and continues to demonstrate the global appeal of the brand.
"With our strong pipeline of new stores, particularly in mainland Europe, the continued evolution of the ranges and our improved infrastructure we remain confident that we have the platform to deliver profitable growth in the current year."
Broker Oriel observed: "It's undoubtedly a promising start to quarter two but trading patterns are always volatile and it may be unwise to read too much into what is just a five-week period that was assisted by the weather.
"SuperGroup must still prove that it has evolved the range, that its ordering systems are sufficiently flexible to cope with fluctuations in demand and that the womenswear range is back on trend."
SuperGroup sales on improving trend after falling 3.7% in first quarter
1

Currently reading

SuperGroup sales on improving trend after falling 3.7% in first quarter

2