Former Marks & Spencer and Asda exec Nick Jones has been poached by fashion retailer Joules as its next chief executive. Retail Week analyses whether he's the right man for the job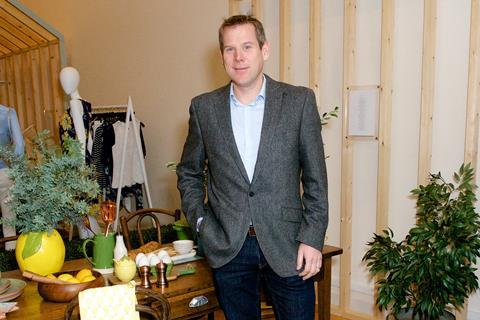 Last week, women's fashion retailer Joules announced that it had poached Asda's clothing and general merchandise boss Nick Jones to take the reins of the business at the end of the year, when long-serving boss Colin Porter will stand down to focus on his new role as Moss Bros chair.
Joules chair Ian Filby, who played a key role in the hiring process, told Retail Week Jones was "the standout candidate" and would bring "extensive retail, brand and strategy credentials" to a business that has lofty ambitions of rapid expansion at home and abroad.
Jones joins the country lifestyle brand having notched up 25 years at two of the UK's largest retailers. He joined Marks & Spencer's graduate scheme in 1995 and would go on to spend the next 15 years working across the retailer's buying and merchandising, sourcing and investor relations functions.
In 2011, Jones flew the nest to run Asda's clothing brand, George. He has since risen to an executive role as the retailer's commercial director of clothing and general merchandise – a role that was expanded last year to include the grocer's food business.
Independent retail analyst Nick Bubb suggests moving from retail heavyweight Asda to a comparative minnow like Joules "could seem a bit of a come-down" at first glance.
However, there is no denying that the specialist fashion retailer, which is often at the top of City analysts' buy lists, is enjoying a golden period.
At the interim mark in January, Joules recorded a 14.7% uplift in underlying pre-tax profits to £10.7m, having upped its profit expectations the previous month, spurred by a 17.6% surge in sales to £113.1m.
International aspirations
Headhunter Vicky Nightingale says Jones' experience of working with an international parent company, as he did with Walmart at Asda, should stand him in good stead in terms of Joules' international aspirations. She is, however, not convinced that his wholesale credentials will cut the mustard.
"He's got some experience working with a bigger, US parent but, being frank, he hasn't got a huge amount of experience of stores being opened and working with wholesale relationships," she says.
"I think the momentum is there. We wanted somebody with the appetite to accelerate it, not change it"

Ian Filby, Joules
Given the already burgeoning success of the retailer's international arm – global revenues were up 64.2% at its last update, representing 15.8% of its overall group revenue – Nightingale suspects Jones will simply let that part of the business keep ticking over without too much interference.
Filby says that no doubt Jones will "overlay his own nuances and focus" to the role but maintains the retailer's international ambitions are already firmly on track.
"If you look at the pace with which we're growing, and you look at the outstanding changes that have been made in the last two or three years – the pace of growth in the US and Germany – I think the momentum is there. We wanted somebody with the appetite to accelerate it, not change it."
Digital growth
Expanding the reach and penetration of its digital offering is another key metric for Jones in his new role. While the retailer didn't explicitly flag the performance of its ecommerce arm at its last update, Filby says Joules is already doing "dynamic things" online.
"You only need to look at some of the dynamic things that we're doing online, not only with our own proposition but how we're participating in other marketplaces; you can see already there's a team with an ambitious and dynamic growth agenda in place," he says.
Nightingale says Jones often spoke about developing George's digital offering when he was working at Asda, but suggests that may have brought some mixed results.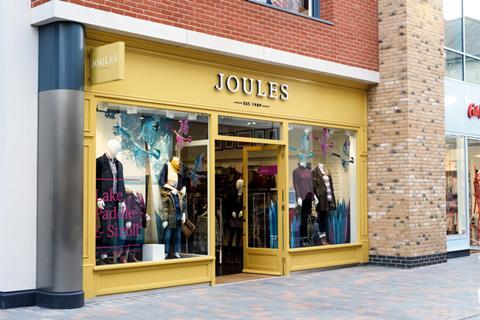 "George isn't exactly world-renowned as a business for click and collect and that sort of thing," she says. "I'm sure strategically he's got some ideas, but I wouldn't say he's an expert in that particular area."
Digital native or not, one gets the sense from speaking to headhunters and former colleagues that Jones is well liked and well respected as a leader in the industry.
"He's a cooperative leader, but someone who also had a clear and genuine vision, who took people with him on that journey," says one former Asda colleague. "He has a good sense of fashion and what his customers want. He has a really good business sense as well."
One senior headhunter says Jones "is an outstanding hire for Joules. He's super-bright with a great breadth of experience", while another describes his appointment as an "apposite" one given the "healthy growth trajectory" of the business.
Working with Tom
Another thing that will be critical to whether Jones' tenure is a success or not is how closely he can work with Joules' founder and chief brand officer, Tom Joules.
Despite operating from a store portfolio of 123 stores across the UK and Ireland, and with around 2,000 stockists around the globe including with John Lewis and Nordstrom in the US, Joules is still very much linked to its British heritage.
The business' head offices remain in Market Harborough in the East Midlands, where Joules opened his first store 30 years ago.
Filby says it was very important that the new chief executive understood and respected the values of the brand. During the recruitment process, he says Jones "spent some good time with Tom and the rest of the team".
Jones also lives locally, in nearby Rutland, and Filby says this meant he "was a lot more aware of the heritage of the brand and where it comes from than maybe many other people were in the industry".
"Nick will be the top guy, responsible for delivering the kinds of numbers that Tom and the City boys want to see"

Industry source
As Tom Joule celebrates the 30th anniversary of the business he founded this year, one source wonders if the appointment of a person with Jones' blue-chip background represents the first step in his eventual exit strategy.
"Nick will be the top guy, responsible for delivering the kinds of numbers that Tom and the City boys want to see, and probably being a bit more outward facing than his predecessor was. Nick is probably very good with figures. He's got a corporate background, so he's probably very good at presenting.
"Does Tom want an exit strategy, to eventually sell it to private equity or whatever, or does he just want to grow it and have someone like Nick in charge because it looks good to the City boys?"
Whatever the long-term motivations for Jones' appointment, the consensus is that the Asda alumnus is coming into an ambitious business at a key time. The hope now is that, as Joules looks to supercharge its momentum, Jones proves to be the right fit.