It's not all doom and gloom on the high street, or the virtual high street at least, as fashion etailer Boohoo's full year update testifies.
A day after BHS filed for administration, value fashion etailer Boohoo was a reminder of how innovation, agility and a focus on the customer can ensure success in the toughest of markets.
Boohoo pleased the City with its full year update today, posting a 42% pre-tax profit surge and a 40% sales jump. The own-brand fashion etailer is not showing any signs of the struggles faced by some clothing peers, including Next, M&S and Bonmarché in recent months.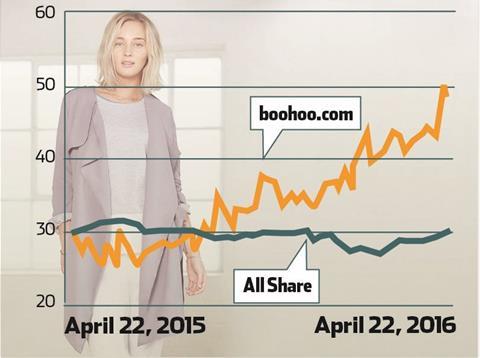 And the most exciting thing is it's only at the beginning of its journey, not yet turning over £200m in revenue.
"Boohoo's sales are forecast to advance 96%, yet even then its share of the market will be just 2%"

Nicola Harrison
The size of the prize is huge for Boohoo if it can keep up the pace. Analysts at Liberum have valued the UK online clothing sector at £6.9bn, and that is forecast to grow 36% by 2018 to £9.4bn. Over that same period, Boohoo's sales are forecast to advance 96%, yet even then its market share will be just 2%.
Global potential
And it's not just here where the potential lies. The global opportunity is massive too. A third of Boohoo's revenue is now generated outside the UK and the etailer hired its first international director this year, signalling its intent to expand overseas.
This growth is underpinned by investing heavily in a sophisticated customer strategy that puts delighting the shopper at its heart. Whether that's through the 100 new styles it launches daily, ever-improving fulfilment options including a midnight cut-off for next day delivery, or the expansion into new categories such as petit and plus-sized.
Its 'proximity sourcing' model – 75% of its suppliers are UK-based – means it can reorder top selling lines quickly while abandoning others, limiting that common fashion risk of betting on the wrong product.
All of this would mean nothing of course if Boohoo did not have an army of adoring fans. It revealed today it now has more than 4 million active customers, up 34% on prior year.
Social media strategy
One way it continues to grow its avid customer base is by harnessing social media. It has 500,000 Twitter followers with a reach of 9.6 million. It has 1.4 million followers on Instagram and has notched up 1 million views on YouTube.
Not all retailers bother to include this level of detail in their City updates. The fact Boohoo does shows it knows the significance of a powerful social media strategy as it aims to entice more and more smartphone-obsessed young shoppers to its site.
Boohoo had a turbulent first 12 months as a listed retailer, but the profit warning of last year now seems a distant memory as it fast becomes one of the most innovative and fascinating of retailers.
Nicola Harrison is content editor at Retail Week