Moss Bros will aim to double its online sales over the next three years in a bid to arrest declining profits.
Moss Bros chief executive Brian Brick highlighted ecommerce as one of the brightspots for the men's formalwear retailer during its last financial year, when sales through its digital channels grew 19.6%.
Brick said he would be pouring more resources into growing that part of the business, which currently accounts for 14.5% of total sales.
"We see a big opportunity for us to grow our ecommerce," he told Retail Week. "It's still a relatively small part of our business at the moment. We hope that we could get it to being 25% or even 30% of our business in the next three years, and we'll be making investments accordingly."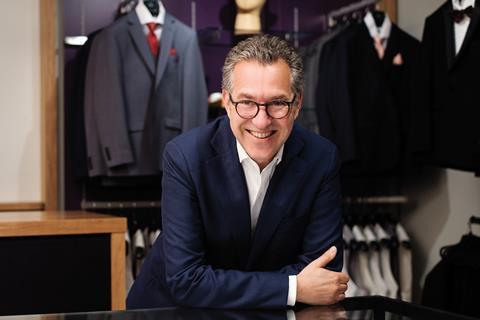 The Moss Bros boss added the retailer would make changes to its hire division, where like-for-likes tumbled 9.3%.
"At the moment our hire business is what I'd call an older business," Brick said. "It's very based around people coming in and choosing from the range that we hire. It's also seasonally linked and based around weddings and evening wear.
"We do think the [hire] market is changing. It's something that we're aware of; that we're looking closely at and we think it could provide a very good opportunity for us to develop a strong rental business in the future."
'We believe in stores'
In its full-year trading update, Moss Bros also flagged that its average lease length across its store portfolio is 50 months, with the average time to the next break option coming in at 33 months.
Brick said he believed stores will "play a big part in our business" in the future, but said landlords needed to be "realistic" about rents to prevent the retailer from shuttering some stores.
"We believe in stores. We believe that stores will play a big part in our business. However, it really does depend on the cost basis of those stores. If landlords become more realistic then we see stores as continuing to be a very big part of our business," Brick added.
"But that really depends on how landlords see rents and footfall on the high street is going down. Rent is basically a function of footfall and footfall has decreased in the last year, therefore rents should be commensurate with that footfall."