Joy has been bought out of administration by its owner Louche London in a pre-pack deal, saving 230 jobs.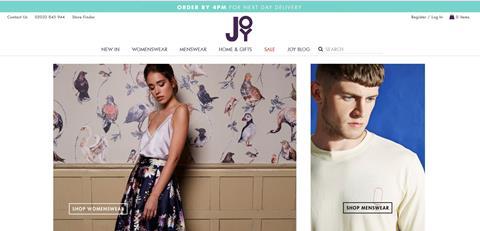 Administrators were called in for the second time in a decade earlier this week, as rising rents and the prospect of increasing business rates took their toll on the fashion and lifestyle chain.
The retailer, which previously collapsed into administration in 2008, was immediately sold back to its owners Louche London and the Joy Group of Companies.
As a result of the pre-pack deal, Joy has shuttered 11 of its 32 stores, shedding 78 jobs in the process.
Paul Ellison, partner at administrators KRE Corporate Recovery, said: "With the majority of the retail stores remaining open and with many jobs saved this is an excellent demonstration of why pre-packaged sales from administration will continue to have a place in rescuing businesses."
Hard times
Joy is the latest retailer to suffer amid turbulent conditions on the high street as the rise of online, rising labour costs, increasing rents and business rates and the fall in the value of the pound since the Brexit vote bite.
Two weeks ago, fellow apparel operator Store Twenty One filed a notice of intention to appoint administrators after defaulting on rent payments and being served a winding-up order by HMRC in relation to unpaid taxes.
Last month, Jaeger tumbled into administration and swung the axe on 20 "financially unviable" stores just a week later.
Earlier in April, Jones Bootmaker was rescued by Endless in a similar pre-pack deal, although its former stablemate Brantano collapsed into administration.