Zalando's vice president of womenswear Sara Diez talks to Retail Week about how the online retailer is aiming to become the ultimate go-to destination for fashion
Ordering a coffee in Spanish, speaking to her PR manager in German and answering questions in English, the multilingual businesswoman – she speaks six languages adding Chinese, Portuguese and French to the list – has got a wealth of knowledge when it comes to fashion and its future.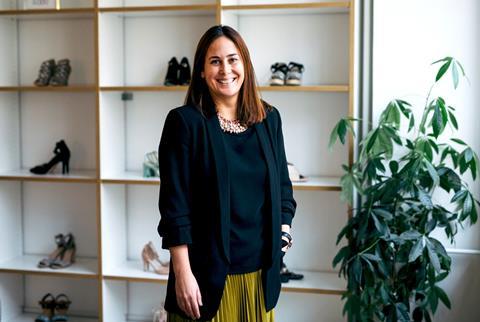 Diez moved to the fashion etailer 10 months ago after six years at Nike's European headquarters – based in Amsterdam – where she held various senior roles including senior buying director for Nike sportswear.
Before that Diez was head of buying at Inditex for 11 years. During that time Zara stores expanded from 200 when she arrived to 2,000 by the time she left.
But when the opportunity arose to move to Zalando, a company that Diez says "is truly shaping out the future of fashion retail in Europe", she decided to jump ship.
With 300 million monthly visitors to its website, Zalando is the "number one destination in Europe for fashion", she says.
The online fashion retailer recently posted €6.5m (£5.5m) in adjusted EBITDA during the first quarter of the year, up from €0.4m (£0.3m) in the same period the previous year, while sales rose 15.2% year on year to €1.4bn (£1.2bn).
App fatigue
Now, Zalando's ambitions to drive its ecommerce sales by focusing on the development of its mobile app.
"What we've been observing across this year is mobile has replaced any other device on getting traffic [to the site] and on top of that apps are becoming the place where people are buying products from," says Diez, adding that 80% of the retailer's web traffic and 70% of its transactions come via its mobile channel.
Zalando's app downloads have doubled in the last four years but Diez says consumers are now at the point of "app fatigue" and are only willing to download a "certain number of apps".
"People are selecting the [apps] that solve more problems for them, make things easier and consolidate the biggest amount of product," she says.
Future competition
Diez explains that Zalando's aim is to become "starting point for fashion" for consumers, akin to how they would use Spotify, Netflix and Airbnb to find new music, binge-watch a series or find a place to stay on holiday.
It is also those types of businesses that Diez sees as the etailer's biggest competition, rather than more traditional rival fashion platforms.
Diez believes rather than competing, Zalando and Asos "complement each other" and she does not see Amazon as a competitor "from a fashion point of view" due to its comparatively limited clothing offer.
Instead of fellow etailer's, Diez sees Instagram as the platform to beat.
"Thinking about future competitors, my mind would say Instagram. Instagram is inspirational, it's easy for consumers [to use]," she says.
It's likely the competition that Instagram presents to Zalando will only increase in the coming years.
Earlier this year, Instagram announced its shoppable function in partnership with Paypal, and last month boss Adam Mosseri laid out five to 10-year plans to move into the online retail space, saying the social media network can "unlock a lot of value from everyone involved in ecommerce".
"Technology is key and those companies that can utilise technology and data to evolve fast will be much more successful"

Sara Diez, Zalando
Diez believes retailers that will succeed in future will be those that are open to new technology, both in partnership with other platforms and in their own organisations.
"Technology is key and those companies that can utilise technology and data to evolve fast will be much more successful," says Diez.
"I think that's part of the key to our success – that combination between fashion technology and logistics."
Diez explains that Zalando has been doing "a lot of work" on AI across its platform, which is able to provide shoppers with inspiration "based on current purchases or things that you've recently looked for".
And it is not just the customers who can take advantage of the platform's technology.
Zalando offers its brand partners various logistics and technology solutions including marketing and advertising, order fulfilment and data solutions to manage stock more effectively.
"We're almost this digital consultant that helps them out, so we built a full ecosystem of services that we can offer," says Diez.

She says a handful of retailers are now having more of an impact as fashion becomes about "fewer players doing a major haul on the industry".
"That's why Zalando wants the position as that go-to destination for fashion because things are getting narrower," Diez explains.
Flawless proposition
Zalando sells 2,000 brands on its site and has 27 million active customers and shows no signs of slowing down. Diez is constantly working to incorporate new brands to its portfolio to achieve a "flawless assortment proposition".
But she insists Zalando's ambition to be the go-to destination will not harm sales on fashion retailer's own-brand websites.
"Zalando wants the position as that go-to destination for fashion because things are getting narrower"

Sara Diez, Zalando
"Brands have transitioned from feeling that Zalando is going to cannibalise their own business to realising that buying through a multi-brand environment is a customer choice and there isn't that much overlap," says Diez.
"We did some testing with some brands and it's tiny – less than 10% of consumers that will buy in Zalando will buy in the mono-brand environment. So, the majority of our customers come to us – 90% of them browsing for inspiration – and they end up buying something. They were not actively looking for a particular brand."
Diez says the fashion platform provides an "opportunity" to brands and when they understand that, they "realise the advantage" of selling on Zalando.
With a strong strategy in place focusing on customer choice, inspiration, personalisation and convenience, Zalando's dream of becoming the Spotify for fashion is well underway.