High street darling Ted Baker turns 30 this year. In three decades it has suffered no major setbacks, never issued a profit warning and made no big redundancy rounds.
However, in its anniversary year, trading has softened. Analysts were spooked by relatively subdued half-year results today. Sales may have been up 3.5% in the six months to August 11, but sales per square foot were down 9.4%, excluding ecommerce, and down 4.2% including it. Retail sales rose just 1%.
"More weak results like these will make it harder to dismiss that creeping sensation that this market darling could be losing some of its mojo," City Index senior analyst Fiona Cincotta observed.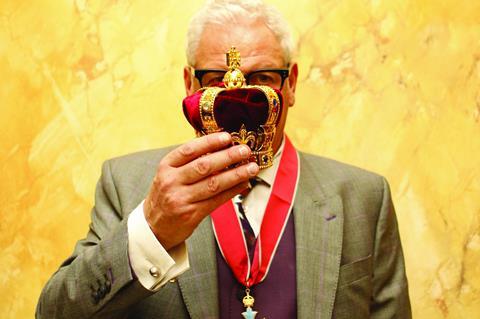 Founder and chief executive Ray Kelvin dismisses that notion. "I think that's very unfair," he counters. "In this market, our performance is pretty damn good. You can't win, can you?"
He has a point. Ted Baker, if it does falter slightly in this market – the harshest in living memory – will be a victim of its own success.
It is success built on staying close to its inspirational vision. Kelvin – "the closest man to Ted Baker" – first conceived the idea of a brand centred around a character when fishing one day. In a Gatsby-esque reverie, he dreamt up a "dapper gent", a character that he could imbue with certain qualities.
"I think it was a unique way of trying to tap into what you really want to be, without it being you," he says. "It then prevents me being a wannabe. We all want to be a James Bond or an Elizabeth Taylor. Not that you want to be that person, but you want to live that life. It was pastiche, it gave me a way to express myself without sounding stupid."
So, does Kelvin think that he shares any qualities with Ted? "No, not at all. He is iconic, I am a disciple."
He believes Ted is more than a differentiating marketing aid and instead helps him to make decisions. "He lives here, he is part of us. He is an extension of what we do and how we think. I really do feel he exists," Kelvin says.
Departures
Perhaps Ted has been his own guardian angel over the years. Trading may have softened over the last few months but the business is in a good place: it has, for instance, an overseas network that lessens its exposure to a biting UK market.
Most importantly, at a time when the commoditisation of fashion and middle-of-the-road product is turning the consumer off, its brand handwriting is so strong you can recognise a Ted Baker suit from 20 paces.
While sales are still up, the company has lost a significant number of senior staff members over the past year.
"We have a very strong strategy and we have aligned our teams," Kelvin told Retail Week over the summer as he looked back over the brand's 30 years, sitting below deck on the business' barge, moored on Regent's Canal behind its King's Cross headquarters. "There have been a lot of senior people who have now moved on and we all feel, even the people who left, really positive about that."
"I think we could definitely, in my lifetime, get considerably bigger than we are now"

Ray Kelvin, Ted Baker
The exits range from Kelvin's key lieutenant, global retail director Chris Browne, who has been with him since the beginning but abruptly departed last autumn, to womenswear boss Catherine Scorey and head of creative Dan Maxted, among others.
He insists the departures were a "difficult decision" designed to let new talent come to the fore.
"I didn't have a problem making those difficult decisions because I love the business so much," he says. "And if they're the correct decisions for the business and if those people who have been with me love the business too, then they understand it.
"That is why they have built legacies in the business. They have been here for 20 years, 30 years – you can't play centre forward in the first team forever can you?"
Even the conversations around leaving the business, Kelvin says, were Ted-ified.
"You don't have to say a lot. I just sat there and said: 'It's time'. And they understood. Because that is what Ted would do, isn't it? He'd say: 'It's time, let's have a cup of tea.' We are still friends, I still speak to those people."
Future prospects
While Ted's performance over the past three decades is impressive – a source of both admiration and envy for many on the high street – Kelvin believes the business still has significant potential for growth.
"If you had told me when I started in my kitchen we could go from £0 to £1.6bn, which has been our highest market value, I think we could definitely, in my lifetime, get considerably bigger than we are now.
"But I don't focus on the numbers, I focus on better. I don't focus on finances, I focus on the fact we're sitting on this boat, saying 'this is nice, isn't it?' If I make things better, the finances take care of themselves to a certain extent."
He may not focus on the numbers, but Kelvin has an unusual talent for being both detail-oriented and a big-picture dreamer and this, perhaps, has helped carry the business through various economic downturns and shifts in consumer habits.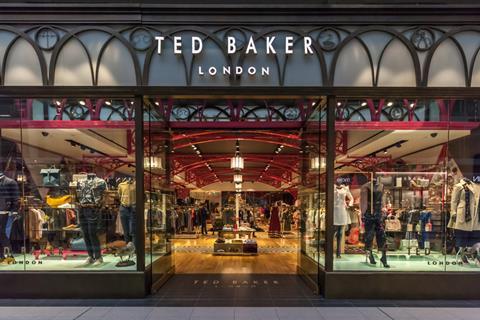 When asked what he believes is coming down the tracks, and how Ted Baker is planning to capitalise on it, he baulks at the idea.
"Our business is not about the next big thing," he says. "Our business is made up of lots and lots of proper decisions that we make minute by minute by minute. The business is about evolution and development. If you are chasing the next big thing then you're correcting something or something has gone wrong."
He qualifies his answer slightly, saying he does not believe Ted Baker has "the market covered".
"We have to work hard, and we have to work creatively," he continues. "But I think we are in a position to manage our way forward. Because we are a brand, not a high street retailer."
The emphasis on not being a retailer as being an advantage might be dispiriting for others in the industry. But any retailers feeling despondent could do worse than to listen to Kelvin's take on branding and identity.
"People can try and copy our clothes, but there is a way of doing it," he says. "We don't need text books, we don't try to be something we're not, we just live and breathe our brand and that's key. It either feels right or it doesn't."
Ted may be facing one of his toughest years, but the dapper gent isn't ready to hang up the suit anytime soon.
Interview: Ray Kelvin on Ted Baker's 30th anniversary
1

Currently reading

Interview: Ray Kelvin on Ted Baker's 30th anniversary

2