H&M's Carlos Duarte says the UK is the toughest country and its shoppers have high expectations, but he is confident the retailer can meet them.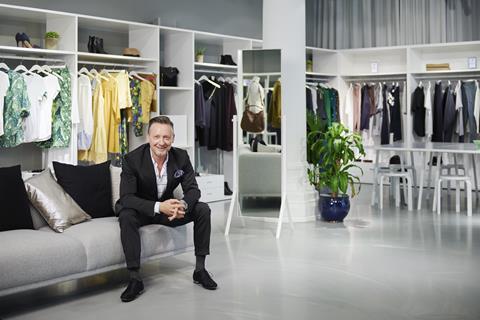 Perched atop a very Scandinavian-looking grey chair, Duarte is surrounded by the fruits of H&M's labours – cushions from its homewares collection litter the sofas while new autumn/winter product lines are immaculately presented around the walls.
Even the soap in its glossy kitchen area comes from the group's upmarket & Other Stories fascia, which made its worldwide debut in the UK three years ago.
Duarte is the man charged with bringing these products to more people across the UK. The retailer has more than 260 stores in the UK and Ireland, which is it third-biggest market; however, Duarte is on the expansion trail.
He is planning 17 new stores this year, including its new Westfield London store, which opens next Friday – and at 6,000 sq ft it will be one of H&M's biggest stores in the world.
Confident in a tough market
H&M is pushing ahead with its bold expansion plan despite challenging conditions in the UK.
"The UK is the toughest retail market in the world," says Duarte, who has spent more than 22 years at the retail giant in various European divisions.
Verdict analyst Honor Strachan points to the highly competitive nature of the British high street at every level, from value to luxury. "Other markets are missing that," she says. "We have a very clear price architecture on our high street and have great retailers at every level. Consumers then expect the best when it comes to price, fashionability, design and overall proposition."
H&M's latest accounts, which were released last week, revealed UK profits across the group tumbled 17.3% in the year to November 30, 2015. Despite this fall, Duarte remains confident – UK store sales were up 5.9% in the same year.
However, it is a market that isn't about to get any easier. While Duarte echoes many retailers with his "business as normal" reply when asked about the impact of Brexit, he also talks of the question marks hanging over businesses as politicians drag their feet on triggering Article 50.
"The market keeps developing and consumers are very trendy. We need to look at extensions. We have a lot to do but I wouldn't say that is a weakness"

Carlos Duarte, H&M
"London is a strong market for fashion and it is always going to be good to be here," he says. "But among our staff we feel insecurities, especially among the non-British staff, who say 'what will happen to us?'. They ask a lot of questions we cannot answer."
Does Duarte think that the retailer might follow health and beauty manufacturer and retailer Lush, which recently gave staff the option of moving to Germany following the Brexit vote?
"I don't think that will be needed," he replies. "We don't see need yet to relocate. I personally don't think – and I am non-British – it is needed. There will be compromises from politicians or a bigger struggle for the UK as a whole."
As for consumer sentiment, for the time being Duarte, like most fashion retailers, seems more concerned with the weather.
"You do feel people maybe are having more personal talks about consumption. But then I think weather also affects a lot. This cold spring and a hot late summer. The weather influences everything all of the time," he says.
The weather is not the only tricky aspect of the UK market: the UK consumer, spoilt for choice by a crowded market, is one of the hardest customers to woo.
Duarte isn't one to candidly reveal weaknesses, but when pressed he says that keeping up with the UK consumer is his number one challenge.
"We have a lot of strength," he says. "We are the second-biggest retailer in the world. But we have a lot to do. The market keeps developing and consumers are very trendy. We need to look at extensions. We have a lot to do but I wouldn't say that is a weakness."
The H&M customer
Duarte says that H&M does not have a core customer and appeals to a large cross-section of the UK public. "Ladies are [our target] to an extent because womenswear is our biggest section but we don't target an age group. It isn't like it used to be. Anyone can dress how they want and it's okay. I like that. And for men it is the same," he says.
He goes on to reveal that H&M is looking at standalone menswear stores, but remains coy on number and dates.
"We are working on it," he says. "Not when it comes to product range but how to present it.
"We still see the potential to get bigger. There is a lot of potential to grow through bricks and mortar. It make sense to open up in smaller cities"

Carlos Duarte, H&M
"If you go to Sweden, it opened last year. And Germany has actually already had some men's stores for a few years. It's [been] very successful, so the first steps have been done. We want to do it really good, so tests have been done."
Duarte is clearly passionate about product. He adds that he considers London "almost a paradise for men's fashion", mentioning the burgeoning trend for florals, the now ubiquitous slim silhouette and the abundance of smaller, inspirational menswear labels.
Opening standalone menswear stores would put H&M on a par with fast-fashion rival New Look, which opened its first standalone menswear stores last year and is still rolling them out.
And it's not the only area of expansion for Duarte. H&M's homewares category is also growing. In 11 of H&M's UK and Irish stores, it will be rolled out across all stores "whenever it is good for the business and for customers".
It will roll out homewares to its Lakeside, Bluewater, Brixton and Brighton stores over the next year.
"We don't want to take too much of a gamble," Duarte qualifies. "We only add it when it makes sense. We believe home is part of fashion, it goes hand in hand.
"The customer is not used to it so it will be a big surprise – and the UK as a country focuses on home a lot due to the weather," he laughs. "We spend too much time indoors with the rain."
Moving into smaller cities
The Westfield store is just one of many that H&M will open over the year. Duarte is committed to growing its bricks-and-mortar presence in smaller cities.
"We still see the potential to get bigger. We are going to open in Wolverhampton, Ilford, Stoke on Trent. There is a lot of potential to grow through bricks and mortar. It make sense to open up in smaller cities."
He adds that in some locations, H&M stores are not meeting expectations.
"The UK customer has higher expectations for stores than other markets," he says. "In some locations stores are not meeting expectations. We need to keep up with the consumer."
With that in mind, H&M is improving and upgrading its existing stores. It is relocating its Covent Garden flagship to a heritage site and extending sites in Bluewater and Brixton.
The different stores will reflect a different customer on a different mission. "Westfield is a retail destination while Covent Garden is a cooler location," Duarte says. "People go there for a drink or to the opera or the theatre. They are very different customer types and the stores will reflect that. They will be a surprise."
If H&M can continue to surprise and delight customers, Duarte will navigate the tough UK market with ease.