Primark is a fashion favourite among shoppers, but is it now taking the lead as a homewares frontrunner too? As Primark continues to raise its standards for shoppers seeking to revamp their homes on a budget, Retail Week explores how the fashion giant is extending its offer
Primark Home and Lifestyle first launched more than 15 years ago, but it was pre-pandemic in 2019 when big plans were made to introduce new categories to the retailer's offering, as well as broaden its range of existing categories.
In October 2021, Primark selected 40 of its stores across the UK and internationally and re-evaluated its shopping experience for homewares customers. The retailer has since doubled the space for its homewares in the majority of the 40 stores selected.
With a larger physical presence than ever before, Primark said sales in its homewares department have increased by around 25% from 2019 to 2023.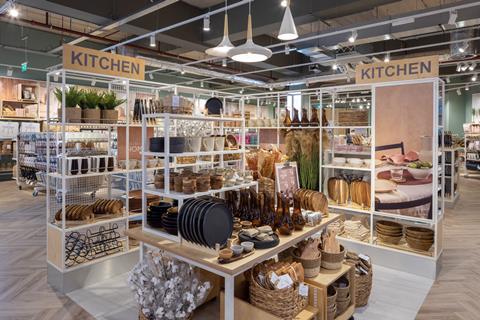 Retail Week lead analyst Wendy Massey says: "Primark has scope to make a big impact on the home sector – its value-led offer will take it into competition with Dunelm as it continues to grow, while its huge physical presence means it could take share from the likes of H&M, which has also been growing its home offer, as well as Next.
"Other retailers that could potentially lose share to Primark would include B&M, The Range, Wilko, TK Maxx and even the superstores.
"I think the point of differentiation with Primark though will be the fashion focus and the fact that shoppers could browse the home items when in store and make a few impulse purchases."
Massey adds that Primark has peaked in the homewares sector at the right time, as the demand for refreshing your home on a budget during the cost-of-living crisis is more important than ever.
Revamping its offer
In the fashion retailer's Lakeside store, Primark Home trading director Paul Baldwin shows Retail Week around its homewares section and talks about its transition to becoming a household name: "We didn't just give shoppers more of what they already had in terms of product types, we introduced new product types.
"With that we had to consider the equipment we would need to display the new products and in terms of really giving us the confidence to go for this, we engaged with data analytics company Kantar which conducted a year's worth of research for us – tracking not only our customers, but a selection of a broader customer base and their shopping habits over the course of a year.
"It gave a great insight for us, we could see what our customers were coming in to buy from us, but then we could also identify through research what it is they were buying elsewhere."
Primark's focus on offering its customers exactly what they are looking for proves to have paid off for the retailer, as well as ensuring it can prevent customers from shopping elsewhere.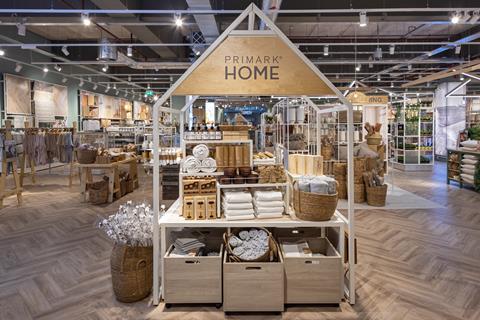 Social shopping trends
While the retailer continued its in-house product offer expansion, its customers took Primark Home's marketing into their own hands.
Primark said it saw an uptick in sales of its basic towels after a window display in one of its stores went viral on social media, proving the influence of social trends and traffic on shopping habits.
Baldwin says: "Something we are really proud of on social media is that our customers do so much of the marketing for us. We don't just call them customers, we also call them fans.
"They are not shy about giving feedback on our products, good or bad, but there is so much positive commentary on social media about our products and that's fantastic for us. It's not us saying it, it is you saying it. Customers pick up on that because they see it as a much more trustworthy source of information."
As long as homewares Instagram and TikTok reels continue to gain traction, Primark's expansion will continue to be showcased by shoppers, resulting in an ongoing sales boom for the retailer.
Broadening bestsellers
Within the homewares sector, Primark is now competing against the likes of retailers such as Ikea, Dunelm and Next, meaning it has had to address any gaps within its product range.
Primark's move into furniture and the sale of its bestselling bouclé chair, alongside other functional items including side tables and footstools, has been a hit with customers and gives its competitors a run for their money.
Baldwin says: "The great thing is we've got a bestseller in every category. What we are really proud of is actually layering in newness and fashion related to a core product. Bathmats are an example, being able to introduce that really bright, fun element, yet it still has the same sales as one of our core, continuity products.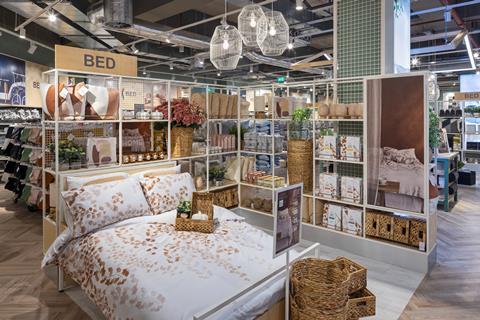 "Ceramics are a good example of seasonal products, and last harvest our biggest sellers were pumpkins. The great thing is, they can be packed away and brought out next season, and what definitely happens is that the customer then adds to their collection so it grows and grows."
With every season comes a new bestseller for Primark and a new trend for shoppers to buy into, meaning both its functional and trend-led products are both boosting its growth in homewares.
Baldwin emphasies that sustainability is at the retailer's core in regard to quality for its customers. Some 90% of Primark's bedding, linen and towels is made from 100% sustainable cotton, sourced from its Primark Sustainable Cotton Programme, as part of the retailer's bid to "bring more sustainable home products to customers at the prices they know and love".
Primark's continued category expansion, sustainability improvement and vast range of trend-led-inspired products, combined with a focus on value, means the scope for its growth within homes is not coming to a halt any time soon, especially during the cost-of-living crisis.