Fashion giant Arcadia, owner of famous fascias such as Topshop, Evans and Dorothy Perkins, suffered a steep fall in profits last year.
The retailer's annual report and accounts, filed at Companies House this week, showed that earnings took a £129.2m hit from exceptionals as onerous lease provisions and costs relating to the now defunct BHS had an impact.
But even before such items were taken into account, operating profit slid 16% from £252.9m to £211.2m on sales down from £2.07bn to £2.02bn.
Arcadia faces many of the same problems as its peers, such as changes to consumer spending habits and currency volatility, as well as some particular challenges of its own.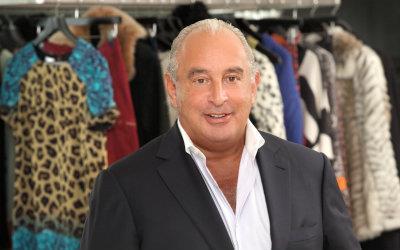 Arcadia said: "The retail industry continues to experience a period of major change as customers become ever more selective and value-conscious and advances in technology open up more diverse, fast-changing and complex sales channels."
Like Marks & Spencer and Next before it, Arcadia highlighted the fact that "clothing has become a less important part of the household budget".
However, Arcadia's market share has plummeted in recent years. In 2012, the group – which at the time included BHS – held a 6.2% market share in clothing; it now has just 4%, according to figures from GlobalData.
Owner Sir Philip Green is clearly worried and has drafted in consultants McKinsey to try to turn around the business that once ruled the British high street.
Has Topshop lost its mojo?
Arcadia acknowledged that competition is also stepping up. "Market conditions remain challenging and very competitive, with new entrants across all channels, particularly in digital," it said.
One of the Arcadia brands facing the most competition is the jewel in its crown – Topshop.
The retailer was once a haven for fashion-forward young shoppers and exuded cool.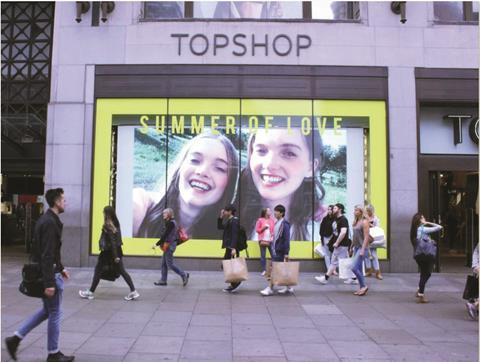 However, over the past decade Zara, H&M and Primark have surged in popularity while pureplay rivals such as Asos and Boohoo are also rivalling Topshop in the style stakes.
Some industry observers believe it is no longer the automatic first-choice shopping destination for its young customers.
GlobalData analyst Kate Ormrod says: "Online pureplays are now the first port of call. They are dominating in terms of customer engagement. Shoppers are on there first thing in the morning and last thing at night."
Ormrod says that Topshop needs to do more to engage its customers online and connect more with popular culture.
One retail consultant says: "It's not penetrated online as much as it should have. It's overhauling its systems to help but it's behind the curve."
Retail Week Prospect senior analyst Rebecca Marks believes that Arcadia has missed a trick by not selling on Asos, like rivals such as New Look do.
"The volume of visits that Asos gets makes it a notable sales avenue," she maintains. "Arcadia and Asos are thought to have held informal talks in the past about selling though the etailer. Perhaps the idea should be revived.
"Topshop's own online proposition could also be improved to bring spend thresholds and its click-and-collect offer in line with rivals.
"There is a need to be aware of players like Asos and Boohoo and make sure their fulfilment competes on aspects like speed," says Marks.
But it's not just in fulfilment where Topshop is slipping behind the fash pack.
"They're not always first to market," says Marks. "Consumers will see something on social media and want it straight away and they know they can get it on Asos or Boohoo."
In terms of stores, Topshop needs to tap into the convergence between retail and leisure, according to Marks.
"They need to look at the store experience," she says. "Oxford Street is great but in the rest of the country it's not the same and they need to enhance that."
"The younger consumer wants something they can wear once. They don't want to be seen on Instagram in the same outfit"

Retail Week Prospect senior analyst Rebecca Marks
At the Oxford Street flagship good use has been made of new technology such as virtual reality – such as an interactive water slide for this summer – and includes concessions such as Lola's Cupcakes and a Cheeky beauty parlour.
More such tie-ups could help draw custom to stores – it's an approach other retailers, particularly department stores, are increasingly adopting as they chase their share of spend in the so-called experience economy.
However, regular Topshop stores lack the same wow factor as its Oxford Street flagship. Ormrod says that is creating "an inconsistent brand image".
Ormrod also believes Topshop's prices are out of kilter. "Its fashion element is still spot on but it's having a hard time justifying its price points when shoppers can pick up cheaper products at Primark," she says.
Marks goes so far as to call its products "overpriced".
"The younger consumer wants something they can wear once. They don't want to be seen on Instagram in the same outfit," she says.
Brands losing their relevance
Topshop is understood to be performing better than the rest of Arcadia's brands, which experts believe is down to it receiving more investment than its stablemates.
However, there's an argument that Arcadia's other brands are more in need of the investment. Many, including Evans, Wallis, Dorothy Perkins and Burton, have lost their relevance.
Paul Martin, head of retail at KPMG, says that the middle market where Arcadia operates is a difficult place to be. "There's too many brands in the middle market with limited product differentiation.
"There are lots of brands trying to play for the same customer in a market that is not growing."
A unique proposition is key to standing out in this crowded marketplace. Evans, which by its very nature as a plus-size specialist should hold a unique position, was one of Arcadia's worst-performing brands, according to Ormrod.
The fact that it operates in the fast-growing plus-size market – 20% of all womenswear spend in 2017 will be on plus size, according to GlobalData – should mean there is plenty of scope for success.
But Evans, which was the market leader, has floundered and allowed younger, fresher brands to eat its lunch.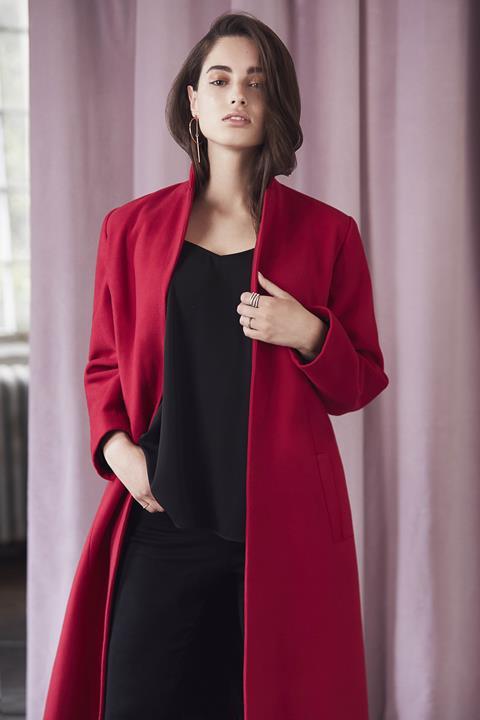 N Brown-owned Simply Be is just one of the brands that is growing rapidly, with sales jumping 9.9% in its last financial year.
However, Evans' product is failing to appeal to a demographic that is becoming increasingly well catered to by mainstream players, which are launching trend-led plus-size collections.
"Evans is not for younger shoppers. If you don't attract them with aspirational products, how do you get older shoppers to shop there?" asks Ormrod.
A look at Simply Be's vibrant ad campaign also highlights how stale Evans' marketing has become. The N Brown-owned brand resembles a plus-size Boohoo, with aspirational imagery and catchy music.
Marks believes Arcadia needs to modernise the brand. "It should do a lot more with inspirational bloggers and social media," she says.
Another poor performer was Burton. "What does it stand for?" asks Ormrod. "It's slightly confused. It's certainly not a destination any more."
Meanwhile, Dorothy Perkins has become hooked on discounting. "If Dorothy Perkins isn't having a 20% off weekend, month or year, people don't go in there. There's no incentive to buy at full price," says Ormrod.
Analysts believe that a radical overhaul is needed for some of Arcadia's brands. "There are a few brands that they could get rid of. They need to work out why some of these brands exist and try to make them destinations again," says Ormrod.
"I think most of them are salvageable but it's going to need a radical rethink and trying something different."
The next year is going to be a critical one for Arcadia. As the demise of BHS shows, no business, no matter how well known, is infallible. Sir Philip Green needs to take action before it is too late.
Property problems
The closure of BHS has impacted the wider Arcadia Group, as many of its brands traded in the department store.
GlobalData's Kate Ormrod says the retail group needs to explore new sales channels for those brands, such as online retailers and department stores, to plug the gap.
Arcadia has started to roll out Dorothy Perkins, Burton, Evans and Wallis concessions in Tesco stores.
The group may need to widen its concession network, but one retail expert believes it needs to trim its own store space.
"It has too many stores in too many bad locations. McKinsey is looking to make cost-efficiencies, and real estate will be a focus," he says.