Bank administrators have revealed the fashion retailer's remaining nine stores will close by the end of April.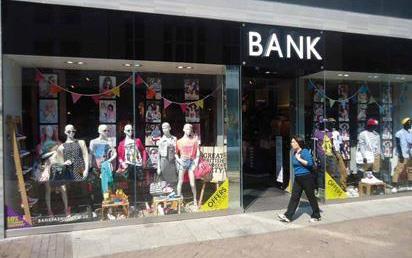 JD Sports sold the struggling Bank chain in November of last year to Hilco Capital, but it was put into administration on January 5.
The retailer operated 84 stores mostly in the Midlands, north England and Scotland and had 1,555 employees. The first phase of store closures began in February.
Bill Dawson, joint administrator and partner in Deloitte's restructuring services practice, said: "Unfortunately no purchaser could be found for the business as a going concern, although its intellectual property is still for sale. We would like to thank the company's employees for their support and professionalism during this difficult period."
Last week, Retail Week reported the fashion retailer's former management were in discussions with landlords over 10 former Bank stores in order to set up a new fashion retailer. Sources have said the retailer will sell young fashion and it is understood names being considered for the new venture include Mila & Co. The retailer is eyeing up to 20 stores this year, that are likely to cover about 2,000 sq ft to 3,000 sq ft.
Meanwhile, two Bestseller franchisees are interested in about 10 former Bank stores as part of plans to roll out a new format selling the Danish fashion giant's Vero Moda, Vila, Only and Pieces brands.
The new stores are under the @ The Studio name and it is believed there are plans to open 40 stores across the UK.
The branded young-fashion sector has faced challenges on a number of fronts in recent years. Retailers with a strong own brand and online offer, such as Topshop, Topman and River Island, have been stealing share.