Some 26 Country Casual stores and nine Austin Reed stores are on a "rapid closure" list as part of a proposed CVA.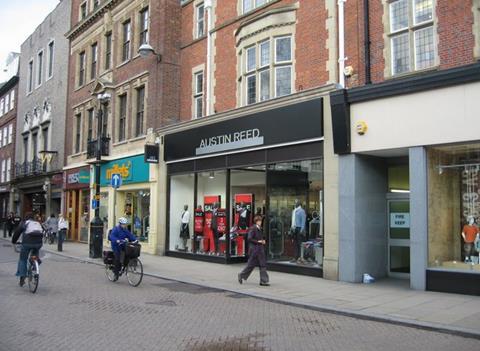 Owners said that some 35 Austin Reed and Country Casual stores are on the "rapid closure list". It is seeking rent reductions of 50% on these stores for the next six months.
Country Casuals stores on the "rapid closure" list
Berwick - 11-13 Marygate, TD15 1AT
Bromley - 229 The Glades, BR1
Cirencester - 7 Cricklade Street, GL7 1HY
Dundee - Unit: 8 Overgate Centre, DD1 1RW
Durham - 10 / 11 Silver Street, DH1 3RD
Galashiels - 47 Channel Street , TD1 1BJ
Grantham - Unit 9 The George Shopping Centre, NG31 6LH
Haverfordwest - 28 Bridge Street, SA61 2AD
Horsham - 29 Springfield Court, RH12
Kendal - Unit 13 Westmorland Shopping Centre, LA9 4LR
Kings Lynn - Unit SU16, 22 New Conduit Street, PE30 1DL
Louth - 92 Eastgate , LN11 9PG
Lymington - 87/87a High Street, CM14 4AJ
Maldon - 59 High Street, CM9 5PF
Morpeth - 5/7 Bridge Street, NE61 1NT
Newark - 26 Middlegate, NG24 1AL
Newmarket - 61a High Street, CB8 8NA
Newton Mearns - Unit 26, The Avenue, G77 6AA
Ross On Wye - 50a Broad Street, HR9 7DY
Rye - 7 Market Road, TN31 7JA
Scarborough - 122 Westborough, Y011 1LP
Sherborne - 79 Cheap Street, DT9 3BA
Swansea - Unit 5 Princess Way, SA1
Weston Super Mare - 31-35 High Street, BS23 1HD
Worcester - 14/16 Pump Street, WR1 2QY
York - 19-23 Feasegate, YO1 8SH
Austin Reed stores on the "rapid closure" list
Blackrock - 2B Main Street, Dublin, Ireland
Bluewater - Units U008/U009 Upper Rose Gallery, DA9 9SP
Brent Cross - Units C8 & C9 Brent Cross Shopping Centre, NW4 3F1
Cardiff- NSU4 The Capitol Centre, Queen Street, CH10 2FQ
Cardiff Bay -Unit 12 Mermaid Quay, CF10 5BZ
Chester- 35 Bridge Street Row, CH1 1NW
Edinburgh Gyle - Unit 58 The Gyle Shopping Centre, EH12 9JU
Leicester - 39 Belvoir Street, LE1
Perth - 9-15 St. John Street, PH1 5SP Kingfisher Equities Limited
It is seeking 20% reductions on a further 30 Country Casual stores and five Austin Reed stores.
Country Casuals stores on the "underperforming" list
Alnwick - 67/67a Bondgate Within, NE66 1HZ
Ayr - 167 High Street, KA7 1QT
Banbury - 88c/89 High Street, OX16 5JE
Belfast - 55-57 Fountain Street, BT1 5EB
Brentwood - Unit 40b, 38-42 High Street, CM14 4BX
Bridgnorth - 43 High Street, WV16 4DX
Bridport - 19 East Street , DT6 3JX
Bury St Edmunds - 16/17 Abbeygate Street, IP33
Buxton - 70/72 Spring Gardens, SK17 6BZ
Carmarthen - Unit 18 St Catherine's Walk, SA31 1GA
Chichester- 82 East Street , P019 1HA
Devizes - 28 Maryport , SN10 lag
Guildford - Unit 3a, 14-22 Market Street, GU1 4LB
Harpenden 30 & 32 High Street, AL5 2SX
Haywards Heath - 102 South Road, RH16 4LL
Hitchin - 29 Market Place , SG5 1DY
Inverness - 21/23 Inglis Street, IV1 1HN
Ipswich - 18-20 Buttermarket, IP1 1BP
Mold - 15 High Street, CH7 1AZ 72
Rugby - 10/11 High Street, CV21 3BJ
Salisbury - 45/45a New Canal, SP1
St. Andrews - 132 Market Street, KY16 9PF
St. Ives - 8 Bridge Street, PE27 5EG
Stratford - 44 Wood Street, CV37
Sudbury - 2 Old Market Place, C010 1RA
Taunton - 5a High Street, TA1 3TP
Truro - 28 & 29 Boscawen Street , TR1 2QU
Wells - 66 High Street, BA5 2AJ
Welwyn Garden City - 41 Howardsgate, AL8 6AP
Windsor - Unit 4 Windsor Royal Station, SL4 1PJ Friends Life Limited
Austin Reed units on the "underperforming" stores list
Bournemouth - Westover Corner, BH1 2AS
Edinburgh - Unit 4, 102-104 George Street, EH2 3DN
Glasgow - Unit 21/22 Buchanan Galleries, G1 2FF
Meadowhall 25 The Arcade, S9 1EL
Salisbury - 45/45a New Canal, SP1 2AA