French Connection's investors are continuing to agitate, renewing calls for the retailer to address governance.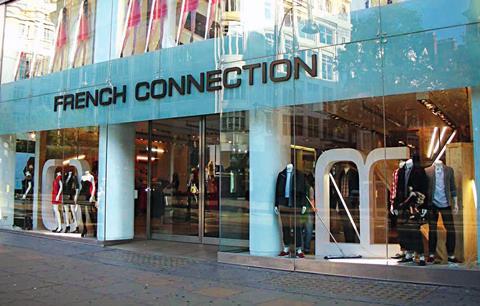 Investors Gatemore, OTK Holding and Zoar Invest have previously lobbied French Connection individually.
Now they have joined forces, penning a letter to the directors of French Connection alleging that its board was "not fit for task".
The trio, which together owns 15% of French Connection, maintained that the retailer was acting as if it "were achieving its targets" and that it was "deeply concerned about the company's utter lack of progress on improving its operating performance".
Cash poor
Gatemore, OTK and Zoar estimate that French Connection, which has historically been cash rich, "could approach a zero or even negative cash balance by this summer" and therefore be "forced" to sell off some of its most valuable assets, such as the lease of its Oxford Street store.
The letter, although strongly worded, is just the latest round of bad news for the retailer, which has underperformed for some years.
Its most recent full-year accounts, published in March last year, showed pre-tax losses more than doubling in the year to January 31, 2016, from £1.6m to £3.5m, and sales falling 8%.
The latest investor concern centres on the leadership at the retailer, especially that of founder, chairman and chief executive Stephen Marks.
"They [the investors] flag things that have been issues for years," says Verdict Retail analyst Honor Westnedge.
"But they are now becoming crucial. Historically, French Connection has always been in cash despite poor trading.
"But they have eroded that cash position over the last five years because they've had to invest it in the business. They've got a long way to go turn it around and are now facing really tough times.
"They have relied on that cash when they needed to close stores and invest in product. Now they're in a position where they don't have a strong pot of money or a strong business."
The competition
Many of French Connection's problems stem from its failure to keep up with the competition.
"While the brand once held a niche for its ready-to-wear occasion collections and tailoring, the fashion landscape has changed," says Retail Week Prospect analyst Rebecca Marks.
"Additionally, as the likes of [H&M-owned] & Other Stories trade in what were once French Connection store premises, it is evident that the brand has been negatively impacted by overseas players now competing in the already saturated UK fashion market."
Westnedge points to Inditex giant Zara. "There is a very obvious crossover," she says. "So many customers have shifted to Zara – they have a similar aesthetic but the products are half the price in some cases.
"French Connection don't have premium appeal anymore. Once the fcuk boom was passé they found it really hard to look at the market to see who their customer was.
"Any retailer in 2017 who doesn't understand their customer has huge problems. It really eroded brand appeal."
Leadership
In their letter, the private equity firms demanded that two board members, Claire Kent and Dean Murray, should step down from their posts and that Marks – who owns 41% of the business – should split his roles as chairman and chief executive.
"Mr Murray and Ms Kent have been on the board since 2008 and have overseen a tremendous decline in the value of the company," they wrote.
"Furthermore, as they complete their ninth year they will be losing their status as independent directors as defined by the UK Corporate Governance Code. It is clearly time for both to step down."
On Marks, they wrote: "Stephen Marks serves as both chairman and CEO, which is not acceptable for modern-day governance practices.
"While we appreciate the role Mr Marks has played in developing a globally recognised brand, we have not heard any good reasons as to why he should continue to serve as both chairman and CEO."
French Connection declined to comment today. But it cannot bury its head in the sand for much longer.