Pep&Co opens the doors to its debut store in Kettering this week. Retail Week explores the discounter's ambitious plans for the high street.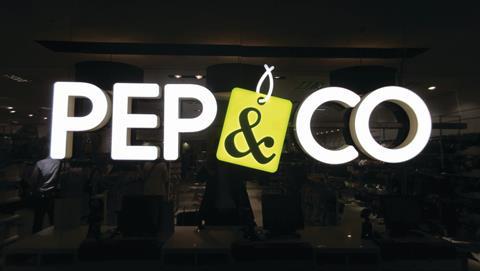 The two retail veterans behind new discount fashion chain Pep&Co freely acknowledge the venture they have set up appears, on the face of it, crazy.
Andy Bond, the former Asda boss who is Pep&Co's chairman, opens a presentation to analysts with a slide posing the question: "Are we bonkers?"
Later, managing director Adrian Mountford, a former Matalan commercial director, admits: "It's been a bit crackers."
So why the incredulity?
Because UK fashion is an incredibly competitive market, and ferociously so at the value end, which is dominated by giants such as Primark and H&M.
Yet Bond believes there is room for Pep&Co, which is backed by South African billionaire Christo Wiese's Pepkor vehicle.
Ambitious opening
"We feel very strongly there's a gap in the market," he says. "And we are a very experienced management team, supported by a good financial backer."
Bond, who spent five years as chief executive at Asda where he helped build the George fashion brand into the giant it is today, was speaking to analysts and local luminaries in Kettering. Pep&Co chose the town to open its first store, which will be unveiled on July 1.
It's the first public step in what promises to be a roller coaster of a journey.
Bond and Mountford plan to open 50 Pep&Co stores in 50 days this summer across small UK towns, covering between 4,000 and 6,000 sq ft.
'Mum on a budget'
The chain will offer discount women and children's fashion to young mothers on a budget, alongside homewares such as £2 scented candles, all under the tagline: "Spend a little, get a lot."
Bond explains his confidence in the concept stems from the success of retailers like B&M and Poundland, who have capitalised on recession-beaten shoppers looking for a bargain on the high streets of Britain's small towns. But so far nobody has tapped into that with a fashion offer, suggests Bond.
"The three retail trends in the UK right now are convenience, online and discount," says Bond. "We're going to focus on convenience and discount." Indeed, 95% of Pep&Co's stock, comprising around 7,000 stockkeeping units, will be sold for less than £10.
Stock is being sourced from 43 suppliers in eight countries, including eight suppliers in the UK.
The fashion is basic, as you would expect at the price, but Bond and his Pep&Co team believe the convenience their stores offer will entice their target shopper – "a mum on a budget".
The swift roll out, which has cost around £20m so far, means the retailer can buy product in the volume it needs to sell at discount prices. Mountford emphasises: "It's really important we have lot of things at a low price."
Selecting a site
Whittling its target list down to 50 towns was a major exercise. Mountford reveals that 700 towns were identified as potential locations where the Pep&Co offer could work.
"We took the top 350 and visited all those towns," says Mountford. "Either some sites were too big or too small, or the rent was too much. It was a massive piece of work."
This begs the question of how soon Pep&Co will expand beyond its initial 50 stores.
Bond is phlegmatic on the topic, and did not put a number on long term ambitions for store numbers, but points to the fact that Poundland is targeting 1,000, while Iceland is approaching that figure. However he cautions: "It depends whether we can acquire the space."
And Mountford admits they are prepared for the fact some stores will work better than others. "There will be a difference in store (performance), from the best to the worst, where we haven't got the product mix entirely right," he concedes.
"But overall there should easily be enough good news. Discounters – like B&M and Poundland – are opening stores like crazy. We feel we can be part of resurrecting local high streets."
Looking ahead
On an amble through Kettering, on the way to the Newlands Shopping Centre, the location of the first Pep & Co, Bond explains why the retailer will not be launching home delivery.
"For us, the economics just don't work. The average basket size is only going to be £8 to £9," he says. However, Bond reveals that a click-and-collect offer is on the cards further down the line.
But for now, Bond, Mountford, and their Watford-based 35-strong central team, have enough in their collective in-trays to keep them occupied.