Fashion is set to be the retail success of 2014 but experts at Retail Week and Land Securities fashion report launch warn of remaining challenges.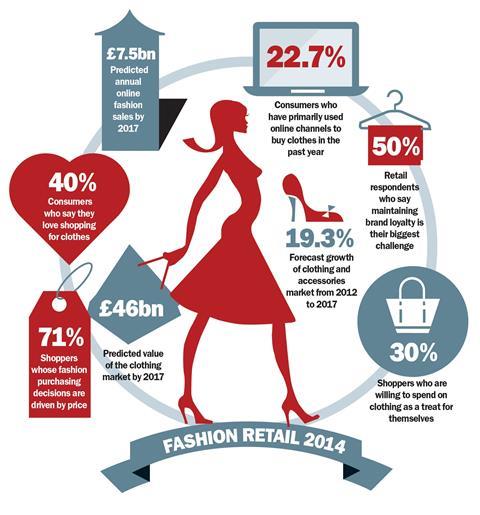 Fashion retailers have every reason to be upbeat, and it's not just the sunny weather that's put a spring in their step.
Whether they are relegating winter jackets to lofts or discarding boots in favour of sandals, consumers are continuing to spend on clothing. For retailers operating in a reassuringly resilient fashion market the opportunities to boost bottom lines are abundant, but not without challenges.
That was the basis for debate among an expert panel speaking at the launch of the Fashion Retail 2014 report, produced by Retail Week in association with Land Securities.
So what is the key to overcoming those challenges? Creating a seamless, consistent shopping experience across channels and maximising on the experiential element of in-store shopping.
Welcome growth
Last week fashion retailers, experts and analysts gathered at the UK Fashion Retail Report Breakfast Event for the unveiling of the report, and to hear from an expert panel about the challenges faced by the UK fashion market.
Based on in-depth interviews with 15 executives of major fashion retailers and a specially commissioned consumer survey by consultancy Conlumino, Fashion Retail 2014 highlights the knock-on effect that improved consumer confidence is having on fashion retail.
According to predictions by Conlumino, 2014 will be the first time in four years that sales volume has grown more strongly than inflation. Additionally, Conlumino predicts that the annual size of the total clothing and accessories market will grow more than 19% from 2012 to 2017, to a value of £46bn.
Speaking on the panel, Jeremy Collins, property director at John Lewis, confirmed that fashion sales at the department store retailer have been making strides compared with other goods segments. "We have seen growth stability in fashion compared to last year," he said. After referring to a tough spring and autumn period last year, Collins said that this year to date has been much more stable. "The really interesting thing for us is seeing how fashion is starting to fight back against electricals," he added. "Electricals had become the hero of the recession."
Although spend on fashion is increasing as inflation steadies and consumer spend rises, the panel asserted that caution remains. "Resurgence is quite a strong word so I'm not sure I'd say it feels quite like a resurgence yet," said panellist Jess Shepherd, digital and strategy director at Coast. "All the economic data suggests the signs are positive though. It definitely feels more solid with some of the volatility over the last couple of years diminishing."
The mood varies depending on store location. The panel agreed, perhaps unsurprisingly, that the recession was least felt in London. "London had an exceptional recession because tourists replaced domestic purchases," said Collins, who also mentioned a strong recovery for the Southeast.
From a property owner perspective, Rosalind David, retail performance analyst at Land Securities, confirmed that although she has seen growth in fashion retailers across the UK, both London and the Southeast have performed better than other regions.
As she put it: "London – recession? What recession?"
David also explained that in 2014 fashion has been the sector driving growth within the Land Securities portfolio, whereas last year it was catering.
Coast also reported that its strongest growth in the country was in London, but Shepherd explained that while geography was important, other factors too play a part in store success. "Price has definitely become more important – not just price but also value," she said.
Experience matters
When discussing multichannel fashion retailers' strategies for the future, the panel emphasised the importance of maximising on the experiential opportunities and differentiators of physical environments. "We are all social animals and human interaction is a critical part of retail," said Collins.
To compete with online organisations, retailers and property owners are working hard to create store environments that delight and entertain shoppers, incentivising them to leave their sofas and look up from their iPads. David explained that the company is working harder to entice consumers away from home shopping and into centres. "It's about giving them the experience," she says.
"We have seen growth stability in fashion compared to last year"

Jeremy Collins, John Lewis
Creating in-store theatre is now necessary, according to Shepherd, and flexible space is key. "What the customer wants now is not necessarily what she will want in a year," she said, and emphasised the need for physical space to be able to change and remain relevant. She added: "A lot of purchasing will still be done online but building a relationship happens in-store."
For Collins, offering consistency across channels is a priority, as is arming John Lewis partners with the tools and knowledge to ensure the experience for customers is seamless rather than confusing. Neil Saunders, managing director at Conlumino agreed: "There are lots of ways consumers can buy and we are using more channels as part of our purchasing journey," he said. "The challenge for retailers is to make it a consistent purchasing journey."
A personal approach can also pay off and using captured data has never been more important for fashion retailers seeking an advantage. "It is about turning data into something that is more meaningful than a transaction," said Shepherd, who urged retailers to use information at their fingertips to immediately engage with consumers.
Data collection is helping fashion retailers obtain a single view of their customer, which is a huge opportunity according to Saunders.
He said that the greatest competition is not from other fashion retailers but pure-plays such as Amazon and eBay, whose strengths lie in technology. "Fashion retailers have to look out for those retailers that are very good at technology," he said.
Despite the strength of these etailers, both Collins and Shepherd emphasised the ongoing relevance of a physical store presence and asserted that online revenue is strongest where retailers have a successful physical brand portfolio.
"In terms of online sales, there is a correlation between our performance online and our overall strength in the region, so a balanced portfolio is important," said Collins. "So where our store portfolio is strong, online sales from that area are strong too."
While fashion retail is evolving at a speed to rival the ever-changing content of a teenager's wardrobe, the overall story is positive. For organisations operating in this complicated market, channel consistency and creating an exciting retail space while offering value for money are among the challenges that will give retailers the winning edge.
Free to download
You can download the report here
Join the live Retail Week and Land Securities Twitter debate on July, 18 12.30pm- 1.30pm, using the hashtag #FashionRetail14