2015 is shaping up to be a bad year for young-fashion retailers after Bank's collapse on Wednesday and USC poised to appoint administrators.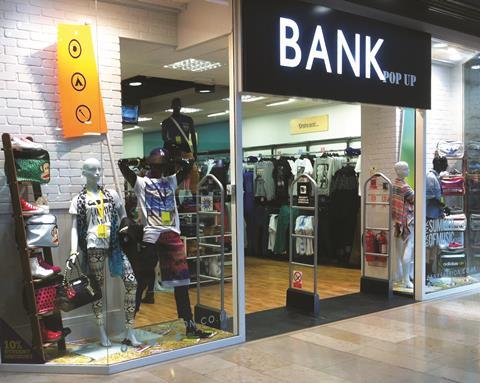 The branded young-fashion sector has faced challenges from a number of fronts in recent years. Retailers with a strong own brand and online offer, such as Topshop, Topman and River Island, have been stealing share.
Young-fashion retailers that stock own-brand product are more able to carve out an identity for themselves, through the uniqueness of their product, and many have emerged as attractive brands in their own right.
The same cannot be said for Bank or USC; both rely on external brands and as such both, arguably, lack their own identity.
They are almost interchangeable with one other. The same goes for 2013 casualty Republic, right down to the store design and colours on their logos.
The brands stocked in these retailers are readily available elsewhere along high streets and, lacking cachet, young consumers have strayed elsewhere.
Branded retailers have come unstuck on price and freshness too. Retailers with a higher proportion of own-brand products are more in control of their supply, and the majority receive a higher frequency of product deliveries to store.
The pace of product deliveries at branded retailers has traditionally been much slower as they have to rely on the brands themselves.
While leveraging their exclusive own-brand products, retailers such as Topman are also expanding their brand propositions, piling further pressure on chains such as Bank and USC.
Last year Topman added brands Peter Werth, Bellfield and Yrstore to its mix, for instance, straying further into USC and Bank's territory.
Store estates weigh heavy
USC and Bank's store estates have also weighed heavy on the retailers, which operate 84 and 90 stores respectively.
It is thought that once administrators are appointed to USC, the store estate will be slashed by a third.
Meanwhile Bank, while under the ownership of JD Sports, was in discussions with its landlords about coming out of stores before the business was sold to Hilco and then placed into administration.
Fierce competition
This has come at a time when competition has never been fiercer. Branded operators, particularly department stores, have ramped up promotions in recent years.
Meanwhile, the rise of pure-play retailers such as Missguided, Boohoo, Zalando and Asos has meant the market has become crowded at a time when younger consumers are financially stretched.
Young-fashion retailers' target consumer has been hit badly in the financial crisis, with a larger proportion of 18-24-year-olds out of work than any other age group, according to ONS data.
£174.20

Disposable income available to the average 18-25-year-old, 22% lower than the overall UK average.
A study by banking group Thinkmoney last year found young people have the least disposable income, with 18-25 year olds averaging £174.20 a month, some 22% below the overall UK average.
However, the news isn't all bad for this sector. Blue Inc, which sits at the value end of the branded young-fashion sector, recorded a 2.8% rise in like-for-like sales over Christmas, and while its planned IPO didn't materialise, it received £4m in funding in December to help develop its online and international offers.
It may be that there could still be a future for Bank – Deloitte said it is in discussions with interested parties – and USC may well emerge post-administration, albeit in a smaller form.
But such consolidation reflects the challenges of a competitive market that targets a cash-strapped consumer.