All Saints full-year profits grow 18% to £28.5m
Retailer's sales jump 9% to £252.5m
UK sales rise 7.4% as international revenues spike 11.5%
Boss William Kim says it has scope to operate in 30 to 35 countries
All Saints has posted its fourth consecutive year of rising profits and sales and targeted further international growth.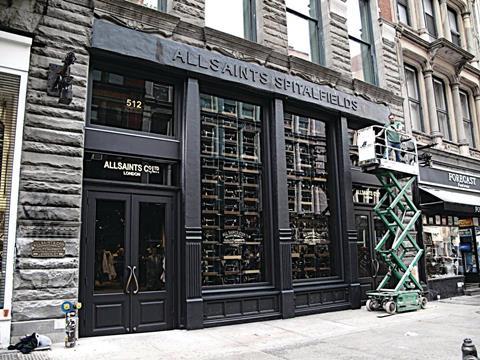 The fashion retailer enjoyed an 18% jump in pre-tax profit before exceptional items to £28.5m in the year to January 30, as total sales rose 9% to £252.5m.
All Saints said UK sales rose by 7.4%, while revenues from its overseas operations reached £108.2m – up 11.5% from £97m last year – and accounted for 43% of group sales.
The retailer's international earnings were boosted by the launch of 23 new stores during the year, including its launch into Japan in April.
North America was All Saints' largest international region, where sales grew 9.1% to £83m.
Asia was its fastest-growing region after sales more than quadrupled to £8.4m.
All Saints predicted that its non-American international markets will account for a third of its revenue by 2020.
The retailer currently has operations in 16 markets across the globe, but boss William Kim predicted the business could double that presence to between 30 and 35 countries.
All Saints also registered healthy growth in its online business – a key focus for Kim since he took the helm in 2012.
Digital sales grew by a third and now account for a fifth of All Saints' total revenues.
Verdict senior analyst Nivindya Sharma said: "All Saints has maintained tight control over its brand image, and chosen to enter new markets directly through own stores and partnerships with department stores, rather than through wholesale and licensing – a strategic move that has helped make its mark in new territories without diluting the brand."