As the German discounter continues to invest in UK store expansion and logistics, the Best Value Retailer has also taken a keen interest in sustainability – without changing its value proposition
As Lidl celebrates its 25th anniversary since launching in the UK, the judges felt the value retailer has "shifted up a few gears" and made an even greater impact.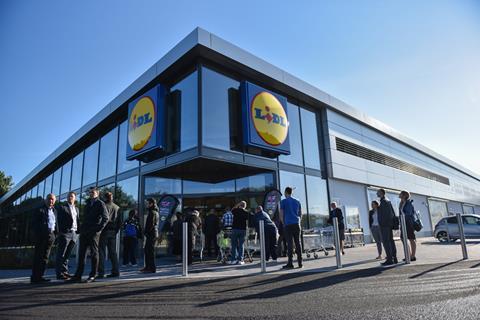 Retaining its laser-sharp focus on its value proposition – year-on-year sales growth led to a record performance in 2018 – Lidl is also challenging the idea that following a lean discounter model and being sustainable are incompatible.
Through its commitment to corporate responsibility and a series of initiatives, the grocer has outlined its vision that good food can be sold and eaten in a way that benefits customers, suppliers and the planet.
Lidl has been able to keep its prices low while also paying attention to its wider social obligations and is focused on sustainability. The grocer has been an early supporter of the new Living Wage, and is investing in its over 22,000-strong workforce. "Not only is it growing, but it is doing good at the same time," remarked one judge.
Large-scale plans
Having become the seventh-largest UK grocer with a 5.5% market share, Lidl achieved record Christmas sales. Over the past year the number of households shopping at Lidl hit over 15 million – a year-on-year increase of over 600,000.
Its ambitious expansion programme continues apace with 50 new openings in 2018 – taking its portfolio to over 720 nationwide – and the addition of three new warehouses in the last two years.
It has also refurbished 30 stores, and announced plans to add another four warehouses by 2025.
"Lidl delivers for customers while improving innovation and quality of products"

Judge
Value and quality remain at the centre of all Lidl does, and there has been a variety of product extensions and innovations aimed to promote fresh produce and encourage children to eat healthy food.
Lidl has grown especially well in the fruit and vegetables category, selling proportionately more than any other retailer.
The grocer has seen innovation across its fast-growing baby range Lupilu, and in spirits and wines with the rebrand of its 'Wine Tour' collection. It also became one of the first supermarkets to launch a chatbot to help customers make more informed wine choices. 'Margot' the chatbot now averages over 100 users daily.
Meeting demand
While leveraging its European buying power helps to keep prices low for customers and to trial new products, Lidl now sources two-thirds of its core range from British suppliers.
The grocer is also striking longer contracts with suppliers to provide greater security for UK farmers, including a three-year deal with Müller, and it supports the NFU's 'Fruit and Veg Pledge' and the British Farming Charter.
Its fast pace however, has not come at the expense of responsible retailing. Following its first sustainability report in 2018 titled Efficient. Lean. Sustainable., Lidl made efforts to tackle the issue of food waste and plastic packaging.
One of the first retailers to publish its food waste data, it has committed to the Sustainable Development Goal target of a 30% reduction by 2030.
Through its 'Feed It Back' food redistribution scheme in partnership with social platform Neighbourly, every store is now connected to a local good cause, supporting over 1,000 projects and donating surplus food and 3 million meals to date. Meanwhile, it is tackling in-store waste by packaging 'not quite perfect' fruit and vegetables into boxes sold at £1.50 per 5kg.
Other initiatives will focus on reducing plastic packaging, including becoming the first supermarket to phase out black plastic across its fruit and vegetables range, and shifting to LED lights in its warehouses – resulting in 40% of energy savings.
"Lidl continues to be disruptive," one judge concluded. "It delivers for customers while improving innovation and the quality of products at the same time."