Despite posting a 3% same-store sales decline on the high street, the numbers are pitched against strong figures last Christmas when WHSmith notched up its best high street performance for 15 years.
In fact, yesterday's update represents its second best performance over that timeframe.
After the figures were released, the 225-year-old retailer's share price jumped 7%.
The stationer's success on the high street in recent years has been driven by the enormous, but short-lived, popularity of adult colouring books.
But as sales of these have dropped off 60-70% in the last two years, is the oldest retail chain in the UK in good health for the year ahead?
Its boss Steve Clarke believes so.
"It was a really good performance," Clarke tells Retail Week.
"Given some of the challenging categories we're in, our high street strategy is not about driving sales, it's about driving sustainable profit, and we've achieved this.
"We're really pleased with the high street like-for-likes given last year's numbers. We've had really good margin growth and cost control, plus Funky Pigeon grew 20% year-on-year."
Turning to its travel business, where like-for-likes rose 5%, Clarke says: "We've had really good growth on top of really good growth, driven by investment as well as increasing passenger numbers."
As a result, WHSmith is expecting profits to come in ahead of plan, with a number of analysts nudging up the retailer's consensus by about £2m.
Next term – footfall
"Looking ahead, there's some uncertainty in the broader environment," Clarke says, "but we're fairly confident that we're well positioned."
Clarke's confidence stems partially from the retailer's long-term strategy to drive profit rather than sales on the high street.
"We expect to see more of the same this year – just a bit of uncertainty"

Steve Clarke
"This strategy is more important now than ever, given some of the footfall challenges," he says.
While the retailer has felt the impact of declining footfall, it is comforting that it has not dropped further since the Brexit vote.
"Footfall has been challenging over the past few years, but we haven't seen it get any worse.
"We expect to see more of the same this year – just a bit of uncertainty."
As an additional footfall driver, WHSmith is ploughing on with Post Office openings, with another 35 in the pipeline for the second half of the year.
In its travel division, Clarke is confident that passenger numbers in airports will continue to soar.
Don't forget your books
While adult colouring may have fallen out of grace, the physical book sector overall is back on the up, which is good news for WHSmith.
What's more, Clarke believes that the high-margin Ladybird and Famous Five spoof books – which have in part made-up for the decline in adult colouring – have "a lot more mileage in them yet".
"Like adult colouring, board games provide an antidote to staring at a screen"

Steve Clarke
"They are not quite so faddish, because they are driven by political events like Brexit, so I expect they'll get another good run this Christmas.
"There's even a new one out for Valentines Day," Clarke says.
The release of The Girl on The Train author Paula Hawkins' second book later this Spring is set to be a big seller for the high-street stalwart, while board games – driven by the popularity of Pie Face – appear to be back in vogue too.
"Like adult colouring, board games provide an antidote to staring at a screen," Clarke insists.
A sterling effort
As many retailers battle with inflationary pressures as a result of the slump in Sterling, Clarke is confident this won't be a major issue for WHSmith.
"It affects us a little bit," he admits, "but not nearly as much as apparel or electronics retailers."
WHSmith, which is fully hedged for the remainder of the year and partially for next, only buys around 5% of its goods in US dollars.
Clarke says double-digit sales growth is also helping the business offset upward pressure in the food, drinks and confectionery categories.
The business is further aided by a forex benefit from its sales in Australia, the Middle East, India and Europe, which acts as another partial hedge.
"It is tricky, but nowhere near as tricky for us as it is for others. We will, of course, continue to be cautious about the environment and manage the business tightly," he says.
Birthday treat
There's one final reason for investors and the stationery boss to be cheerful this January: WHSmith has reached the ripe old age of 225.
With increased media activity to toast the UK's oldest retail chain, profits may get a further boost.
And as part of the festivities, WHSmith will endeavour to raise "a couple of million pounds" for Cancer Research, Mind and The National Literacy Trust.
The analyst's report
Opinions are divided on whether WHSmith is a business in slow decline, or a brilliant example of a retailer with a ruthless focus on efficiencies. However, it is incredibly rare to see a retailer achieve such a consistent improvement in profitability over a ten-year period, particularly when taking into account the like-for-like sales declines at its high street stores.
Profitability over the last decade has been boosted by efficiency measures, but the travel stores are also accounting for a larger proportion of overall sales and these stores are far more profitable than the high street business.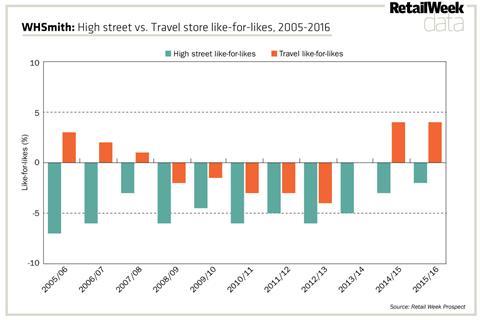 Phil Wiggenraad is head of research at Retail Week Prospect, an intelligence service offering insight and analysis on the UK's retailers.