Talks between Kesa and potential buyers of its troubled Comet chain had all but collapsed as Retail Week went to press, and the retailer was preparing to embark on its own turnaround plan.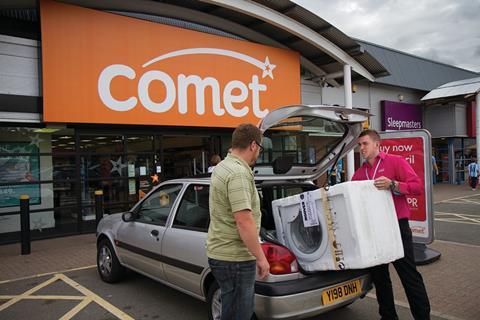 Kesa chiefs had been in discussions with restructuring specialist Hilco and private equity house OpCapita about unloading loss-making 249-store Comet.
However, negotiations with Hilco are understood to have ground to a halt in the middle of the week and the chances of a deal with OpCapita were evaporating.
The scale of dowry asked for by the would-be buyers, in order to cover Comet's pension liabilities and working capital needs, proved an insurmountable barrier in an already complicated process.
Kesa chiefs decided to gauge buyer interest in Comet in June. However, they have consistently said that they would weigh the value of any offers against that likely to be created by its own improvement plans.
Observers believe that Comet faces a tough road to recovery in a competitive and depressed electricals market. One City analyst, who asked not to be named, said that Comet's ability to unload excess space and thereby improve sales densities would be key to success. "It's all about getting out of leases," he said.
Comet is already acting to rid itself of the burden of unprofitable shops – in June it said it would close 17.
But Comet chief executive Bob Darke also said then that Comet's turnaround would not happen overnight. "There is no silver bullet, it's an inch at a time," he said.
No comment was available from Kesa, Hilco or OpCapita.