The health of the electricals market has been thrown into question after AO World issued a mixed set of interim results.
The online business, founded in 2000, recorded operating losses of £12m amid heavy investment in its first-half with its boss Steve Caunce also flagging "challenging" trading conditions.
He told press that it feels as though "the customer is very nervous".
"We saw the market getting tough at the back end of 2016 and right now it is about the same," he cautioned.
Although warnings of tough trading have come thick and fast this year as the retail industry grapples with the post-Brexit environment, the low-margin electricals sector is proving to be particularly vulnerable.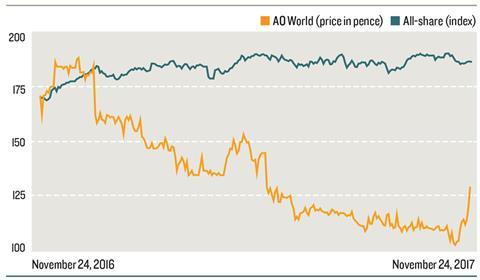 It is hurt when uncertain consumers cut back on discretionary spending, and it is hurt when a slowdown in the housing market knocks spending on home appliances and white goods.
And it is has felt the effect of Sterling's slump, which has fuelled inflation and upped sourcing costs.
Where do its rivals stand?
Shops or no shops, no one solely operating in the electricals space has been immune to volatility.
Dixons Carphone's share price has taken a bashing since the Brexit vote and has been on a downward trajectory since.
This is despite unveiling record profits in its last full year and revamping it services proposition, Team Knowhow.
And, knocking investor confidence further, it issued a profit warning earlier this year citing weakening demand for mobile phones in the UK.
Meanwhile, its privately-owned rival Maplin is reportedly scrambling to reassure suppliers, after credit insurers have scaled back their exposure.
When AO gave its gloomy take on the market last week, it too took a hit, with its share price closing down almost 2%, despite sales advancing 7.4%.
This had a knock-on effect, with others operating in the home appliance category – including Dixons Carphone and value retailer B&M – also suffering a drop in share price.
Is AO too old to report losses?
Although solid sales at the expense of profitability is a well-trodden path for young ecommerce firms, slowing growth and bottom line losses will have disappointed investors, particularly after AO hailed the profitability of its core UK business in its last full-year.
On this occasion it put its losses down to a 50% increase in marketing costs after it sponsored ITV's Britain's Got Talent – a partnership Caunce said would not be revived next year.
It also ploughed investment into its fledgling international business, which is expected to become profitable by 2020.
But how much time does AO have before its investors lose patience?
According to Retail Week Prospect analyst Ryan Doherty, AO's strategy has been successful in growing sales so investors should be happy for it to take its time in waiting for margins to prosper.
"The group has long favoured global expansion and sales growth at the expense of its margins and bottom line," he says, adding that it makes sense for a "young and growing" company to spend heavily on marketing to boost brand awareness.
"Its UK sales growth has continued to outpace fellow white goods retailer Argos even as the brand has matured, and it has generated a stronger UK operating profit margin than Argos in the past two years," Doherty points out.
For now the business is focused on becoming "the best electricals retailer in Europe," and its investments in delivery and efficiency have been an important step in the right direction.
But how long does it have left?
Given that around 90% of its sales are still generated in the UK, where weak consumer confidence and constrained spending have put the market for white goods under serious threat, there are new questions over the sustainability of AO's strategy.
"AO will need to improve margins fast," Doherty says, "and it is still in a strong position to do so, given its vertically integrated nature and a lack of physical stores which keeps costs low and prices competitive."
But while this has helped it climb to the top of the UK's online electricals market, AO cannot continue to risk the wrath of increasingly wary investors in a market plagued by uncertainty.